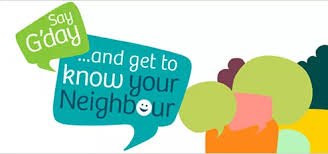 Say G'Day and Know your Neighbour
Moreton Bay Regional Council is encouraging residents to take a moment on Neighbour Day to say g'day to their next-door resident.
Celebrated on Sunday 25 March, Mayor Allan Sutherland said Neighbour Day was a fantastic initiative to keep neighbourhoods connected.
"Knowing our neighbours can help us to feel like we belong and contribute to a happier neighbourhood for everyone," Mayor Sutherland said.
"This year, the focus is about connecting people from diverse backgrounds.
"By getting to know your neighbour, you create opportunities by sharing ideas, whether that's trying a new cuisine, learning a new language or tradition to even receiving good travel tips.
"It's really fantastic to hear the wonderful neighbourhood friendships that have formed from a simple wave or a smile.
"Getting to know your neighbour is also a great way to make sure that during tough times, such as extreme weather events you can be there to help each other.
"Moreton Bay is a diverse region with 1 in 4 residents born overseas - representing more than 180 nationalities and 150 languages.
"At the start of the year, we welcomed over 130 candidates at the Australia Day Citizenship ceremony representing over 20 countries that included the UK, South Africa, US, India and Thailand making our top five countries.
"So there's a high probability that the person or family you are living next to is from another country.
"It's fantastic to see so many people around the world call Moreton Bay their home and it's our cultural diversity that makes our region so special; what better way to mark that diversity then right here in Moreton Bay through Neighbour Day.
Dilli Ram Bista, originally from Bhutan, said he was grateful for the support he received from his neighbours when he first moved to Bribie Island in 2008.
"When I first came to Australia, I didn't know a lot of things," Mr Bista said.
"But I am thankful for the support I received from my neighbours over the years.
"They helped me to resettle in Australia through many ways such as assisting me to go to the bank and the shops as well as taking care of the general maintenance of my house such as fixing doors and screens.
"I didn't know much when I first arrived but after receiving a lot of help from my neighbours, I gradually came to be familiar with things.
Now residing in Bellmere, near Caboolture, Mr Bista says "I can now say with confidence I can tackle all these activities and more all thanks to my neighbours".
As part of Neighbour Day, supported by the Queensland Government, Moreton Bay Regional Council will hold two 'Meet Your Street' events, at Strathpine and Caboolture, to give residents the opportunity to meet, socialise and share stories with one another.
Council is also encouraging residents to head out to the Teddy Bears' Picnic event at North Lakes giving them the opportunity to network to meet new friends.
For further information about the events, check out details  below.
Meet Your Street - Strathpine
Date: Sunday 25 March
Location: Alf Shaw Park, Melaleuca Drive, Strathpine
Time: 10am - 12pm
Activities: Free community bbq, coffee van and kids activities including a jumping castle
Meet Your Street - Caboolture
Date: Sunday 25 March
Location: Wallace Street Park, Rogers Crescent, Caboolture
Time: 10am - 12pm 
Activities: Free community bbq, coffee van and kids activities including a jumping castle
Teddy Bears' Picnic - North Lakes
Date: Thursday 29 March
Location: Aurora Boulevard Park, North Lakes
Time: 9am - 12pm
Activities: Stage shows, face painting, kid's activities, an animal farm, teddy bear parade as well as a special appearance by the Easter Bunny.
For more information about Know Your Neighbour visit https://www.moretonbay.qld.gov.au/knowyourneighbour/.
For more information about the Teddy Bears' Picnic visit https://www.moretonbay.qld.gov.au/events/