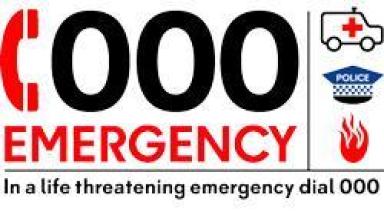 Police want Triple Zero calls to 'Ring True'
Police Minister Mark Ryan and Police Commissioner Ian Stewart today launched a social media-led campaign to urge the public to only call Triple Zero (000) for true emergencies.
Mr Ryan said the 'Ring True' campaign would ask Queenslanders and visitors to think about the alternative options to contact police in a non-emergency instead of dialling Triple Zero.
"In 2017, Queensland Police received a total of 612,250 Triple Zero calls. Of those calls, 89.4 per cent were not genuine emergencies," he said.
"The influx of non-emergency calls ties up police operators and we need to allow for genuine emergencies to ring true.
"Two videos will be launched on the Queensland Police Service (QPS) social channels today. 
"QPS plan to share more throughout the year to raise further awareness of the campaign. 
"We do not want to deter people from calling Triple Zero in a genuine emergency; the 'Ring True' campaign aims to educate the community about our alternative reporting services.
"The message of the campaign is clear - Triple Zero is reserved for true emergencies only.
"If a crime's happening now, call Triple Zero, but if not, think Policelink.
"There are a number of reporting options including the Policelink app, the online forms on the website www.police.qld.gov.au or call 131 444.
"Any misuse of the Triple Zero is a criminal offence and can put people's lives in danger."
Commissioner Stewart said noise complaints and break-ins where offenders were no longer present are common non-urgent Triple Zero calls.
"While these are of great concern to police, they are not a matter for Triple Zero," he said.
"We are also encouraging Queenslanders to be prepared with the information required during a Triple Zero call, should they ever find themselves making a call in a true emergency.
"When you call Triple Zero, a Telstra operator will ask if you need police, fire or ambulance.
"If you state 'police', you will then be transferred to one of our operators.
"As calls can be received from Communications Centres anywhere in the State, the most critical piece of information is the location where the assistance is required.
"Stay on the line, stay calm, speak clearly and answer the operator's questions.
"Do not hang up until the operator says it's okay to do so.
"Getting the correct information across clearly and concisely could make the difference between life and death."
In 2017, there were more than 5,830 nuisance Triple Zero calls recorded at police communication centres, over 5,870 calls deemed to be false or hoax calls, and at least 28,800 calls classified as 'no voice' calls, typically associated with 'pocket dialling' or children playing with phones.
Some of the nuisance calls received by police recently included:
A caller asking when Blue Heelers will be on TV?
A caller asking "What day is it? …I've just woken up."
Caller reporting a person playing loud music on the train.
Man asking the call taker to guess their name and serial number.
Person having a difficulty with pay phone and wanting to order a cab.
A caller trying to order a pizza.
 LINKS TO SOCIAL MEDIA VIDEOS
https://d2haxmvzil2swt.cloudfront.net/uploads/2018/03/23/001057_RingTrue_Triple000_MASTER.mp4