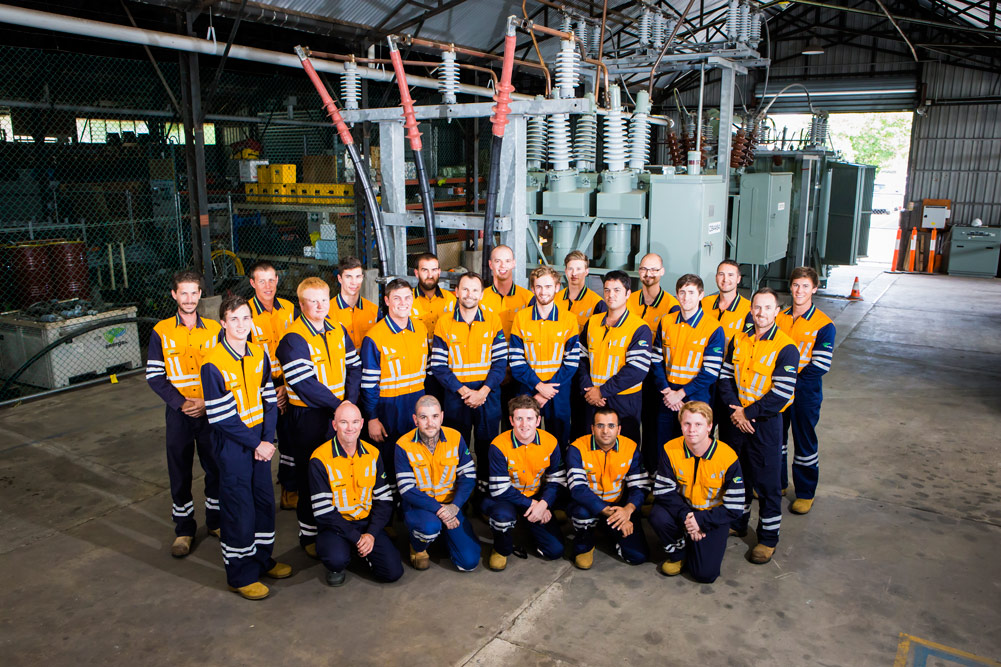 New Energex apprentices welcomed
Acting Energy Minister Mark Ryan and Energy Queensland CEO David Smales today welcomed 23 new Energex apprentices at the EsiTrain facility in Brisbane.
Mr Ryan said the new apprentices were being welcomed into Energy Queensland, the parent company of Energex and Ergon Energy - the largest electricity distribution company in Australia and "a family of 7,400 relatives".
"Electricity supply is something we all take for granted," he said.
"I am pleased to say that during unplanned interruptions – such as when an underground cable is dug up, a tree branch falls on overhead powerlines, or when a car crashes into a power pole – Energex and Ergon field crews are quick to get the power restored as safely as possible.
"And this often happens during terrible weather conditions.
"That is an outstanding achievement and highlights Energex and Ergon's commitment to provide a safe and reliable electricity supply to homes and businesses throughout the state."
Mr Ryan said the apprenticeships provided a great opportunity to learn from the best trainers in the business, with some of the best facilities available.
"This training and education over the period ahead will provide you with the first rung on the ladder to the top of the organisation," he said.
Mr Smales told the group they were joining a team delivering the energy needs of 2.1 million homes and businesses over 1.7 million square kilometres running from Tweed Heads to the Torres Strait.
"And while you'll primarily be based in south east Queensland during your apprenticeship - afterwards, for those who apply themselves and are offered positions, as a result of the merger of Energex and Ergon, you may want to apply for open positions anywhere around our great State," he said.
"You are also joining our industry during a time of significant change – which will also open up many doors for those who work hard."
Mr Smales said the apprentices would be at the forefront of technological advancements in the industry.
"What this means for you, as apprentices, is your learning will never stop – even once you've completed your time as an apprentice," he said.
Once the apprentices complete their initial classroom tuition at Energex's Rocklea training facility, they will join their dedicated regions in the following locations (photos of each region's apprentices attached):
Geebung Depot: 4 apprentices
Greenslopes Depot: 4 apprentices
Kelvin Grove Depot: 4 apprentices
Maroochydore Depot: 5 apprentices
Raceview Depot: 4 apprentices
Southport Depot: 2 apprentices
Energex and Ergon Energy recruit for apprentices every year and encourage those seeking a trade in the industry to keep an eye on the companies' careers websites: Energex: https://www.energex.com.au/about-us/contact-us/careers and Ergon Energy: www.ergon.com.au/about-us/careers/apprenticeships
Ergon's regional apprentice intake will begin later this month.