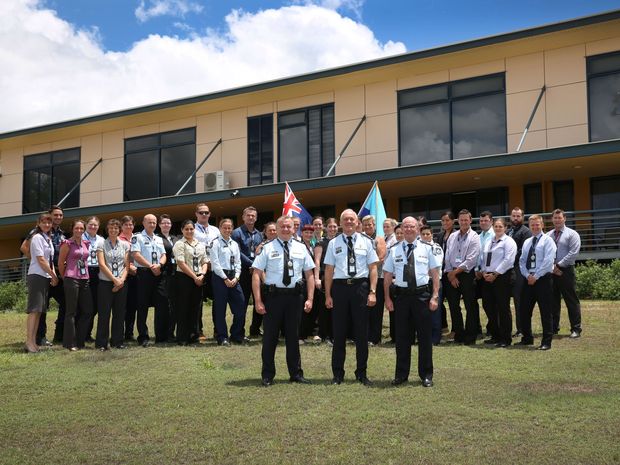 Induction ceremony sees new police recruits sworn in to service (2 in Caboolture)
Police Minister Mark Ryan and Police Commissioner Ian Stewart have welcomed 38 new police officers to the Queensland Police Service during a graduation ceremony at the QPS Academy's Oxley campus this evening.
Graduating as First Year Constables (FYC), the new officers completed 25 weeks of intensive training to boost police numbers throughout Queensland.
The recruit training program provides recruits with a quality foundation so that they can deliver an excellent service to the community with the skills necessary for operational policing as First Year Constables under supervision.
Police Minister Mark Ryan said the Palaszczuk Government was committed to increasing the number of police officers in Queensland and these new constables would help deliver on its promise to ensure the safety of Queensland communities.
"Police perform a vital role in the maintenance of law and order, and public safety; and on behalf of the communities and Government of Queensland, I am grateful for the 38 First Year Constables who have accepted this responsibility today," Minister Ryan said.
"Modern policing is always adapting to meet the demands of our changing society and I am confident that these First Year Constables, with their diverse backgrounds and experiences, will breathe new life into the Service.
"They will be at the forefront of creating a safe environment for residents and visitors, working in partnership with local communities and other government agencies around Queensland."
Of the 38 expected inductees, 17 recruits are graduates of the Distance Based Preparatory Pathway.
This pathway was designed so recruits can complete four weeks of Distance Based Study prior to their commencement at the Queensland Police Service Academy. This pathway enables the majority of their first phase of recruit training to be completed via distance learning.
Commissioner Stewart congratulated the FYCs on their graduation and announced that they would commence their careers in the Brisbane, Central, Southern and South Eastern regions.
"These allocations are based on the resources, needs and requirements of the Service. We have allocated 14 First Year Constables to the Brisbane Region, 12 to the South Eastern Region, three to the Central Region and nine to the Southern Region," Commissioner Stewart said.
"The role of a police officer is like no other – responsible for the safety and security of Queensland. There is no doubt that each of these new officers will experience some challenging situations, however there will also be many rewarding and humbling times.
"I wish luck to every officer in their career and feel confident that they will uphold the QPS standards of excellence and service."
The new FYCs will be initially deployed to the following areas:
Brisbane Region
North Brisbane District
            Fortitude Valley Station     2
            Brisbane City Station         1
            Sandgate Station              2
            Hendra Station                 1
            Indooroopilly Station         1
South Brisbane District
            Redland Bay Station          1
            Morningside Station           1
            Wynnum Station               1
            Cleveland Station              1
            Inala Station                     1
            Upper Mt Gravatt Station    1
            Calamvale Station              1
Central Region
Wide Bay Burnett District
            Hervey Bay Station             3
South Eastern Region
Logan District
            Beenleigh Station                1
            Browns Plains Station          1
            Logan Central Station          1
            Jimboomba Station              1
            Springwood Station             1
Gold Coast District
            Broadbeach Station            1
            Coolangatta Station            1
            Southport Station               1
            Nerang Station                   2
            Coomera Station                2
Southern Region
Moreton District
            Caboolture Station             2
            Redcliffe Station                 1
            Deception Bay Station        1
Darling Downs District
            Laidley Station                   1
            Gatton Station                   1
Ipswich District
            Ipswich Station                  1
            Booval Station                   1
            Goodna Station                  1