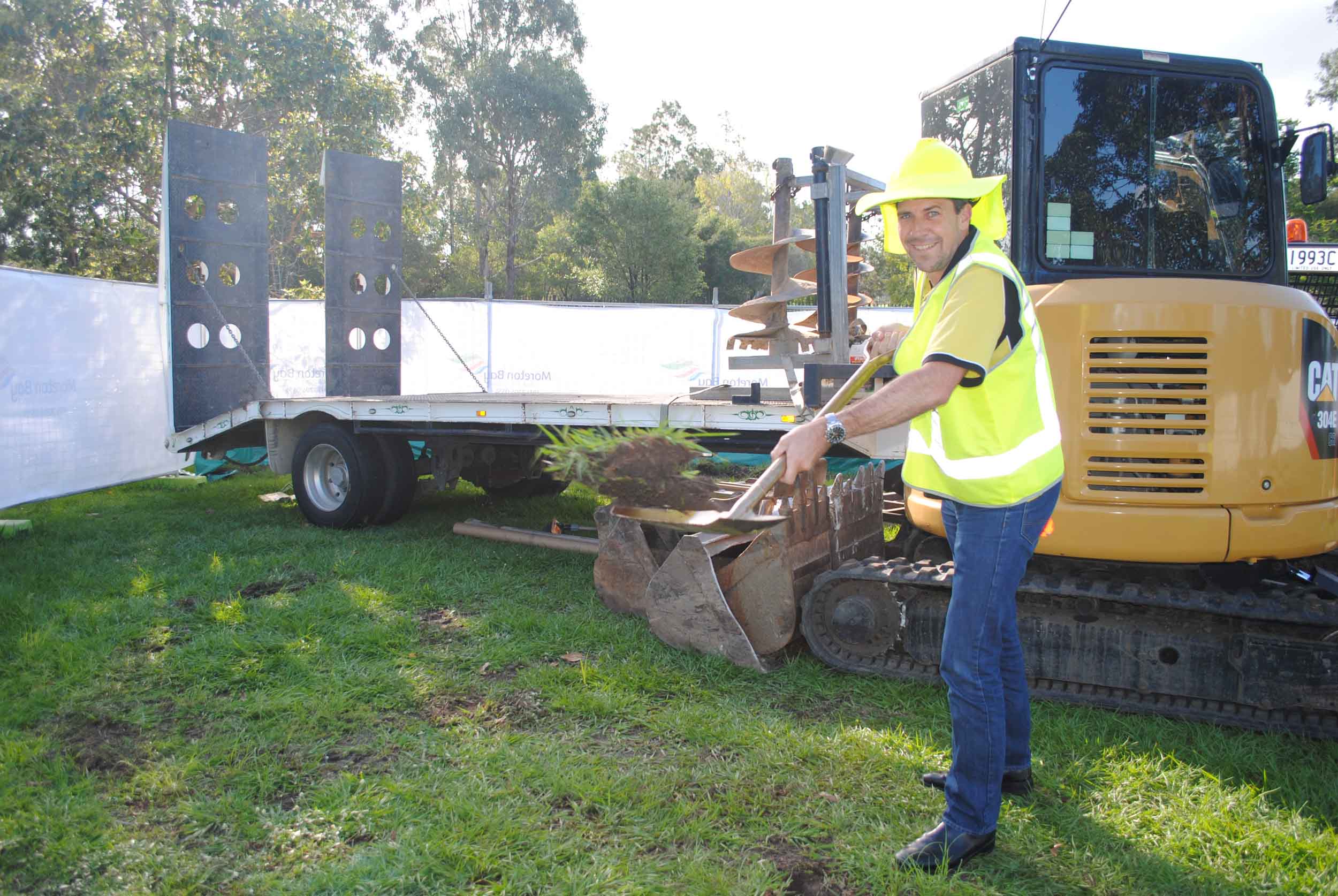 Works on Narangba skate park takes off
With a twist and flex of the wrist, Moreton Bay Regional Council Division 11 Councillor Darren Grimwade celebrates the first day of construction on a new $420,000 youth plaza and skate park at the Harris Avenue Sports Grounds.
Cr Grimwade was on site to mark the commencement of works, with a sod turn, on Wednesday 1, November at Narangba.
"This outdoor youth area will be a huge hit among our youth and will include everything from a skate bowl, rails and ramps to seating to provide a safe space for young people to skate, scoot or cycle and keep fit and active," Cr Grimwade said.
"Council values active and healthy lifestyles and this new youth plaza and skate park achieves that completely.
"The new youth space will include a number of specially-designed features to challenge skaters such as elevated banks, split levels, moguls and ledges for people to use adding to the existing basketball hoop.
"Projects such as the youth plaza and skate park encourage active and healthy lifestyles, which is why council has invested $29 million in this year's budget towards parks, playgrounds, and sport and recreational facilities across the region to create healthy and active communities.
Cr Grimwade said as part of the project, council had worked closely with the community through a number of online surveys and face-to-face consultation sessions to help shape and develop the youth plaza and skate facility.
Norfolk Lakes Neighbourhood Watch Group, Area Coordinator, Barbara Moloney said the construction of a new youth plaza and skate park would make a great addition to the Harris Avenue Sports Grounds for young people.
"I am really excited about this space and I look forward to seeing many young people make the most of this fantastic facility when completed," Ms Moloney said.
"It will give kids the opportunity to head outdoors, get active and enjoy interacting with other young people in their community.
"We would like to express our thanks to Council for allocating substantial funds to this project and we look forward to seeing the youth use this area positively."
Construction is expected to be completed early 2018, weather permitting.