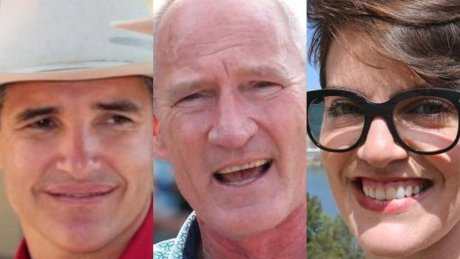 Queensland Election: The Deal Breakers and the issues
Both major parties have been pleading for voters to return a majority government, but there's a real chance Queensland will have a hung parliament.
In that situation, Labor's Annastacia Palaszczuk or the LNP's Tim Nicholls would need to secure the backing of minority parties to rule.
So what issues would be on the negotiating table?
One Nation
One Nation party leader Pauline Hanson has a list of six deal-breakers she says either leader would have to agree to in order to secure her party's support.
Transport: Scrap Labor's planned Cross River Rail and redistribute the billions of dollars needed for to build the project
Energy: Build a government-owned and operated base-load power station in north Queensland
Gambling: Approve a licence for a casino to be built on Great Keppel Island in central Queensland
Water: Fund and build $15m of water infrastructure and tanks for cane farmers in central Queensland
Power bills: Cut power prices by 20 per cent by taking dividends from poles and wires away from government revenue
Schools: Abolish the Safe Schools program in Queensland
Katter's Australian Party
Katter MPs were at times supportive of the minority Labor Government but they have a list of new commitments they want for regional Queensland, including:
Crocs: Allow action to remove crocodiles from waterways in popular areas, either through culling or relocation
Guns: Relax gun restrictions for farmers with appropriate licences
Transport: Scrap the Cross River Rail project and improve access on Mount Isa to Townsville rail line
Energy: Approve a loan up to $400m to support the construction of a biorefinery project in north Queensland
Water: Government approvals and millions of dollars in support to build a new dam at 'Hells Gates' in north Queensland
Queensland Greens
The Queensland Greens would only negotiate with Labor and have seven key demands but South Brisbane candidate Amy MacMahon says these are "not exhaustive". They include:
Adani: Revoke free access to groundwater, its mining licence and its "licence to operate in Queensland". Scrap the five-year deferment of multi-million-dollar royalty payments
Donations: Ban corporate donations and "cash-for-access" fundraisers
Housing: End the social housing waiting list by building enough homes for 29,000 people
Tax: Hit property developers with a "value gains" tax on windfalls from land rezoning. Raise mining royalties
Childcare: Three days free childcare a week for three and four-year-olds
Transport: $1 public transport fares for all Queenslanders and more bus services