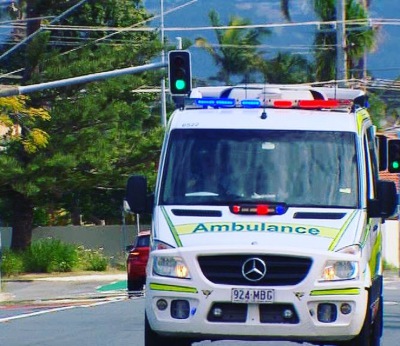 New ambulance station readies to serve Brisbane's north
A new 24-hour ambulance station and Emergency and Fleet Management Precinct are gearing up to serve the community on Brisbane's northside after reaching practical completion.
Around $13 million in Palaszczuk Government funding was invested to purchase and develop the new hub at Bilsen Rd, Geebung, which will soon be fully operational.
Health and Ambulance Services Minister Cameron Dick, Member for Nudgee Leanne Linard and Queensland Ambulance Service (QAS) Commissioner Russell Bowles today toured the facilities.
"We want to deliver the best care to locals in Brisbane's northern suburbs when they find themselves in need of an ambulance," Ms Linard said.
"The completion of a new ambulance station for Brisbane's northside demonstrates the Palaszczuk Government's commitment to providing efficient and high-quality emergency pre-hospital healthcare to Queenslanders."
Ms Linard said the station was ideally located for ambulances to access the surrounding road network, particularly Sandgate and Gympie Roads, Southern Cross Way and the Gateway Motorway.
"Around 17 construction FTE jobs were created over the course of the project, and around 14 FTE paramedics will be assigned to the facility this financial year, so it truly is an asset for our local community," she said.
Mr Dick said the multi-million dollar hub further illustrated the Palaszczuk Government's commitment to meet demand for ambulance services and deliver quality healthcare for Queenslanders.
"We know there's an increasing rate of QAS call-outs across the Metro North area – in fact just in September this year alone, there were more than 12,400 code 1 and 2 Triple Zero emergency calls to QAS for this area compared to around 11,900 in the same month last year," he said.
"That's around 500 more serious emergency call-outs the QAS team for this area has been responding to, and that's just in one month."
 
"These increasing call-out rates are combining with a growing population to place pressure on services, so we want to ensure northern Brisbane community's expectations are being met during a medical emergency, and this new facility will help to address that."
Mr Dick said the facility would better meet QAS needs, providing maintenance and storage areas for QAS vehicles, including up to five ambulances, and equipment in addition to office space and the new ambulance station.
The new facility accommodates the QAS Emergency Management Unit (EMU) who manage the QAS response to disasters, major incidents and major scheduled events. Further to office space for planning and incident management, various deployable resources will now also be located under the one roof.
The facilities are also shared with the Fleet and Equipment Operations, who fit-out new and replacement QAS operational vehicles and install additional equipment in existing vehicles as required.
Labor candidate for Aspley Bart Mellish said the new hub was just another illustration of how the Palaszczuk Government had delivered for his local community.
"The Palaszczuk Government has delivered 35 full-time ambulance officer jobs to Brisbane's northside since coming to government as well as 27 replacement vehicles and 4 additional vehicles," he said.
"This government has proven it is committed to funding the frontline and boosting crucial services for the Geebung and Aspley communities just like this one, and a re-elected Palaszczuk Government will continue this legacy."