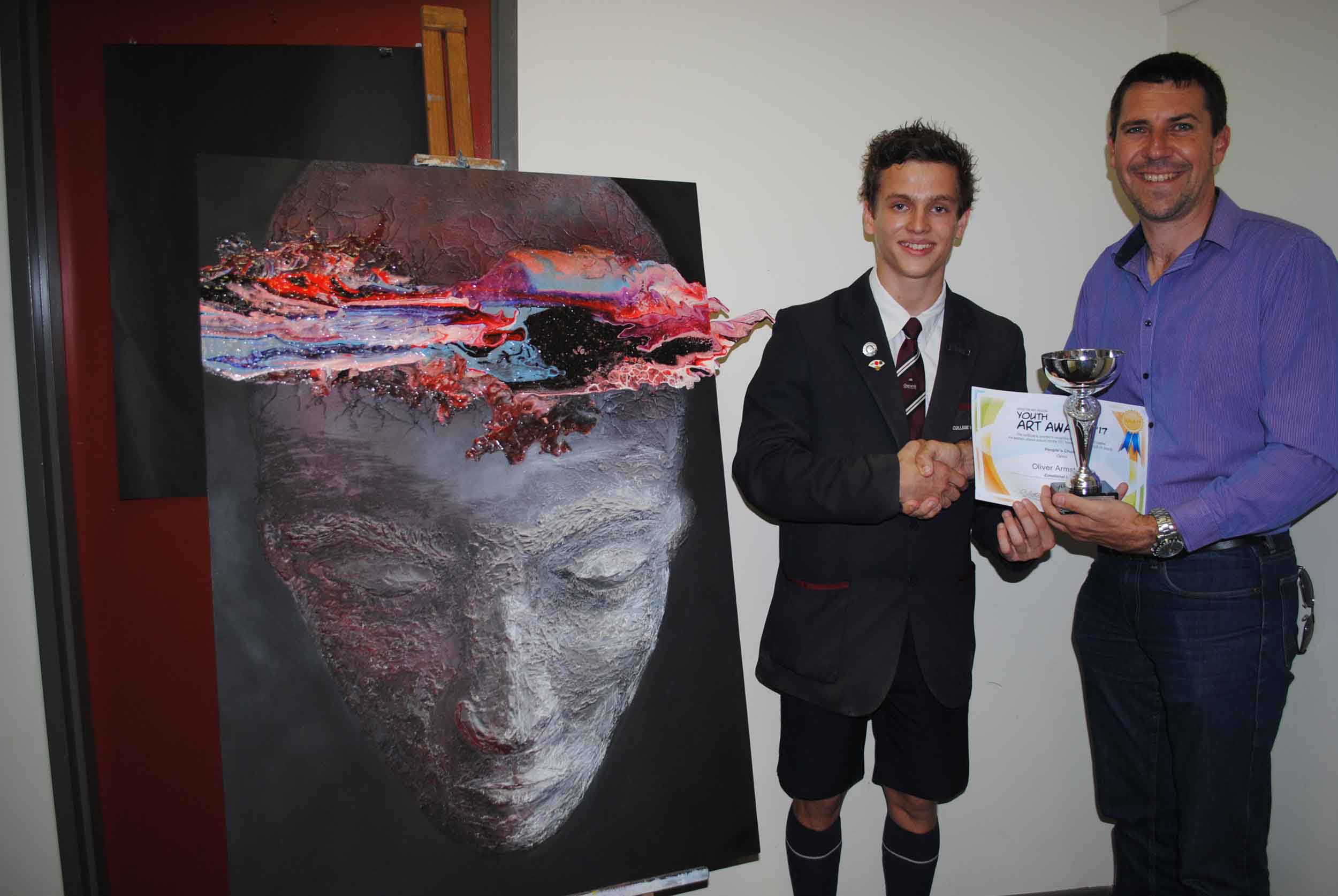 Clear Mountain resident nabs People's Choice Awards
A young artist from Genesis Christian College has taken out this year's People's Choice award at Moreton Bay Regional Council's Youth Art Awards for his mixed media portrait 'Emotional Impact'.
Division 11 Councillor Darren Grimwade congratulated Clear Mountain resident Oliver Armstrong, who lives in his division, on his win.
"Our region has a real depth of talent and Oliver is one of those budding artists who has a great gift," Cr Grimwade said.
"Oliver's winning entry, which showed originality and creativity topped over 300 pieces at this year's Youth Art Awards."
Taking three months to create and complete, the 17-year-old said his piece 'Emotional Impact' was a self-portrait recalling a memory, "which can so rapidly awaken an emotional response".
"The intense colours are vivid like memories and the paint flowing off the canvas, in an uncontrolled style, reflects the idea that the memory trigger cannot be controlled and goes beyond the present moment," he said.
"The texture of the face looking down conveys depth of emotion and the lighting blinds you suddenly as the memory hits out of no-where."
As Oliver continues to create memorable works of art, in the same manner his repertoire of art awards continues to grow also.
Earlier this year, the budding artist was awarded the 2017 National Summer Art Scholarship.
Oliver was one of 16 top art students, in Australia, selected to attend the National Gallery of Australia in Canberra.
In 2015, Oliver picked up the Tyson Evans scholarship and he's also three time recipient of the Ruth Luxhoj Memorial Art Prize (2014); Excellence in Visual Arts at Genesis Christian College.
The annual Youth Art Awards this year attracted more than 400 students from over 50 schools across the region vying for a share of more than $4000 in prizes.