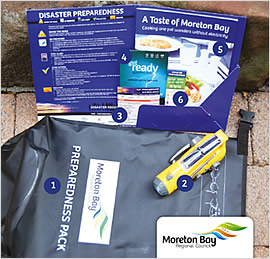 Moreton Bay Regional Council launches new Local Disaster Plan
Moreton Bay Regional Council has launched its new Local Disaster Management Plan for the 2017/18 financial year.
Acting Mayor, Mike Charlton said the new plan had been adopted by council at its coordination meeting on 12 September 2017, following an annual review, required by state legislation.
"Council's new Local Disaster Management Plan provides a focus on the region's major risks of severe storm, flood and bushfire, while taking an 'all hazards' approach to ensure our region is ready for whatever mother nature throws our way," Cr Charlton.
"Experts from the Bushfire and Natural Hazard Cooperative Research Centre have reported that above average rainfall from Ex-Tropical Cyclone Debbie earlier this year has increased fuel load across the state and the risk of bushfire activity across South-East Queensland as vegetation continues to dry out with hotter temperatures predicted.
"In the lead up to this year's bushfire season, council has worked closely with Queensland Fire and Emergency Services, Queensland Parks and Wildlife Service, Seqwater and other land owners to undertake bushfire hazard reduction activities and community education workshops, including 28 hazard reduction burns on council land to help reduce the risk of bushfire across our region.
"With conditions across our region continuing to dry out and warmer temperatures predicted, it's vital that council continues to collaborate with our local fire and emergency services to boost our region's preparedness."
Local Disaster Management Group Chair, Councillor Peter Flannery said council, Queensland Fire and Emergency Services and member agencies of the Local Disaster Management Group recently undertook an exercise earlier this month which tested the region's readiness to respond to major bushfire in the region.
"All agencies worked well together to simulate a wildfire event at Mount Nebo testing communication between agencies, information flow and public warnings," Cr Flannery said.
"It's so important our region is well prepared and that our council and local disaster group works effectively with local police, fire and emergency services, energy and water providers, ambulance and health services, transport and main roads to minimise the impact of these potentially devastating events on our community."
In accordance with the Disaster Management Act 2003, the plan has been reviewed and updated to include:
A new structure aligning disaster management activities with the new Emergency Management Assurance Framework (EMAF) developed by Queensland's Inspector-General Emergency Management (IGEM) to support accountability, consistency and a shared responsibility for disaster management outcomes for the community.
Detailed hazard and risk assessment for bushfire and severe weather - flood, heatwave and storm tide.
Updated roles and responsibilities aligned with the State Disaster Management Plan.
Cr Flannery said council was continuing to deliver ongoing improvements to the region's local State Emergency Service volunteers.
"Our region has more than 360 SES volunteers who respond anytime of the day or night to help with sandbagging homes, tarping roofs, cutting down fallen trees and event rescuing stranded flood victims," he said.
"Earlier this year, the $1.25million new headquarters for the Moreton Bay SES unit and Petrie SES group was officially opened at Murrumba Downs.  Council has committed a further $100,000 in the 2017/18 towards the design of a purpose-built SES facility at Arana Hills.
"Our local SES volunteers played a pivotal role in protecting our community during the recent storm season and council is pleased to see planning and design work commence on this new purpose-built facility for our local SES."
Council offers MoretonAlert for residents and businesses, providing free alerts about severe weather including QFES bushfire warnings via text and e-mail. More than 45,000 people are now registered with the warning service.
You can register for MoretonAlert online at www.moretonbay.qld.gov.au/moretonalert or by calling (07) 3205 0555.
A copy of the new Local Disaster Management Plan is available from council's website at: www.moretonbay.qld.gov.au/local-disaster-management-plan