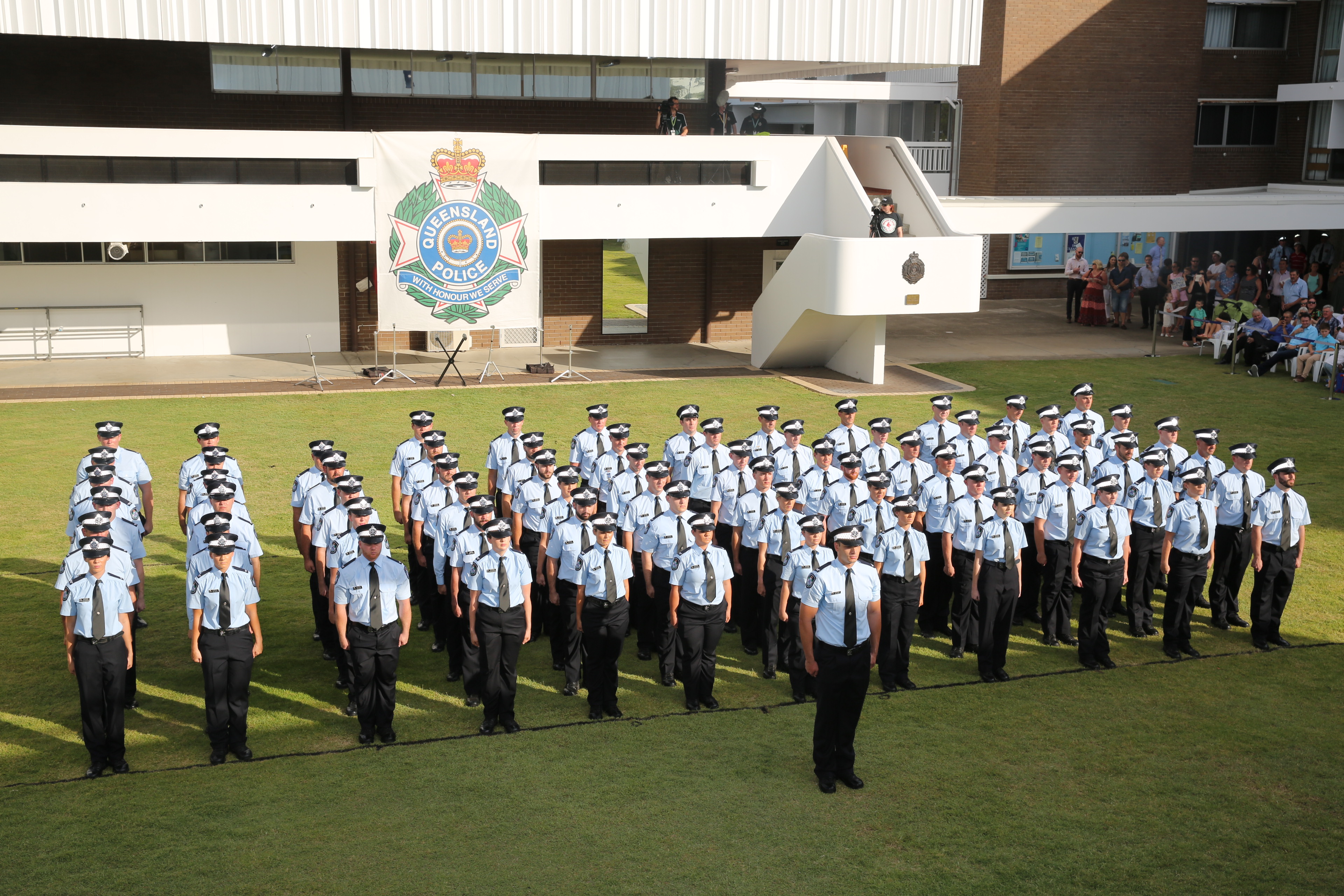 Induction ceremony sees new recruits sworn in to service
Minister for Police Mark Ryan and Police Commissioner Ian Stewart welcomed 40 new police officers to the Queensland Police Service (QPS) after a graduation ceremony was held at the QPS Academy, Oxley campus this evening.
Minister Ryan congratulated the new constables and welcomed them to the Service.
"Police perform a vital role in the maintenance of law and order, and public safety; and on behalf of the communities and the Palaszczuk Government, I am grateful for the 40 First Year Constables who have accepted this responsibility today," Minister Ryan said.
"Each has sworn that they will maintain integrity, professionalism and accountability when serving and protecting the people of Queensland. Queenslanders should feel confident that these standards will be met.
"They will assist to create a safe environment for residents and visitors, working in partnership with local communities and other government agencies around Queensland.
"First Year Constables breathe new life into the Service with their unique experiences and enthusiasm. I would like to acknowledge the education and support services provided by the high calibre of Queensland Police Service."
Graduating as First Year Constables (FYC), the new officers completed 25 weeks of intensive training. The recruit training program aims to provide recruits with a quality foundation so that they can deliver on excellent service to the community and ensure their policing skills have developed to a level necessary for operational policing as First Year Constables under supervision.
Of the 40 expected inductees, 16 recruits are graduates of the second Culturally and Linguistically Diverse (CALD) Recruit Preparatory Program. This is a 10 week preparatory training program targeting recruit applicants from culturally and linguistically diverse backgrounds to prepare them for mainstream recruit training. This 10 week program is undertaken prior to commencement of the mainstream Recruit Training Program.
Commissioner Stewart congratulated the FYCs on their graduation and announced that they would be positioned in the Brisbane, Central, South Eastern and Southern regions to commence their career.
"These allocations are based on the resources, needs and requirements of the Service. We have allocated 18 First Year Constables to the Brisbane Region, six to the Central Region, six to South Eastern and 13 to the Southern Region," Commissioner Stewart said.
"I remember my induction ceremony well and I hope that this afternoon's ceremony is a memory that each officer carries with them throughout a long and successful career within the QPS.
"The role of a police officer is like no other – responsible for the safety and security of Queensland. There is no doubt that each of these new officers will experience some challenging situations, however there will also be many rewarding and humbling times.
"I wish luck to every officer in their career and feel confident that they will uphold the QPS standards of excellence and service," Commissioner Stewart said.
The new FYCs will be initially deployed to the following areas:
Central Region
Capricornia District
            Gladstone Station                6
Southern Region
Ipswich District
            Ipswich Station                     1         
            Karana Downs                     1
            Yamanto                                1
South Eastern Region
Logan District
            Logan Central Station         1
            Loganholme Station                        1
            Beenleigh Station                1
            Jimboomba Station              1
            Springwood Station             1
            Crestmead Station               1
Gold Coast District
Coomera Station                  1
Nerang Station                     1
Southport Station                 2
Coolangatta Station            1
Broadbeach Station            1
Palm Beach Station            1
Brisbane Region
North Brisbane District
            Fortitude Valley Station      3
            Brisbane City Station          2
            Hendra Station                     1
            Indooroopilly Station           1
            Ferny Grove Station                        1
            Stafford Station                    1
            The Gap Station                   1
South Brisbane District
Acacia Ridge Station          1
Morningside Station                        1
Upper Mt Gravatt Station    1
Inala Station                         1
Annerley Station                  1
Cleveland Station                1
Wynnum Station                  1
Redland Bay Station           1