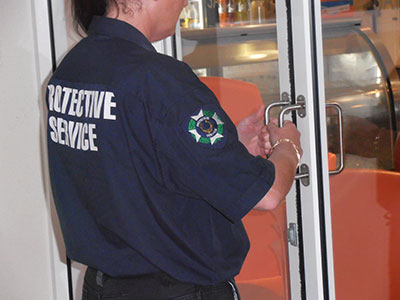 Queensland Police Service launch Protective Services
Minister for Police, Mark Ryan and Commissioner Ian Stewart officially launched Protective Services as part of the Queensland Police Service (QPS) portfolio and opened their new facility in Makerston House today.
Protective Services provide 24-hour management and security to 77 Government buildings, 384 state education sites and 155 Catholic schools and churches across Queensland.
Previously the State Government Protective Security Services, Protective Services was transitioned from the Public Safety Business Agency (PSBA) to the QPS in September 2016.
Minister Ryan welcomed protective services into the Queensland Police and said the new facility will ensure they continue their great work with up-to-date infrastructure.
"This new facility is closer to Police Headquarters, which makes its integration into the Service smoother and more inclusive," Minister Ryan said.
"The new office has been fitted out with modern IT solutions, which are key to providing a working environment that encourages and inspires the business unit to produce the best results possible.
"Protective Services operate to protect and serve the foundations of our state such as schools, churches and other state buildings and on behalf of the Palaszczuk Government I thank them for their fantastic efforts."
Commissioner Stewart warmly welcomed the unit to the QPS.
"Protective Services Officers play a vital role in protecting and managing the foundation of Queensland," Commissioner Stewart said.
Assistant Commissioner Mike Condon said he was committed to building trust, respect and empowerment as part of the transition and transformation of Protective Services.
"The commissioning of this new office space, the newly decaled Protective Services vehicles and soon the new central operations room are tangible and visual evidence of the commitment the QPS has made to providing Protective Services with the tools and processes required to undertake their important role in community safety," Assistant Commissioner Condon said.
A Central Operations Room (COR), which is responsible for monitoring both Government and private alarm systems throughout the State, will be relocated to Police Headquarters in the near future. Comprehensive planning is currently being progressed for the transition.
The new premises provides a modern and functional workplace within the Police Headquarters precinct and within a building that supports other QPS sections and PSBA.  
Vehicles have been decaled to reflect the new Protective Services brand and fitted with contemporary GWN radios and fit-for-purpose storage containers. The safety of the vehicles and officers has been significantly enhanced and remains paramount.
The new office space represents an approximate $800,000 investment by the QPS.