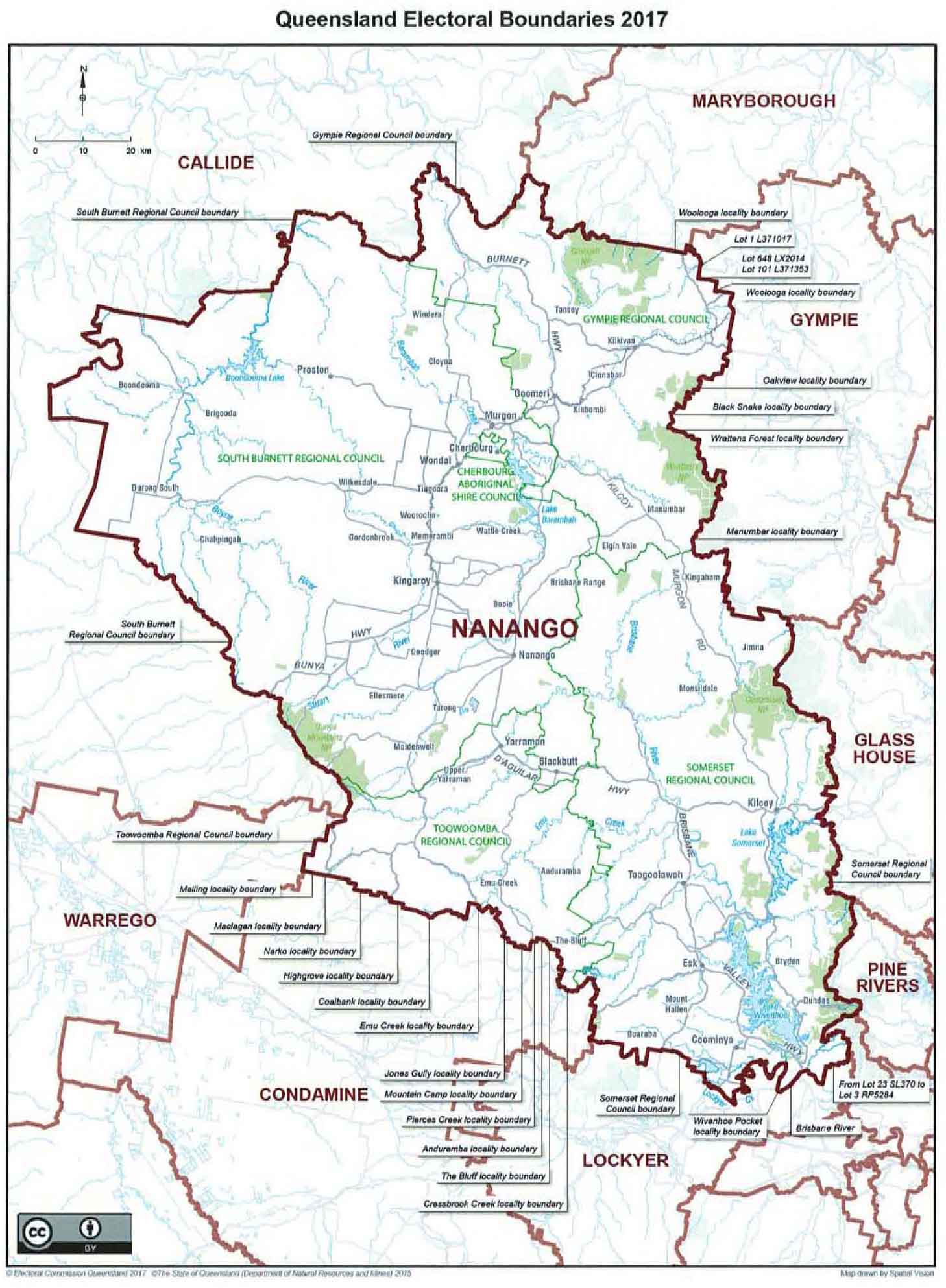 Queensland Election: Electorate Profile Nanango
Nanango is an electoral division in the state of Queensland, Australia. Notable towns include Nanango, Kingaroy and Crows Nest.
It has existed twice. It was first created in 1912, and was replaced by Barambah in 1950. It was recreated in 2001, as a replacement for Barambah.
Nanango was the original seat of Sir Joh-Bjelke Petersen (from 1947 to 1950).
The seat has never been won by the Australian Labor Party in either of its incarnations; indeed, counting its history as Barambah (which covered essentially the same area), it has been in the hands of a conservative party or a conservative independent for over a century.
Nanango is a south-east rural electorate that extends north and west along the Brisbane Valley and D'aguilar Highways and also stretches south to the edges of Toowoomba. Major centres include Kingaroy, Nanango, Kilcoy, Esk and Crows Nest. Covers 13,885 square kilometres.
Background
Nanango was first contested in 1912 and existed as a safe Country Party seat until it was abolished in 1950 when the Hanlon Labor government introduced the state's first zonal electoral system. Nanango was replaced by the electorate of Barambah, which continued to exist until replaced by the revival of Nanango in 2001.
Nanango was the name of the first electorate contested and won by Johannes Bjelke-Petersen in 1947. He won Barambah in 1950 and represented the seat until leaving Parliament in 1987 after 19 years as Premier. The by-election following his retirement saw the seat surprisingly won by the Citizens Electoral Council, the unsuccessful National Party candidate instead turning his attention to a career in federal politics.
The successful CEC candidate in 1988 was Trevor Perrett, but he left and joined the National Party before the 1989 election. Perrett went on to serve as a Minister in the Borbidge government before being crushed by the One Nation juggernaut at the 1998 election.
New MP Dorothy Pratt and One Nation parted company before the 2001 election when Barambah reverted to its former name of Nanango at the 2001 election. Pratt was easily re-elected as an Independent in 2001 with 46.2% of the first preference vote, 45.7% in 2004, 43.5% in 2006 and 40.1% in 2009. Her National opponent in both 2006 and 2009 was John Bjelke-Petersen, son of the former Premier, who has since gone on to contest election as a candidate of the Palmer United Party.
Pratt retired at the 2012 election and Nanango was won by the LNP's Deb Frecklington, overcoming a strong challenge from Carl Rackemann, the Katter's Australian Party candidate and a former Queensland and Australian fast bowler.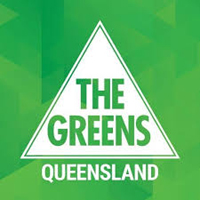 The Greens John Harbison
Party Website http://www.onenation.com.au/ email John Harbison office@qld.greens.org.au  or via facebook at https://www.facebook.com/John-Harbison-The-Greens-131805247562820/
By profession, I have worked for over 20 years as an environmental scientist specialising in groundwater assessment. My work has taken me throughout Queensland and has made me aware of the impact of mining and other development on farming communities. Before my current role, I worked for over ten years as a soil technician, in a horticulture laboratory, and as a coal chemist in Central Queensland.
We need mining to support our economy, but the benefits must flow to the community and not at the expense of forever losing productive farmland, water resources and unique ecosystems. Aside from the environmental impacts of coal mining generally, the proposed Adani mega-mine is unlikely ever to be rehabilitated.
Successive state governments are directly responsible for Queensland's very poor mine rehabilitation record so their assurances supporting this mine have zero credibility. If Adani is the answer, we are asking the wrong question.
The Greens will introduce legislation that ensures more integrity and accountability in government decision-making processes by banning donations from mining corporations. We'll raise $26 billion over five years by raising coal and gas royalties and put it into public infrastructure we'll need to transition to a new economy that will ensure prosperity and comfort for all Queenslanders.
The old parties, particularly the conservatives, have been tying themselves in knots over energy and climate action policies. It has become evident how detrimental their addiction to big business and climate denial ideology is to regional communities in particular. The system is broken – with your support the Greens can repair it.
I am proud to represent the Greens in the Nanango electorate to give electors the opportunity to vote for the Greens – the only political party with a strong environmental protection and social justice record.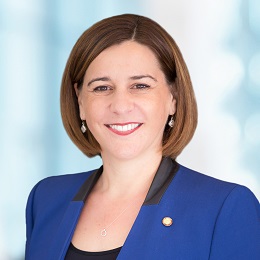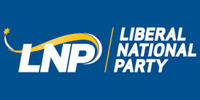 LNP Deb Frecklington
Party Website http://www.betterqueensland.org.au/  contact Deb Frecklington Facebook page https://www.facebook.com/DebFrecklingtonMP/ or email Deb Frecklington nanango@lnpq.org.au
Below you can listen now, to get to know Deb Frecklington
I'm a country girl born and bred. I grew up on a cattle property in Guluguba, north of Miles in Western Queensland. My parents worked the land to make a living, provide opportunities for their children and instill in us a love of regional Queensland and its people. 
Regional Queensland is my home and where my husband,  Jason and I chose to raise our family. Jason and I first met at the Cattleman's Bar at the Ekka and were married five years later. I am now the lucky mother to three wonderful girls and we call the town of Kingaroy, in the South Burnett, home. 
Like many Queenslanders, I started work straight out of high school - working at Fletcher Jones.
I was keen for new opportunities so went back to school at night to improve my grades and get into university to study business.
Back then it was easier to get different jobs and I spent time being a Jillaroo, selling newspaper advertising, working as a cattle property manager and as an office receptionist. 
I eventually studied law at QUT and became a partner in my own firm. At times, I was the only female lawyer in the entire South Burnett region. I practiced in property and family law, did free legal work for victims of domestic violence and developed a special interest in farm succession planning.  
Through my court work and talking to local police, I noticed that we had a real issue with mental health in our region, so I helped establish the South Burnett Suicide Prevention Group. 
Tim Nicholls and I first worked together in 2012 when I was an Assistant Minister in the former LNP Government. During this time I was successful in removing over 9,000 regulatory requirements on business and delivered over $425 million in savings for business, the engine room of the Queensland economy and regional communities.
Tim and I are a team. We are a mix of both city and country, Liberal and National – meaning Queenslanders get the best of both traditions.
One Nation Doug Grant
Party Website http://www.onenation.com.au/ contact Doug Grant via email cctv@cctv.com.au or via facebook at https://www.facebook.com/nanango.phon/
Below you can listen now, to get to know Doug Grant
While supporting the One Nations Policies, Douglas actually made his mind up to contest the next election on economic issues. He says, "We have a desperate situation now that has resulted in a massive debt close to $80 Billion." Queensland's rate of debt-to-Gross State Product (GSP) ratio has increased from 9.73% in 2003-04 to 24.54% in 2013-14. 
In comparison to the other states, Queensland now has the highest rate of debt-to-GSP ratio. The graphs of Debt-to-GSP are going the wrong way. Douglas says, "He does not believe either of the 2 Major Party's are capable or competent in running the State's finances". 
Douglas immigrated from Canada in the late 80's with his Australian born wife where he worked as an Electrician. He has worked all his life in various industries ranging from Timber Mills, Oil Rigs off Aberdeen, Managing International Security Divisions. The last 30 years he has specialised in CCTV design and consultancy throughout Queensland. 
Their home is in the Electorate of Nanango, the Jewel of Queensland where he will be working to improving the prosperity of the community in the areas of agriculture, tourism, and small business. This election will offer Qld. the opportunity to climb out of this spiral debt policy the present and past Governments have left us with. 
Less support has to be afforded to the population who refuse to work, or refuse to contribute to the community at large. With exception to people who honestly need assistance, Douglas's list of priority's are always going to be to improve the quality of life of Farmers, Pensioners and Veterans who have supported and served us all in the preservation of the Australian culture. He believes that we need to fight to preserve our clean Water and Food for the generations to come. 
Douglas's Motto - "Keep our earnings in the State and employ our own people".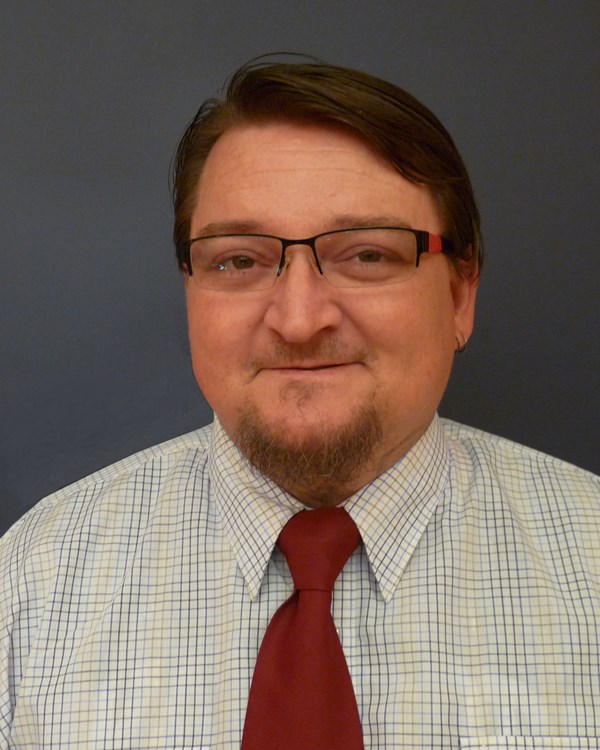 Labor Ben Rankin
Party Website https://www.queenslandlabor.org/ Ben Rankin contact ben.rankin@queenslandlabor.org or  https://www.facebook.com/Ben-Rankin-Labor-Candidate-for-Nanango-1952464901668915
Ben Rankin is a locally-based small business owner having called the South Burnett home for the past six years, having made the "tree-change" move from the Redcliffe area. The choice to relocate came from the love of country living, business ventures and the desire of raising his children in the bush.
Ben lives in Yarraman with his wife and their three children. A Registered Primary Caregiver for his ASD-diagnosed six-year-old son, Ben understands first-hand the varying pressures facing regional Queensland families.
Ben has worked in a range of different jobs, from turf farm labourer, to butcher shops, to truck driving, to warehousing and now as a business owner.
His broad range of experience and having dealt with the daily challenges of being a business owner, a father and a carer Ben knows first-hand the issues facing families in regional Queensland.
Issues like the need for more secure work, better health services and well-staffed state schools are important to Ben.
Ben has the diversity of life experience to be a great local champion for the South Burnett.
Pre-Poll Infomation
Blackbutt Pre-poll
(QGAP Office)
 
Council Building
69 Hart Street
BLACKBUTT QLD 4306
AUSTRALIA
 
1300 881 665
 
 
 
 
Brisbane CBD All-Districts Centre Pre-Poll
 
Brisbane City Hall, Sandgate Room
64 Adelaide Street
BRISBANE QLD 4000
AUSTRALIA
 
 
 
 
 
13 Nov - 17 Nov : Mon-Fri 9am-5pm
18 Nov: Sat 9am-4pm
20 Nov - 23 Nov: Mon-Thu 9am-5pm
24 Nov: Fri 9am-6pm
Bundaberg All-Districts Centre Pre-Poll
 
Shop 12 and 3
9 Maryborough Street
BUNDABERG CENTRAL QLD 4670
AUSTRALIA
 
 
 
 
 
13 Nov - 17 Nov : Mon-Fri 9am-5pm
18 Nov: Sat 9am-4pm
20 Nov - 23 Nov: Mon-Thu 9am-5pm
24 Nov: Fri 9am-6pm
Burleigh All-Districts Centre Pre-Poll
 
18 Park Avenue
BURLEIGH HEADS QLD 4220
AUSTRALIA
 
 
 
 
 
13 Nov - 17 Nov : Mon-Fri 9am-5pm
18 Nov: Sat 9am-4pm
20 Nov - 23 Nov: Mon-Thu 9am-5pm
24 Nov: Fri 9am-6pm
Cairns All-Districts Centre Pre-Poll
 
96-98 Mulgrave Road
PARRAMATTA PARK QLD 4870
AUSTRALIA
 
 
 
 
 
13 Nov - 17 Nov : Mon-Fri 9am-5pm
18 Nov: Sat 9am-4pm
20 Nov - 23 Nov: Mon-Thu 9am-5pm
24 Nov: Fri 9am-6pm
eAssist - Coorparoo Pre-Poll
 
Vision Australia (Voting for electors who are blind or have low vision)
373 Old Cleveland Road
COORPAROO QLD 4151
AUSTRALIA
 
 
 
 
 
13 Nov - 17 Nov : Mon-Fri 9am-5pm
18 Nov: Sat 9am-4pm
20 Nov - 23 Nov: Mon-Thu 9am-5pm
24 Nov: Fri 9am-6pm
Hervey Bay All-Districts Centre Pre-poll
 
82 Dayman Street
URANGAN QLD 4655
AUSTRALIA
 
 
 
 
 
13 Nov - 17 Nov : Mon-Fri 9am-5pm
18 Nov: Sat 9am-4pm
20 Nov - 23 Nov: Mon-Thu 9am-5pm
24 Nov: Fri 9am-6pm
Kilkivan Pre-Poll
(QGAP Office)
 
Council Building
26 Bligh Street
KILKIVAN QLD 4600
AUSTRALIA
 
1300 881 665
 
 
 
 
Kingaroy Pre-poll
 
SB Care
90 Kingaroy Street
KINGAROY QLD 4610
AUSTRALIA
 
 
 
 
 
13 Nov - 17 Nov : Mon-Fri 9am-5pm
20 Nov - 23 Nov: Mon-Thu 9am-5pm
24 Nov: Fri 9am-6pm
Mackay All-Districts Centre Pre-Poll
 
Mackay Showgrounds, 500 Pavilion Lower Level
24 Milton Street
MACKAY QLD 4740
AUSTRALIA
 
 
 
 
 
13 Nov - 17 Nov : Mon-Fri 9am-5pm
18 Nov: Sat 9am-4pm
20 Nov - 23 Nov: Mon-Thu 9am-5pm
24 Nov: Fri 9am-6pm
Maroochydore All-Districts Centre Pre-Poll
 
Shop 1
19 Duporth Avenue
MAROOCHYDORE QLD 4558
AUSTRALIA
 
 
 
 
 
13 Nov - 17 Nov : Mon-Fri 9am-5pm
18 Nov: Sat 9am-4pm
20 Nov - 23 Nov: Mon-Thu 9am-5pm
24 Nov: Fri 9am-6pm
Morayfield All-Districts Centre Pre-poll
 
6/379 Morayfield Road
MORAYFIELD QLD 4506
AUSTRALIA
 
 
 
 
 
13 Nov - 17 Nov : Mon-Fri 9am-5pm
18 Nov: Sat 9am-4pm
20 Nov - 23 Nov: Mon-Thu 9am-5pm
24 Nov: Fri 9am-6pm
Noosa All-Districts Centre Pre-Poll
 
Tewantin Campus
24 Cooroy Noosa Road
TEWANTIN QLD 4565
AUSTRALIA
 
 
 
 
 
13 Nov - 17 Nov : Mon-Fri 9am-5pm
18 Nov: Sat 9am-4pm
20 Nov - 23 Nov: Mon-Thu 9am-5pm
24 Nov: Fri 9am-6pm
Oodgeroo All-Districts Centre Pre-Poll
 
248 Bloomfield Street
CLEVELAND QLD 4163
AUSTRALIA
 
 
 
 
 
13 Nov - 17 Nov : Mon-Fri 9am-5pm
18 Nov: Sat 9am-4pm
20 Nov - 23 Nov: Mon-Thu 9am-5pm
24 Nov: Fri 9am-6pm
Redcliffe All-Districts Centre Pre-Poll
 
Unit 10
3-5 High Street
KIPPA-RING QLD 4021
AUSTRALIA
 
 
 
 
 
13 Nov - 17 Nov : Mon-Fri 9am-5pm
18 Nov: Sat 9am-4pm
20 Nov - 23 Nov: Mon-Thu 9am-5pm
24 Nov: Fri 9am-6pm
Returning Officer Nanango Pre-Poll
 
61-65 Drayton Street
NANANGO QLD 4615
AUSTRALIA
 
1300 881 665
 
 
 
13 Nov - 17 Nov : Mon-Fri 9am-5pm
20 Nov - 23 Nov: Mon-Thu 9am-5pm
24 Nov: Fri 9am-6pm
Southport All-Districts Centre Pre-Poll
 
Ashmore Centre
345 Southport-Nerang Road
MOLENDINAR QLD 4214
AUSTRALIA
 
 
 
 
 
13 Nov - 17 Nov : Mon-Fri 10am-6pm
18 Nov: Sat 9am-4pm
20 Nov - 24 Nov: Mon-Fri 10am-6pm
Townsville All-Districts Centre Pre-Poll
 
Hyde Park Centre
Shop 9
36 Woolcock Street
HYDE PARK QLD 4812
AUSTRALIA
 
 
 
 
 
13 Nov - 17 Nov : Mon-Fri 9am-5pm
18 Nov: Sat 9am-4pm
20 Nov - 23 Nov: Mon-Thu 9am-5pm
24 Nov: Fri 9am-6pm
Nanango Polling Booths