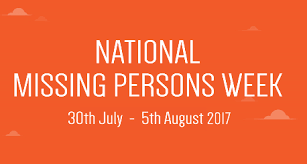 National Missing Persons Week – Disappearing Person Alerts 2017
The Queensland Police Service today announced the launch of using Disappearing Person Alerts on Snapchat to assist with public messaging to help locate missing people.
As an extension of the current use of Facebook and Twitter to deliver information to the public, the widely used social media platform represents an opportunity to engage with a younger generation of Queenslanders.
Acting Deputy Commissioner, Specialist Operations, Tracy Linford said that using Snapchat broadens the current social media reach that the Queensland Police Service has to further share information about missing people.
"The demographics using Snapchat in Australia are largely in the 18 to 25-year-old demographic so it enables us to send information and images to these people who may not be engaged in other forms of social media," Acting Deputy Commissioner Linford said.
"While the messages appear once and then disappear, any information reaching members of the community to assist us to locate a missing person is positive.
"On average, around 100 people are reported missing to police every week in Queensland. We as a police service do all we can to help families find their loved ones, so this is a logical extension on our already large reach in the social media sphere."
The launch coincides with National Missing Persons Week which was launched AFP Commissioner Andrew Colvin and Acting Deputy Commissioner Linford  in Brisbane this morning.
This year, the focus is on the high number of youth that are reported missing each year through the campaign "Still waiting for you to come home".
Acting Deputy Commissioner Linford renewed an appeal for information relating to Chad and Melony Sutton who were last seen in 1992 when they were both teenagers.
"Aged 16 and 14, Chad and Melony who were last seen on the morning of 23 November 1992 after leaving their family home in Inala."
"They missed the bus to school that day, with neither of them seen since. This year will mark the 25th anniversary of their disappearance."
"Today we have released age progressed images of Chad and Melony to show the public how they may look today, aged 41 and 39 years."
"We would also take this opportunity to appeal for further information about the siblings, no matter how insignificant you may consider it to be it may just be the key to finding them," Acting Deputy Commissioner Linford said.
If you have information for police, contact Policelink on 131 444 or provide information using the online form 24hrs per day.
You can report information about crime anonymously to Crime Stoppers, a registered charity and community volunteer organisation, by calling 1800 333 000 or via crimestoppersqld.com.au 24hrs per day.