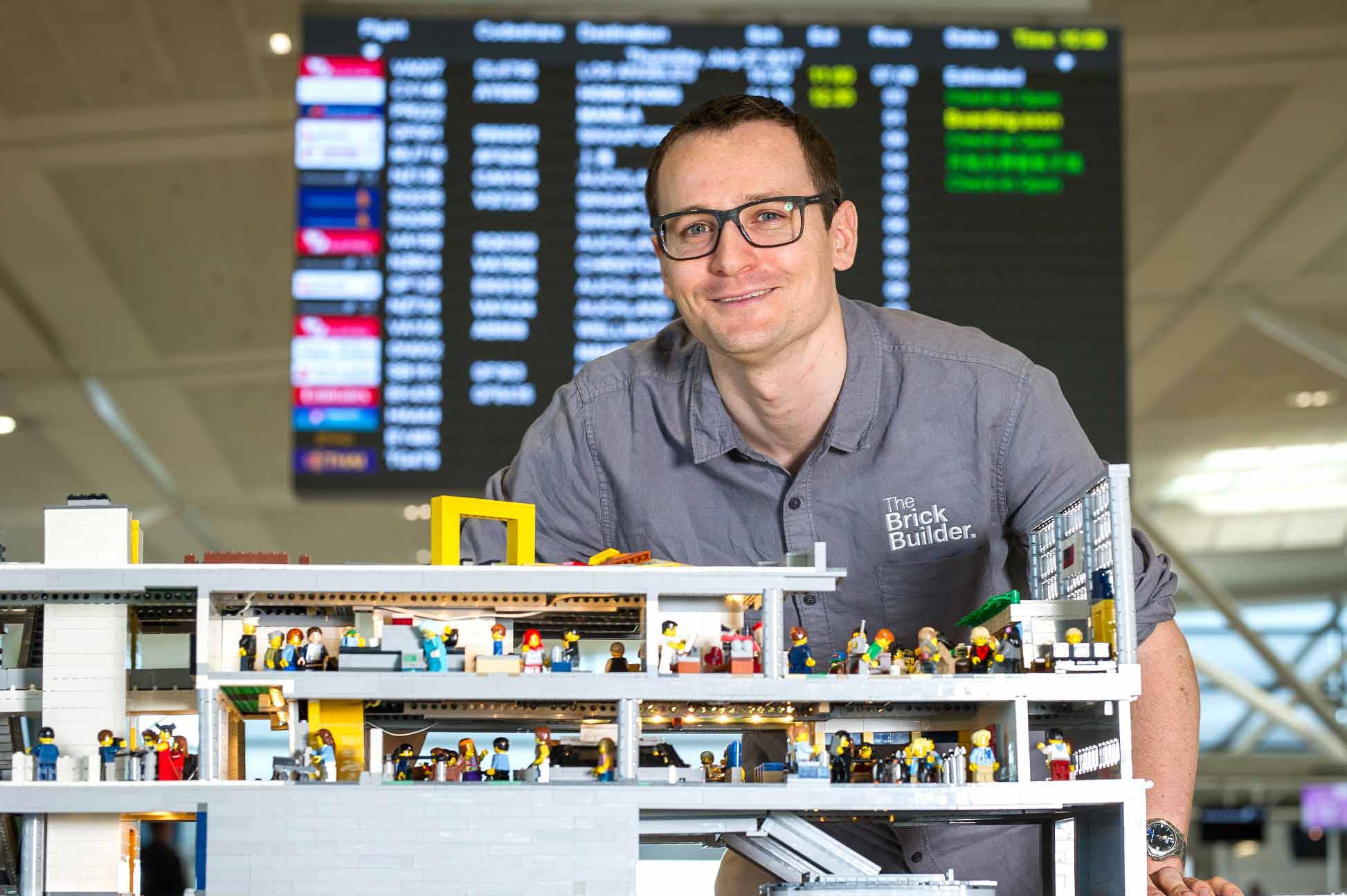 Local brick builder named Brisbane Airport's new Artist-in-Residence
Ben Craig, aka Ben the Brick Builder, who once failed an art assignment at school because he was told building with LEGO® was not an acceptable form of art, has been appointed Brisbane Airport's (BNE) new Artist-in-Residence.
For the next 12 months, as part of the BricksBNE project, Ben will be creating two 'walls' of artwork - depicting favourite travel experiences from passengers - entirely from LEGO bricks.
Throughout the year travellers will be encouraged to share their travel experiences for the opportunity to be recreated in LEGO bricks.  Anchoring the displays in each wall will be two large scale works by Ben – one showing a day in the life of Brisbane Airport's International Terminal (with some quirky characters included) almost two metres in length and the other a detailed model of a new aviation wonder more than a metre in length.
Together the passenger inspired creations and larger centrepieces will form two patchwork walls of art celebrating the best of aviation and travel.
Ben will also host a series of public workshops in and around the airport to share his LEGO-building skills and tips.
Julieanne Alroe, Brisbane Airport Corporation (BAC) CEO and Managing Director, said BAC was inundated with interest from LEGO brick artists vying for the position of Artist-In-Residence at BNE.
"The number of applications we had from all over Australia and as far away as India was quite surprising and the way in which people are building art-forms with LEGO bricks is very impressive.
"Ben blew us away with his skill and artistic ability in creating incredibly detailed mosaic pictures and large scale 3D artworks with the bricks.
"This is the first year passengers through Brisbane Airport will have the opportunity to be really hands on in workshops and influence the artworks themselves and we're really looking forward to seeing the result," Ms Alroe said.
Since failing his school art assignment, Ben has received a number of accolades for his works, some so complex they are made from over 20,000 LEGO pieces and stand nearly two metres high, like his model of London's iconic St Pancras train station and clock tower.
"Airports are full of stories, and beyond spending the year bringing together two major passions, aviation and building with LEGO, I am excited to have the opportunity to engage travellers, illustrating their stories and travel experiences with LEGO bricks," Mr Craig said. 
Ben is the third artist-in-residence to be appointed by Brisbane Airport. He follows Queensland Symphony Orchestra which played pop-up performances to surprised and delighted travellers inside the terminals during the past year and realist painter Robert Brownhall who illustrated his visions on canvas from hours exploring the airport as the first Artist-in-Residence in 2015.
Ben's workshops start from 15-16 September at Skygate, Brisbane Airport. Find out more and how to participate in BricksBNE at BricksBNE.com.au.