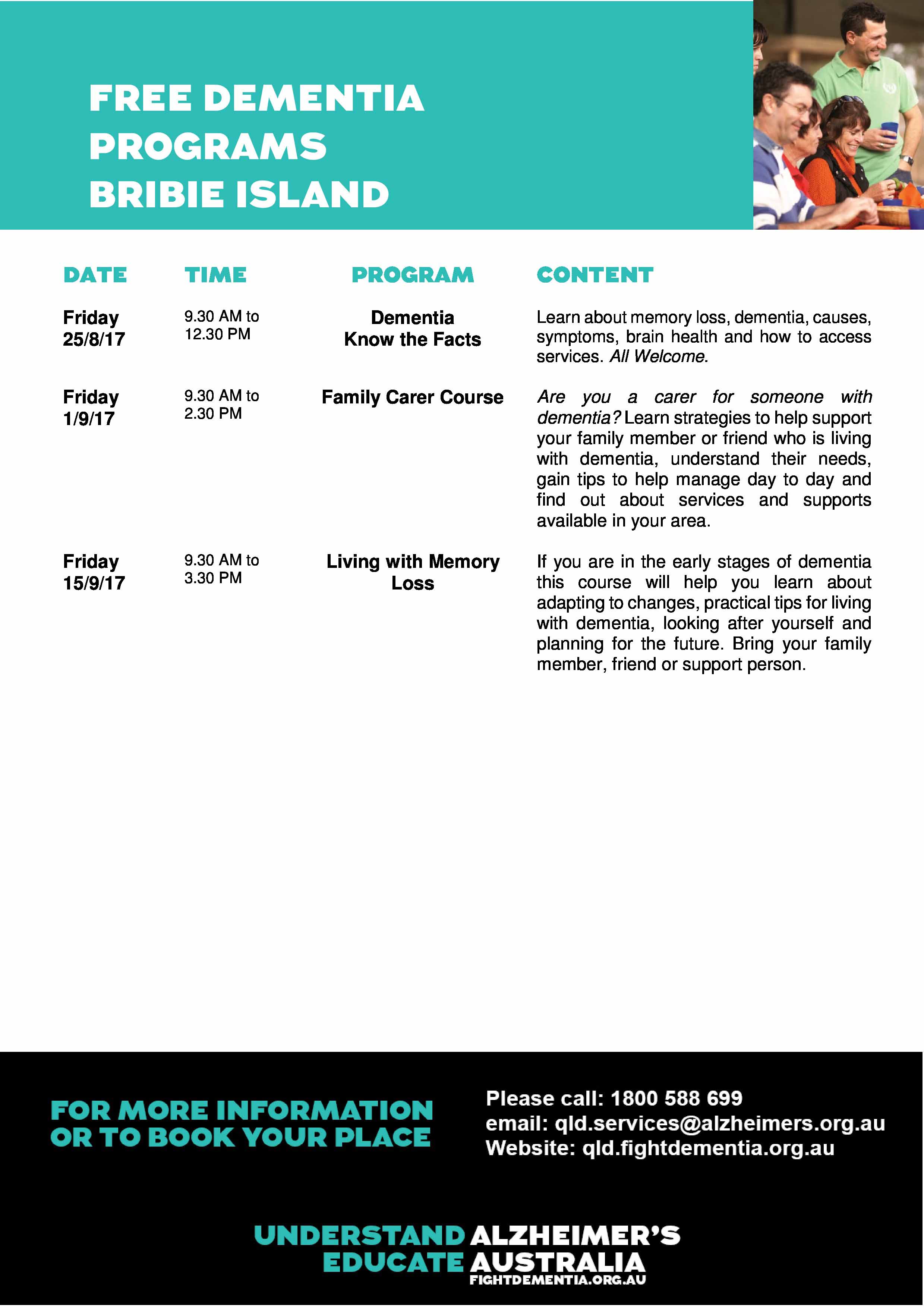 Free dementia education sessions in Bribie Island
Do you know someone living with dementia? Alzheimer's Australia (Qld) is holding FREE education sessions for people living with dementia and their loved ones in your region.
There are an estimated 77,633 people with dementia in Qld, which is expected to grow to 233,298 people by 2056. 
Chances are, someone you know is living with dementia. Come along to these free education sessions and discover more about dementia and the support that is available.
The education sessions will cover a series of topics, including "Dementia – know the facts" "Family Carer Course" and "Living with Memory Loss" for family or friends wanting to find out more information about caring for someone with dementia.
Barbara Cunningham, Senior Dementia Advisor from Alzheimer's Australia (Qld) says that the aim of these education sessions is to support the community.
"Attending these workshops could help you get a better understanding of dementia and develop effective strategies either for yourself or to support a loved one," said Barbara.
Registrations are essential for the below courses and light refreshments will be provided. Specific location details will be provided upon registration.
Bribie Island

Dementia – know the facts: Friday 25th August
Family Carer Course: Friday 1st September
Living With Memory Loss: Friday 15th September
To register or for more information, including course times, please call 1800 588 699, email qld.services@alzheimers.org.au or visit www.fightdementia.org.au/qld 
Alzheimer's Australia (Qld) is the charity for people with dementia and their families and carers. As the peak body, it provides advocacy, support services, education and information.  An estimated 413,103 people have dementia in Australia. This number is projected to reach more than a million by 2056. 
These educational sessions are funded by the Australian government.
National Dementia Helpline: 1800 100 500
An interpreter service is available
(The National Dementia Helpline is an Australian Government Initiative)                                      
Dementia is a National Health Priority Area                                                www.fightdementia.org.au
-Ends-