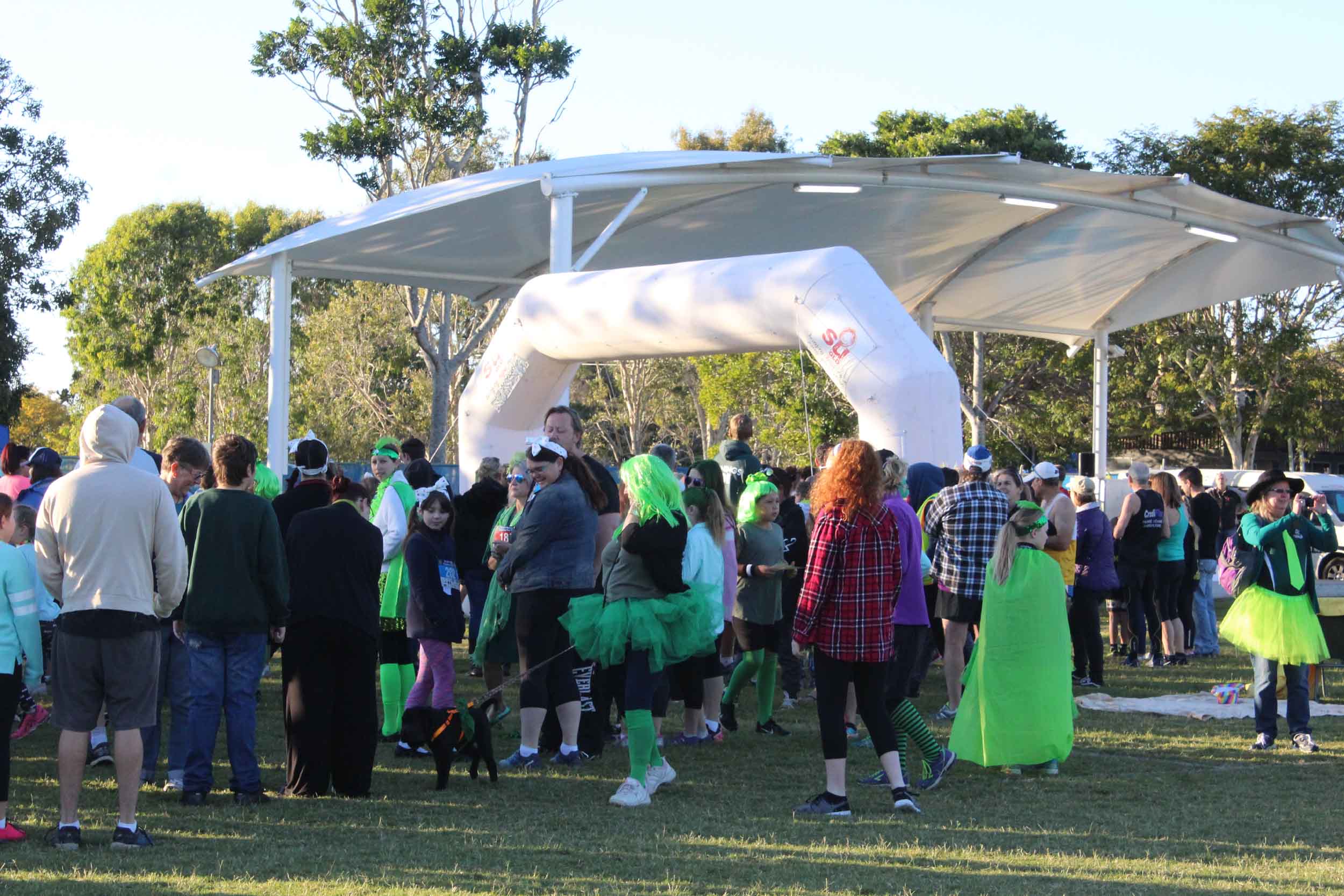 Big totals all around at the 11th Annual Caboolture Rotary Chaplains Fun Run at Centenary Lakes
Early start at 6 am did not deter the Moreton Bay Region young and old alike to come together, to not only show their fitness and contribute with their hearts, towards the 11th annual  Rotary Chaplains Fun Run at Centenary Lakes this morning.
Before the big race the fun run Mascot was on hand to ensure everyone limbered up and was prepared by warming up.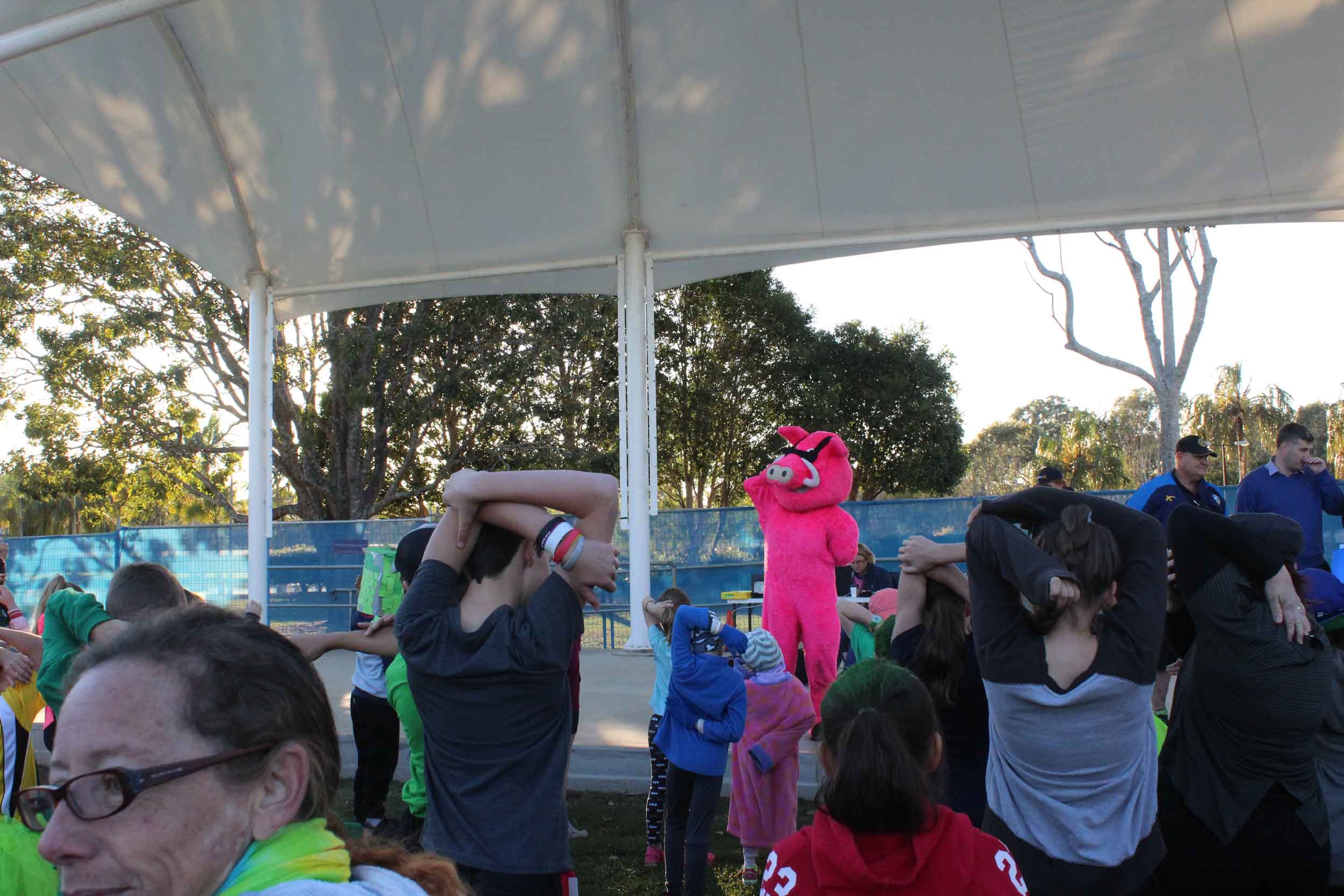 Schools and individuals, male and female all joined the common cause with smiles on their faces eager in anticipation to clock their best time at short and long distance fun run activities which took about one hour to complete.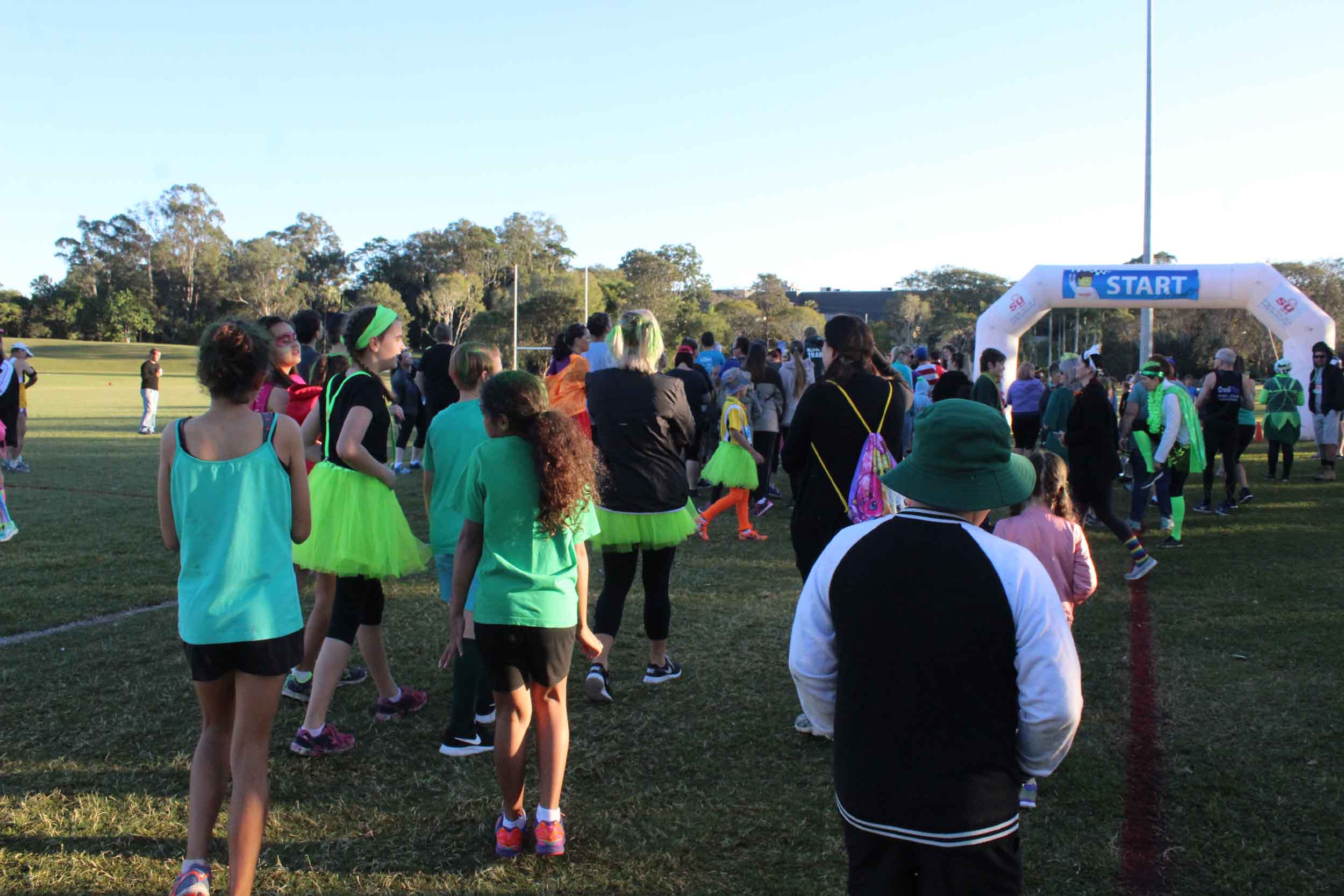 One of the groups behind their chappy Tracy was the Caboolture State School which last year had three entrants and this year eclipsed that with over 90, which went on to take the Biggest school representation prize as well as contributing heaps towards the Chaplains fundraiser.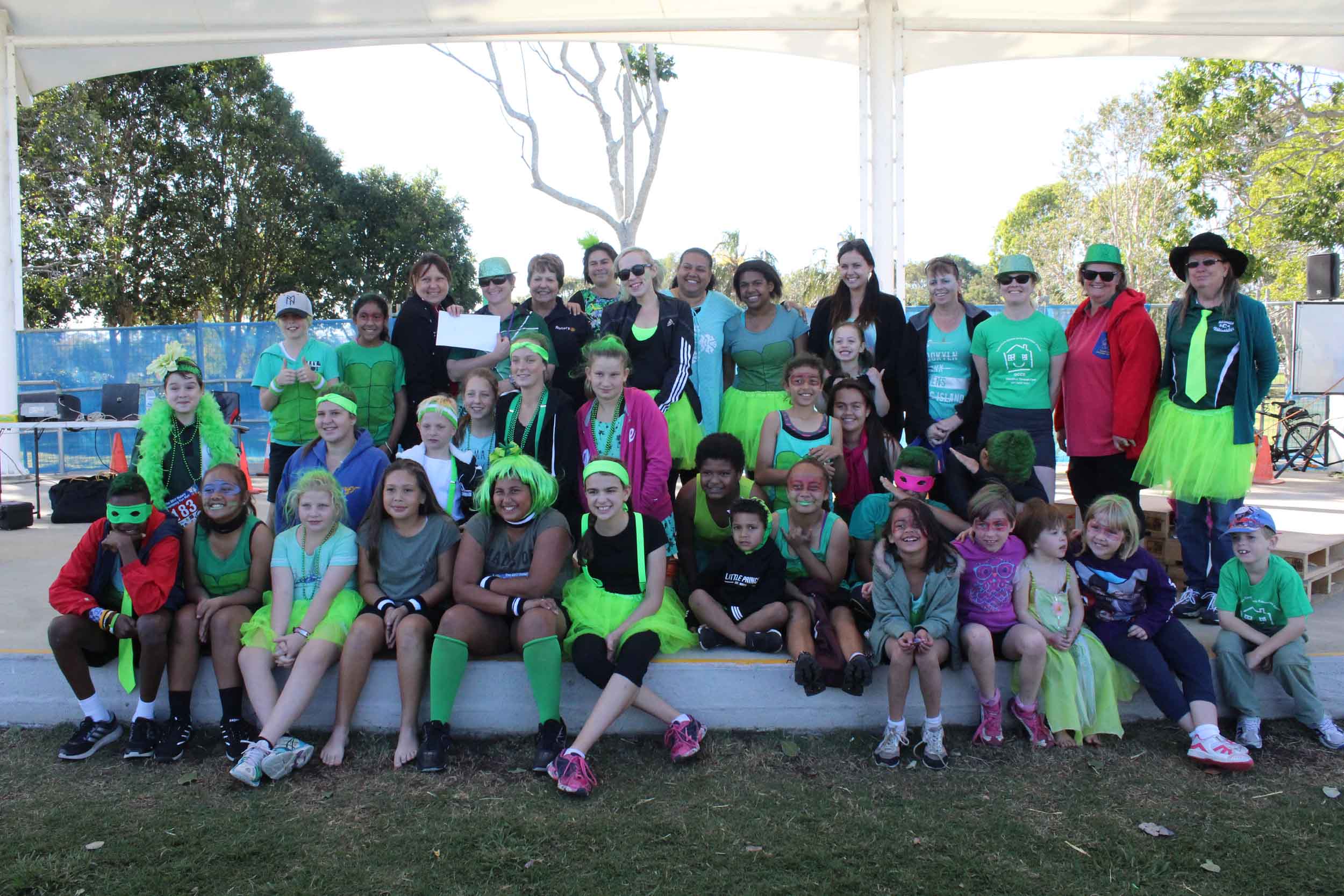 During the morning the music atmosphere was catered for by Moreton Bays Home Of Classic Hits and entertainment continued after the event with live music performances.
Shane Moon the Coordinator of the event said "I am so happy ,  it gets bigger and bigger each year and well I am so looking forward to next year", Mr Moon said that "already starting this afternoon, planning will begin in earnest to ensure next years event will even be bigger and better".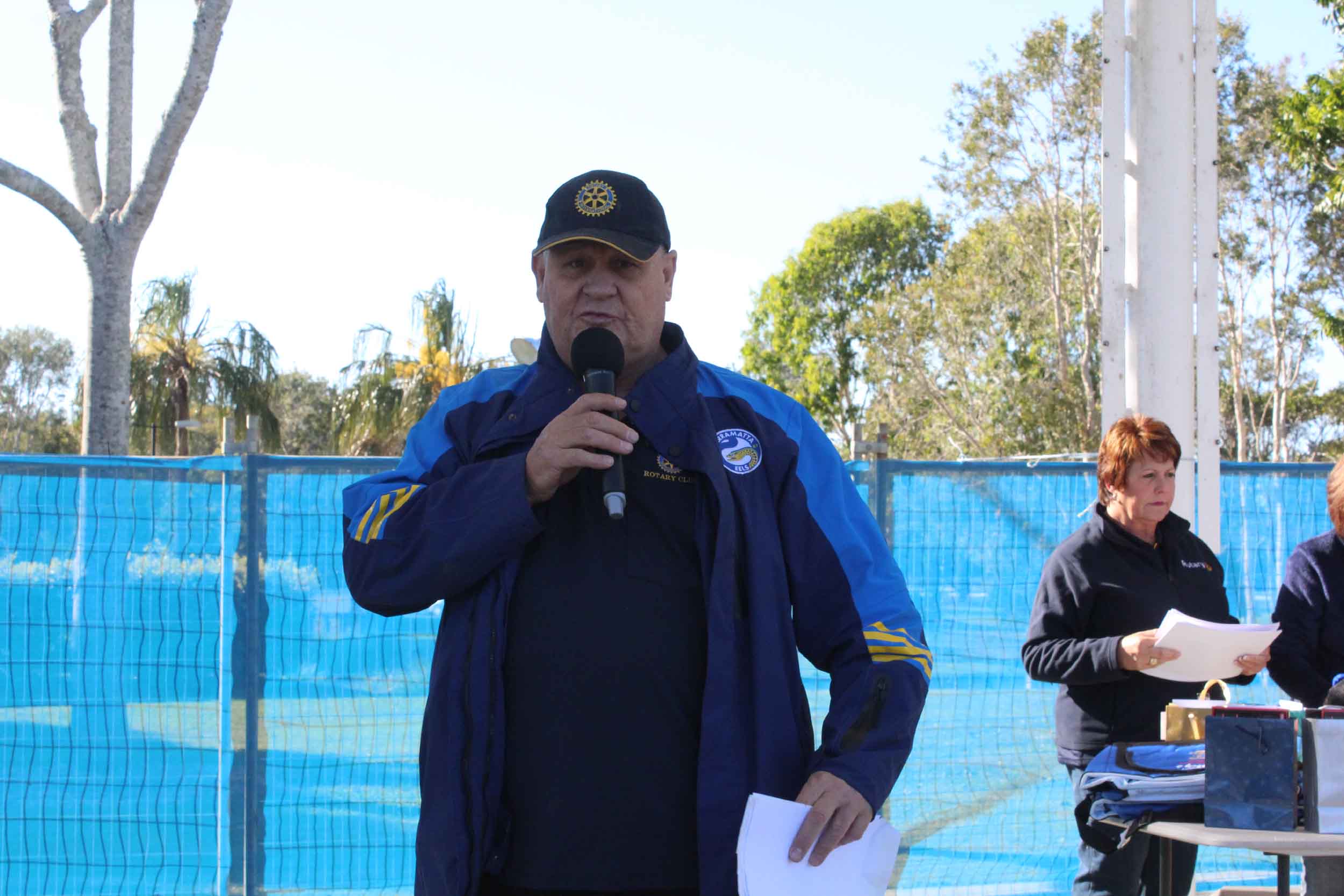 Every one is a winner by all accounts however the following is the Category Winners
2K Fun Run Junior Female
1, Elliot Bow 10:46.6 and 2, Sofia Hinz 13:05.9
2K Fun Run Open Female
1, Georgie Vinton 13:13.3 2, Stacy Curtis 15:05.9 3, Mia McCallum 15:26.2
2K Fun Run Junior Male
1, Toby Vinton 9:57.7 2, Nathanial Van Lonkhuyzen 10:57.2 3, Oliver Vinton 14:31.7
2K Fun Run Open Male
1, Ryan Murphy 10:27.1 2, Riley O'Sullivan 12:02.1 3, Baylee O'Sullivan 13.31.1
5K Fun Run Junior Female
1, Ruby Ciantar 26:47.3 2, Morgan Adamski 27.28.9 3, Bronwyn Bennett 33:25.8
5K Fun Run Open Female
1, Bec Outtrim 20.34.9 2,Leimen Eglentals 22:04.4 3, Cassy Ciantar 27:31.9
5K Fun Run Junior Male
1, Daniel Berry 22:14.3 2, James Desbrow 3, Jayden Curtis 22:54.8
5K Fun Run Open Male
1, Leimen Eglentals 22:04.4 2, Tony Smith 22:23.2 3, Nathan Cope 25.50.1
10K Fun Run Female
1, Michelle Haynes 37:49.2 2, Kate Gold 53:46.3 3, Aleta Hayes 55:36.6
10KFun Run Male
1, Chris Roberts 42:21.9 2, Derek Van Lonkhuyzen 43.13.4  3, Steven Hayes 46:07.4