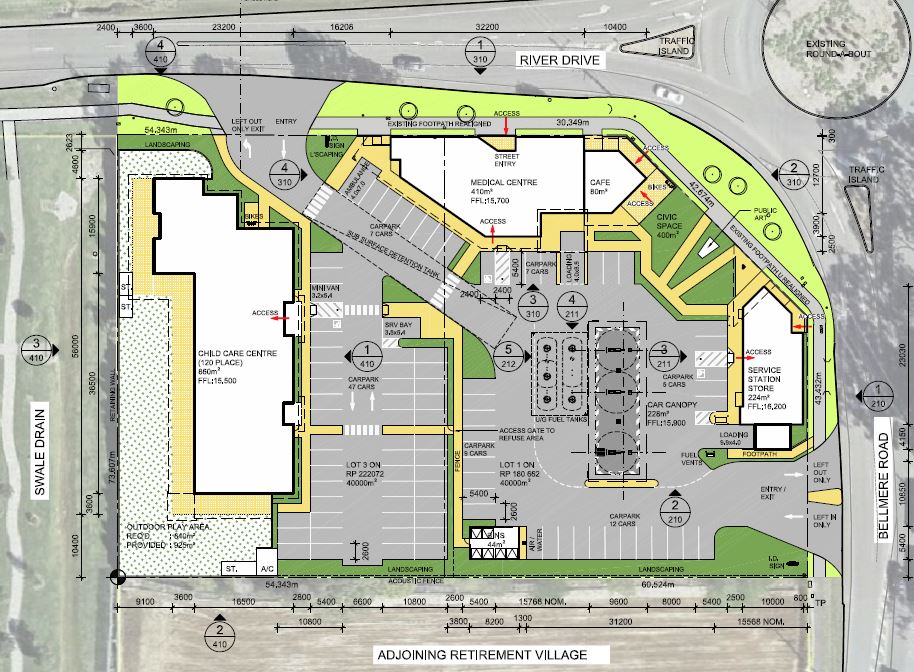 Bellmere opens up with medical centre child care centre and petrol service station as population increases need
As the population increases with new estates so to does infrastructure for services and amenities to serve that growing residents, this is just about to start west of Caboolture in Bellmere.
With a development application having been recently lodged with the Moreton Bay Regional Council for combined 7 / 11 Service Station, Medical Centre and Child Care Centre, located at 84‐86 Bellmere Road and 5 River Drive, Bellmere.
Designed by inTotum the proposal seeks to establish a new child care centre (serving 120 children), a service station, health care service (medical centre) and food and drink outlet (café) as part of a mixed use redevelopment of residential properties that are located in the General Residential Zone and Suburban Neighbourhood Precinct.
The health care service and food and drink outlet buildings are positioned along the River Drive frontage, the service station building is positioned along the Bellmere Road frontage, with both buildings providing direct pedestrian access from the public footpath. The child care centre is positioned along the site's southern side boundary within internal pedestrian access.
The details for the Service Station are:
– New Fuel canopy over unleaded and diesel fuel dispensers
– 3 petrol bowers in total
– Total GFA for the Service Station Shop 224sqm
– New underground fuel storage tanks, with split compartments
– 26 car parking spaces provided – 1 Air and water car parking spaces
– 1 Storey and 5.5m maximum building height – 8m height illuminated pylon sign
Child Care Centre will have the following:
– building height of 1 storeys (5m in height)
– 120 children
– GFA 860sqm
– 1 External play areas (925sqm)
– Acoustic fence around outdoor play area
– covered varandah
– 47 car park spaces (including 1 disability space)
Sourcing from Yourneighbourhood.com.au and the Moreton Bay Regional Council