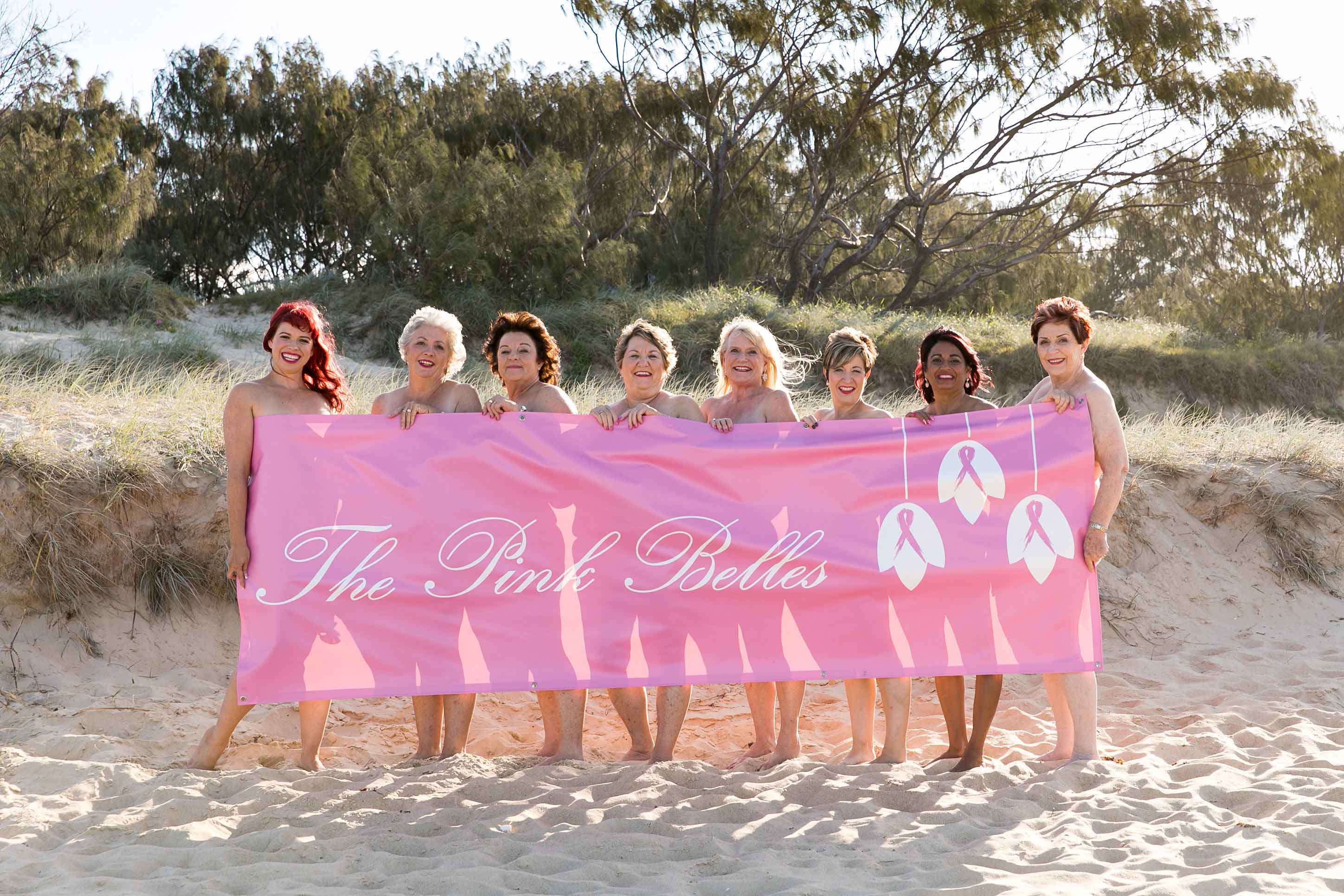 Belles strip off for calendar to raise funds for cancer fight
Nine Queensland women have bared all for a cancer free future in a 'Calendar Girls' style shoot that will hit the streets this week.
The ladies, who form a fundraising group called The Pink Belles, struck a variety of poses behind different items for a fun and tasteful calendar, created in support of Cancer Council Queensland.
The Pink Belles will launch their 2018 Celebration Calendar on Thursday, August 24, at Centenary Lakes Function Centre in Caboolture.
The funds from the sale of the calendar will go towards lifesaving cancer research, prevention and support services.
Members of The Pink Belles hail from either the Moreton Bay region or the Sunshine Coast; they are all passionate about raising awareness and funds for cancer control, taking part in numerous Cancer Council campaigns, as CancerFREE Challenge* participants.
All of the 'belles' have been touched by cancer in some way, with group members either experiencing their own cancer fight and having loved ones diagnosed.
The 2018 Celebration Calendar was the idea of The Pink Belles member Donna Poll, who said all the other girls took to it straight away.
"Our personal experiences drive us and keep us motivated to help other people and do whatever we can to take cancer on - every little bit helps," she said.
Ms Poll said the group hoped locals would support their fundraising efforts by purchasing a calendar.
"Since the 'belle' rang in 2008 we have raised over $87,000," Ms Poll said.
"2017 marks our tenth year of fundraising and this year we have set a goal of $100,000 to reach."
Following the launch, the $12 calendar will be on sale at www.thepinkbelles.com or from Cancer Council Queensland's Sunshine Coast office in Maroochydore.
The calendars will also be available from the group's Daffodil Day stalls at Caboolture, Morayfield and North Lakes on Friday, August 25.
Cancer Council Queensland CEO Ms Chris McMillan commended members of The Pink Belles for their commitment to the cause.
"Through the efforts of local fundraisers like The Pink Belles, we are making a tangible difference in the fight against cancer and we cannot thank them enough," Ms McMillan said.
"By purchasing a 2018 Celebration Calendar you can help support the one in two Queenslanders who will be diagnosed with cancer in their lifetime."
*The CancerFREE Challenge campaign rewards and acknowledges Cancer Council Queensland's most talented fundraisers in the State by inviting them to fundraise in 2017 and compete for the rights to name a research grant.
Cancer Council Queensland is an independent, community-based charity, the achievements of which are made possible by the generosity of Queenslanders.
More information about Cancer Council Queensland is available at www.cancerqld.org.au or Cancer Council's 13 11 20.