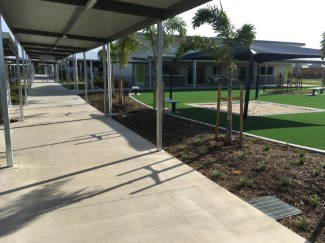 Pumicestone State School celebrates official opening
Education Minister Kate Jones celebrated the official opening of the new Pumicestone State School with students, teachers and parents in Caboolture today.
Ms Jones said the new primary school, which took its first enrolments in January, had more than 300 students from Prep to Year 6.
"I'm delighted to be here to celebrate the official opening of Pumicestone State School today with staff, students and community representatives," Ms Jones said.
"The new school is one of four new schools which opened for the start of school this year, including the Cairns Special School, Fernbrooke State School at Redbank Plains and Bellbird Park State Secondary College."
Ms Jones said students and their teachers had been enjoying the new facilities at Pumicestone State School and the school has received strong enrolment interest.
"Stage Two of the new school is expected to be complete for the start of the 2019 school year and will include additional classrooms and a multi-purpose hall," she said.
"The school will then have the capacity to accommodate more than 800 students.
"The school already has 16 classrooms, a library, a music room and an instrumental practice room, a canteen, uniform shop, three playground areas and an administration building.
"A new science and technology laboratory is invaluable for the school's focus on STEM subjects and IT equipment and wireless connection is helping students learn robotics and coding."
Foundation Principal Robyn Conlin, who has more than 25 years of educational experience in Australia and overseas, said Pumicestone State School was thriving.
"The school motto, 'Shaping our Tomorrows', summarises our commitment to providing a culture which nurtures, cares for and challenges students to understand the endless possibilities and career options open to them," Ms Conlin said.
"Through our Prime Time program, students are also learning to speak articulately in public, show respect and be community minded – all important skills for leaders of tomorrow," Ms Conlin said.
For more information on Pumicestone State School visit www.pumicestoness.eq.edu.au