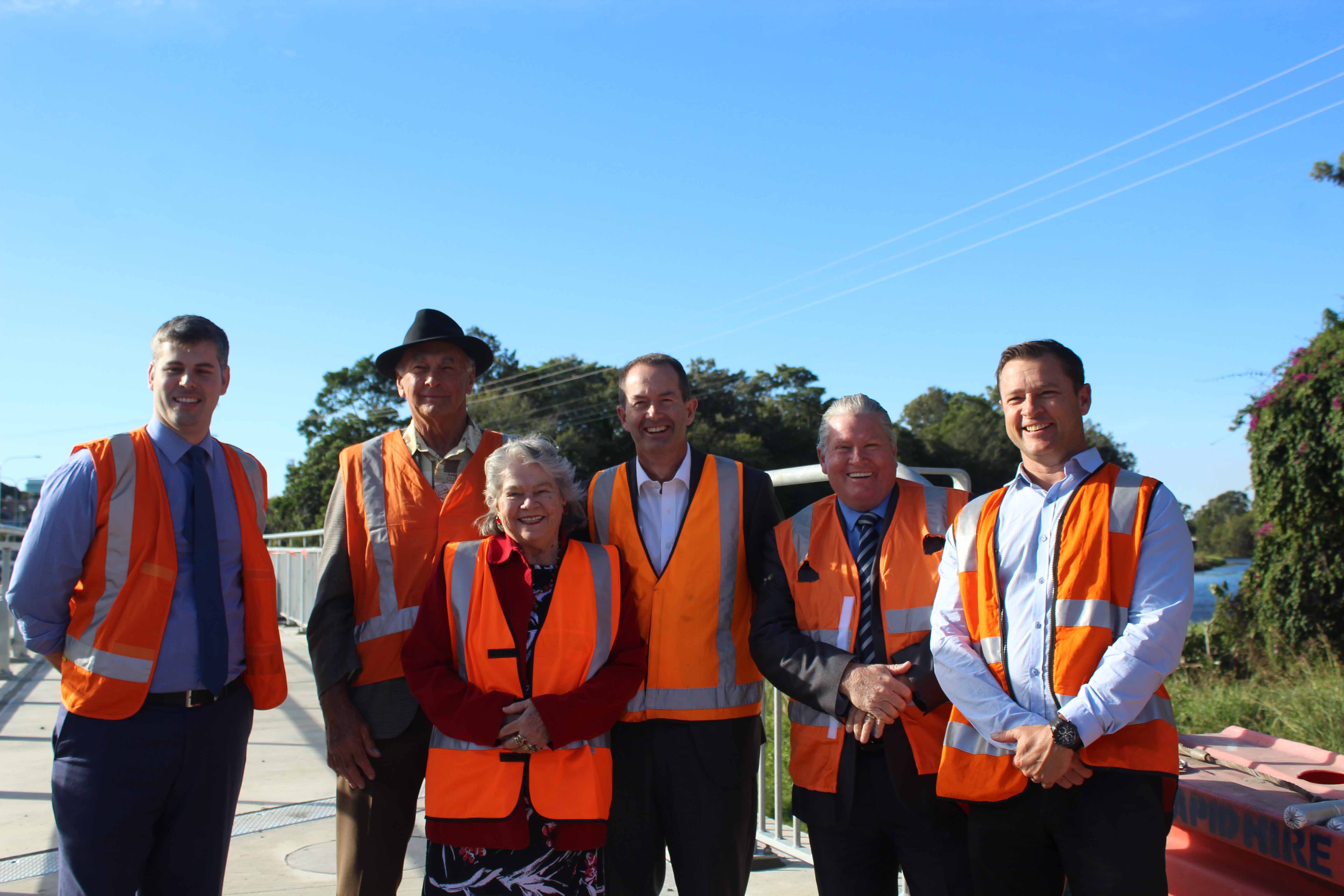 Caboolture commuters get boost as Caboolture River Bridge is completed
Pictured above from left is Member for Morayfield Mark Ryan, Keith Lindsay (Caboolture),  Mrs Noeline Derek (Caboolture), Federal Member for Fisher Andrew Wallace, Queensland Member for Pumicestone Rick Williams, and Moreton Bay Regional Council Div 3 Cr Adam Hain
Locals now have improved access, with the construction of the new southbound Caboolture River Bridge now complete.
Minister for Infrastructure and Darren Chester said the Caboolture River Bridge which was funded under The Australian Government Bridges Renewal Programme has been replaces after almost 100 years.
The Original Southbound bridge, was constructed in 1918 and widened in 1987, needed to be replaced for safety and structural purposes.
Mr Chester said "This bridge is a key link for Caboolture heading south into Burpengary and Brisbane, while also providing access on to the King Street and the D'Aguilar Highway, two major links in the area.
Queensland Minister for Main Roads and Road Safety Mark Bailey said "The new bridge was a significant investment in the local road network and has been completed and opened on schedule".
Mr Bailey added "The Old Caboolture River Bridge was demolished and replaced by a new two lane bridge that will support growth in the region's population, improve freight efficiency and improve travel for locals who commute to and from Brisbane for work".
The new bridge is also half a metre higher then the existing bridge to improve flood immunity.
Federal Member for Fisher Andrew Wallace said "the 30,000 vehicles that use morayfield Road daily can now take advantage of the safer and stronger structure".
The project involved replacing the southbound bridge with a new two lane bridge that also included a three metre shared pedestrian and cycle path.
Queensland Member for Morayfield Mark Ryan  said "the new bridge was an exciting milestone for the lcoal community and supported 50  jobs during construction".
Mark Ryan added "The bridge completion will be a welcome relief to motorists, businesses and residents who have been very patient during the construction works".
Queensland Member for Pumicestone Rick Williams said "It was a great outcome for the community that pieces from the original bridge would be preserved in the local area".
Rick Williams added "It's great to see this project completed, that will benefit motorists with a new, safer and higher standard bridge, enhance access for pedestrians and cyclists, and improve freight efficiency by allowing load limits on the bridge  to be removed".
Over the coming weeks there will be workers onsite completing minor finishing works, and these will have minimal impact on traffic.
Sections of the piles from the 1918 bridge and the 1987 widening, as well as two timber pieces believed to be from the original wooden structure that crossed the river before 1919 have also been provided to the Caboolture Historical Association Historical Village where they will be displayed.
The Caboolture River Bridge project was jointly funded with the Australian Federal Government providing $8.56 million under the Bridges Renewal Programme and the Queensland State Government providing $8.56 Million
On hand at the opening of the bridge was Keith Lindsay  and Mrs Noeline Derek who also provided some historical perspective on the 1950's and 1960's respectively and their links to the original bridge construction in 1918