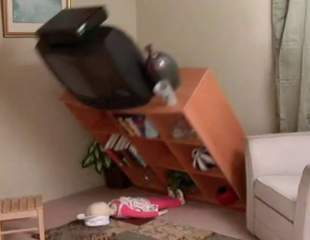 Parents warned against the dangers of toppling furniture : Office of Fair Trading
The Office of Fair Trading (OFT) is warning parents and carers about the hidden dangers of unstable furniture and unsecure televisions around the home that can cause serious injuries to young children.
Fair Trading Executive Director Brian Bauer said small children were adventurous and would often climb on furniture, such as freestanding bookcases, drawers, wardrobes and side boards.
"Placing tempting items like feeding bottles, favourite toys and remote controls on top of furniture can also encourage children to climb," Mr Bauer said.
"If the furniture is unstable or not secured, the child's weight can cause furniture to topple over.
"Taking time now to make sure your home is safe for children could prevent a serious accident.
"Choose furniture items with a broad solid base and wide legs to keep them well balanced. Use furniture straps, angle braces or anchor devices to secure unstable furniture to the wall.
"These devices are easy to install and are often supplied with furniture or appliances at the time of purchase, or alternatively, bought from a hardware store."
Tenants renting a property should talk to their landlord or agent to get permission to install a furniture strap, angle brace or anchor to the wall.
As part of a national safety campaign run by consumer protection regulators including the Queensland Office of Fair Trading, the Australian Competition and Consumer Commission has produced a safety video about the dangers of toppling furniture and how to anchor furniture items.
To watch the video, visit www.productsafety.gov.au/topplingfurniture.