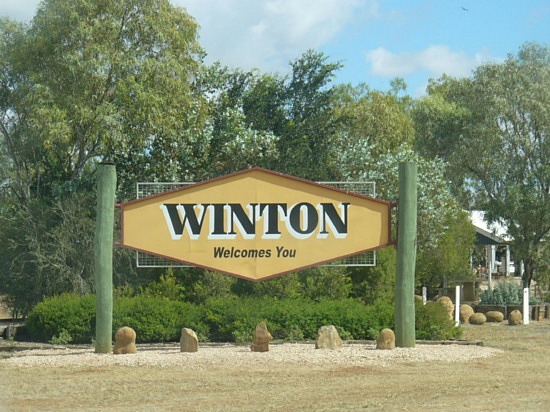 Moreton Bay strengthens sister city ties with Winton
Moreton Bay Regional Council has reaffirmed its commitment to sister city Winton by sponsoring the west Queensland shire's biennial Outback Festival and pledging support for the Vision Splendid Outback Film Festival for another three years.
Mayor Allan Sutherland said the sister city relationship between Winton and the Moreton Bay Region was one cherished by both communities, and sponsoring the festivals was about helping an outback town that has done it tough in recent years and supporting bush to beach tourism.
"By showing our support for our sister city, our community is helping to tell the world that despite an ongoing three-year drought and a fire that destroyed the beloved Waltzing Matilda Centre in 2015, Winton is open for business," Mayor Sutherland said.
"It's also about the benefits we receive in Moreton Bay, including opportunities for our local school students to travel to Winton, camp and experience outback life during the festivals.
Mayor Sutherland said supporting the initiatives of outback communities like Winton can make a huge difference to their local businesses and residents.
"You only have to look at the assistance Winton has received to rebuild its Waltzing Matilda Centre to see the impact it has had on the morale and economy of the community.
"Despite there being 1,350km separating Winton and the Moreton Bay Region, our communities share a strong bond, and I'm proud that our region is again able to show its support. Helping your mates through thick and thin is what Queenslanders and sister cities do."
Winton Shire Council Mayor "Butch" Lenton said he was very thankful for the ongoing support in all facets from Moreton Bay Regional Council. 
"Mayor Sutherland and his team are true champions of the bush and Winton in particular, as they understand the diversity and importance to the State from Outback Queensland towns," Mayor Lenton said.
Mayor Lenton said the ongoing success of both festivals is pivotal to Winton continuing to provide events that stimulate economic activity and as such, support from Moreton Bay was greatly appreciated. 
Mayor Sutherland said in addition to helping the businesses and residents of Winton, council's support would also help to promote the Moreton Bay Region to people who would be making the trek to outback Queensland.
"To have our region's iconic locations on show at these festivals helps to put our region on the map for people travelling across Queensland and Australia who might not have otherwise thought to discover all that our region has to offer.
"We are also exploring opportunities to send local school students to Winton during the Outback Festival to experience all the sights of outback life."
The Vision Splendid Outback Film Festival runs from June 23 to July 1, and the Winton Outback Festival runs from September 19 to 23.
For more information on the Vision Splendid Outback Film Festival visit: http://www.visionsplendidfilmfest.com/
For more information on the Winton Outback Festival visit: http://www.outbackfestival.com.au/