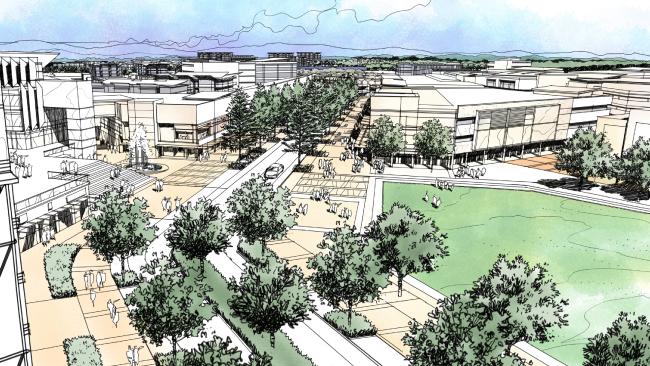 Have your say on plans for world-class university precinct in Moreton Bay
Moreton Bay residents are being encouraged to have their say on 'The Mill at Moreton Bay' Priority Development (PDA) site, which will guide its transformation into a world-class innovation and knowledge precinct.
Minister for Environment and Heritage Protection Steven Miles said the proposed plan would enable the Palaszczuk Government and Moreton Bay Regional Council's vision for the site to be brought to life.
"The proposed Development Scheme will guide the transformation of the former Paper Mill site into a vibrant urban community anchored around the new USC Moreton Bay campus," Mr Miles said.
"The Mill will be a game-changer for the Moreton Bay Region and is key to diversifying the economy, expected to generate up to 10,000 university student placements, $950 million in economic activity and up to 6,000 local jobs by 2036.
"The project will also conserve more than 110 hectares of green space on the former Paper Mill site, ensuring koala populations are safe and healthy throughout construction.
"In fact, Moreton Bay Regional Council has recently engaged leading wildlife specialists, Endeavour Veterinary Ecology, to develop and implement a comprehensive koala monitoring and protection program, which will involve tagging and monitoring koalas on site and regular health checks."
Moreton Bay Regional Council Mayor, Allan Sutherland, said council's second round of community consultation on the project was an exciting opportunity for residents to play a part in shaping a thriving new precinct for the region from the ground up.
"The Mill at Moreton Bay will not only provide equal access to tertiary education for school-leavers and residents when USC Moreton Bay opens in 2020, but it's also a bold new vision that will help to diversify and future-proof our economy by creating thousands of new study and employment opportunities at our doorstep," Mayor Sutherland said.
"Currently 90 per cent of tertiary students from the Moreton Bay Region spend around three hours travelling to and from their higher education facility in either Brisbane or the Sunshine Coast, and as a result we're currently seeing just 35 per cent of school-levers in our region go on to university - around half the national average," Mayor Sutherland said.
"During council's initial round of public consultation on the project, more than 90 per cent of respondents were overwhelmingly supportive of developing a university precinct on the former Petrie Paper Mill site. Residents also told us they'd like to see a range of community facilities on site including a public library, incubator space for start-up businesses, meeting rooms, child care, sporting facilities, a thriving retail sector including shops and restaurants, and a hospital or specialist medical centre to support new jobs locally.
"We've taken much of that feedback on board to ensure the proposed Development Scheme can promote these types of development and infrastructure on site.
"To have your say on the proposed Development Scheme visit council's website and fill out a survey online, or make a submission to council via post, email or phone before Tuesday, 30 May 2017.
Council will then work with Economic Development Queensland to consider all feedback received before finalising the Development Scheme.
"We want to ensure community feedback is at the heart of how we develop this bustling new destination to generate thousands of local study opportunities and jobs in Moreton Bay."
USC Vice-Chancellor, Professor Greg Hill said the Moreton Bay campus represented an exciting opportunity to boost the educational ambitions and build capacity within one of the fastest-growing regions of Queensland.
"As the centrepiece of The Mill at Moreton Bay priority development area, the new USC campus will offer a full range of undergraduate and postgraduate programs including law, business, creative industries, science and engineering," Professor Hill said.
"USC Moreton Bay will reflect the university's ongoing commitment to environmental sustainability, and will give students access to the most up-to-date learning facilities and technologies.
"We welcome your feedback on how USC Moreton Bay can best serve the needs of the region."
Member for Kallangur Shane King said that the Mill was incredibly exciting for the entire Moreton Bay Region.
"The Mill is hugely important to Moreton Bay which will ensure that generations to come won't have to leave the region to access education or job opportunities," Mr King said.
"I want to encourage all locals to get involved and have their say on this exciting project."
Across five places, the proposed Development Scheme includes:
Mill Central - Full-service university campus, supported by mix of retail, commercial and community uses and a revitalised Petrie town centre
Mill Innovation - Opportunities for innovative businesses or organisations wishing to co-locate with the university, stimulating economic growth and employment for the region.
Mill Urban - Mix of residential development with high quality landscapes and streetscapes, creating a diverse community with exceptional amenity and access to one of SEQ's most innovative centres of excellence.
Mill Transit - New transit oriented residential community focused around Kallangur station.
Mill Green - More than 200 hectares of conservation area and lakes will be protected, restored and managed, enhancing koala habitat and wildlife corridors on site.
Other key features of The Mill at Moreton Bay PDA include:
460 hectare of land spanning Petrie, Kallangur and Lawnton
Revitalised and active Petrie town centre
New USC Moreton Bay Campus at its core expected to open in 2020, providing 10,000 study opportunities by 2036 growing to 20,000 at capacity
More than 100 courses by 2030 including law, business, science, engineering and speciality courses such as mechatronics
204,000m2 of commercial, retail, industry and mixed use floor space
Urban village surrounding university, with main street containing retail, commercial and residential spaces
New community facilities including a public library
The university will potentially generate $950 million for the Queensland economy
100 direct construction jobs per year during university construction
More than 6,000 ongoing jobs by 2036 generated by the PDA, mostly in knowledge based fields
New regional parklands, sporting facilities and shared pedestrian and cycle pathways
Encompassing Petrie and Kallangur train stations, promoting transit oriented development and public transport use
110 hectares of koala and wildlife conservation land, including 16 hectares of lakes for the former Paper Mill site.
To view the proposed Development Scheme or to have your say visit: https://www.moretonbay.qld.gov.au/themill/