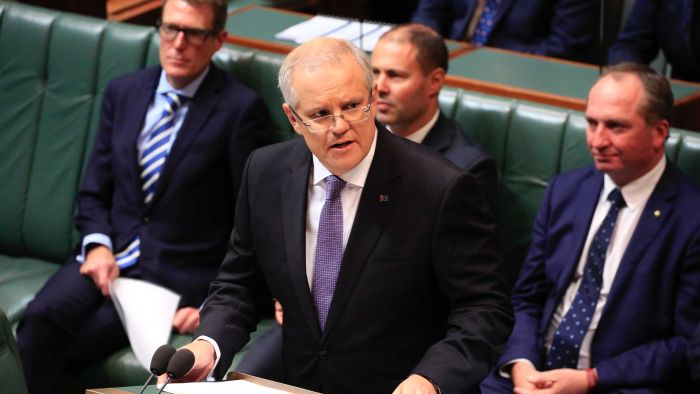 Federal Treasurer Scott Morrison reveals tax hike, welfare drug tests and hit to banks
Almost all Australians will pay more tax in a surprise hit and thousands of Centrelink clients will be drug tested and face the possibility of the Government controlling their spending in Treasurer Scott Morrison's second budget.
The Medicare Levy will be increased and Australia's five biggest banks will also pay with billions of dollars in fees to repair the budget deficit.
Mr Morrison has abandoned $13 billion of contentious saving measures announced in 2014, acknowledging they would not pass the Senate despite the Coalition's "exhaustive efforts".
The Treasurer is still banking on a return to a $7.4 billion surplus in 2020-21 with the projected deficit for 2017-18 revised up slightly to $29.4 billion.
In addition to already-announced changes to education funding, the budget appears to be a reset of national accounts and a bid to clear the decks of unpopular measures.
The Medicare rebate freeze that proved so unpopular with consumer and medical groups will be lifted, although the Medicare Levy will increase by 0.5 per cent from 2019.
That means almost all Australians will pay more in tax, with those earning a taxable income of $85,000 to pay an extra $425 each year.
A large portion of that revenue will go towards fully funding the $22 billion National Disability Insurance Scheme (NDIS), potentially ending a political fight over a multi-million-dollar black hole.
"Even if we are not impacted directly, this is all our responsibility," Mr Morrison said.
Banks and welfare clients to be hit
Both ends of town will be hit with new revenue measures, with Australia's five largest banks to pay $6.2 billion in fees over four years.
The payments have been billed as a fair contribution that may create a more level playing field for the banking sector and encourage greater competition.
The banking sector will also face higher fines should executives breach misconduct laws, ranging from $50 million for small banks and $200 million for larger banks.
"For the system to be fairer there needs to be greater competition and accountability — now," Mr Morrison said.
Welfare clients who routinely avoid employment meetings will face increasing penalties including the possibility of the Government withholding or cancelling payments.
The Government will also drug test 5,000 new welfare recipients, with those who test positive to be forced onto a Centrelink income-management scheme, which controls how a recipient spends their money. They will also face referrals for treatment.
Foreign aid will also be cut by $300 million over four years, to reduce the deficit.
Housing measures focus on the young and old
For months, the Treasurer has promised measures to increase housing affordability and skyrocketing property prices in capital cities.
Prospective first home buyers will be allowed to salary sacrifice up to $30,000 — or a maximum of $15,000 a year — into their superannuation accounts, which the Treasurer says will allow them to save for a deposit quicker.
In an attempt by the Government to increase housing supply, those older than 65 will be able to make non-concessional superannuation contributions of up to $300,000 after selling their home, provided they have lived in it for at least 10 years.
Foreign investors will be hit with a $5,000 fee if they leave their investment properties vacant for six months at a time.
There will be an extra $375 million for homelessness services over three years and the Government will overhaul its funding arrangements with the states to ensure they meet set goals.
Hey, big spender
As expected, the Government will spend big on infrastructure with an $8.4 billion investment in the inland freight railway, which will connect Brisbane to Melbourne.
The Government will establish the Western Sydney Airport Corporation, injecting $5.3 billion in equity into the company over a 10-year period.
The Government expects the airport to be delivered in 2026, creating an estimated 20,000 jobs by the early 2030s.
The infrastructure spend is framed as an "investment", so does not sit on the budget balance sheets.
There have already been questions raised about whether projects such as inland rail will deliver a return on the significant investment.