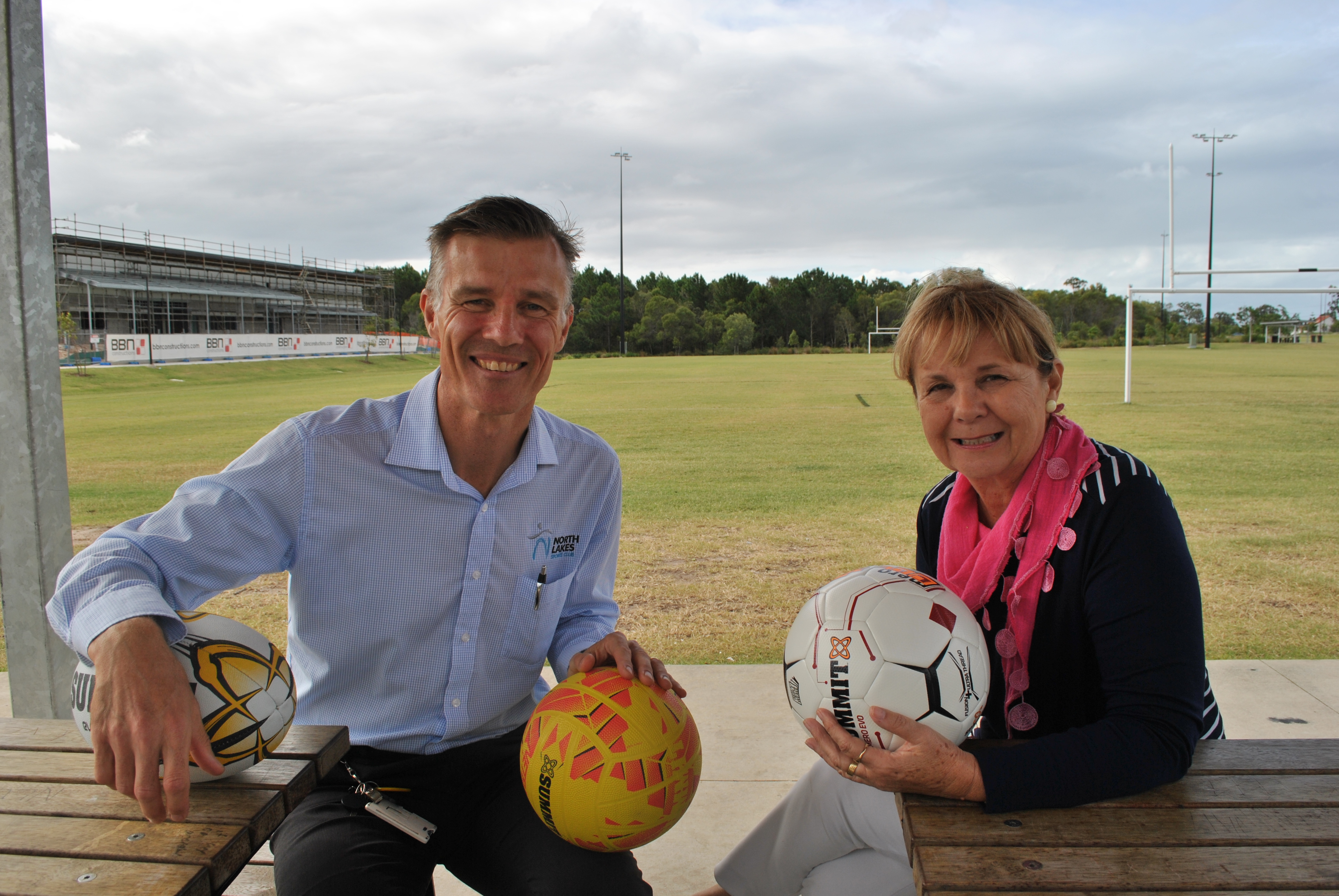 New leases to benefit North Lakes sporting clubs
Pictured above: is Caboolture Sports Club Group's Tony Clarke and Division 4 Councillor Julie Greer
Moreton Bay Regional Council has partnered with the Caboolture Sports Club Group in a unique agreement that will see the club manage and maintain three major facilities in the North Lakes area to benefit eight local sporting clubs.
At its Coordination Committee Meeting on Tuesday, April 18, council formally agreed to lease its Kinsellas, Aurora Boulevard and Woodside grounds and facilities to the award-winning Caboolture Sports Club Group, which will shortly open its new North Lakes Sports Club on May 6.
Division 4 Councillor Julie Greer said the community leases would allow the club to manage, maintain and upgrade the grounds' clubhouses and other facilities for eight resident organisations: North Lakes Soccer Club, The Lakes Football Club, North Lakes RLFC, North Lakes Oztag, North Lakes Leopards Jnr Rugby Club, The Lakes Cricket Club, Redcliffe Triathlon Club and Lakers Softball Club.
"The Caboolture Sports Club Group has a proven track record of managing community sporting facilities for local clubs in our region like the Dances Road, Devine Court, Grant Road and Petersen Road grounds," Cr Greer said.
"By leasing these facilities to the Caboolture Sports Club Group, it will allow our local teams to focus on what they do best: competing and fostering healthy, active lifestyles in our community.
"Council has worked closely with the Caboolture Sports Club Group and our local sporting organisations to deliver an outcome that will benefit our aspiring athletes, their coaches, parents and volunteers who give so much week in, week out.
Cr Greer said the community leases would complement council's $3.2 million investment in sport and recreation in Division 4 in 2016/17, including the soon-to-be completed $1.36 million multipurpose Kinsellas Sports Complex clubhouse.
"As a number of new facilities and grounds are nearing completion, it was the perfect time to generate this agreement. It's game on for sport in North Lakes!"
Caboolture Sports Club Group CEO Kelvin Patch said the club was committed to expanding its support of sporting and community groups into the North Lakes region.
"This is a fantastic announcement just weeks out from the opening of our new North Lakes Sports Club," Mr Patch said.
"The CSC Group provides over $1.8 million in cash and in-kind support to our community each year and the expansion of this support to the North Lakes region has been a key focus for our Board.
"Through our experience operating six sporting disciplines and supporting countless other groups across the Caboolture region, we have learnt that the non-monetary support provided can be just as critical to the success of these sporting clubs.
"The leases of these facilities will help us expand our support services into the North Lakes area, including strategic planning, marketing support, event planning and assistance with grant applications."
The latest announcement follows the release of North Lakes Sports Club's first round of community grants in February, which saw $60,000 awarded to nine local sporting clubs.