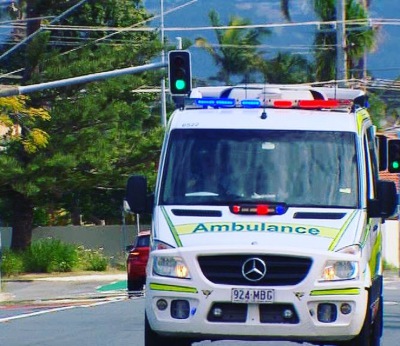 Queensland's ambulance service celebrates 125 years with funding injection
The Queensland Ambulance Service (QAS) is celebrating a significant milestone this year with 2017 marking 125 years since ambulance services began in Queensland.
Minister for Health and Ambulance Services Cameron Dick and QAS Commissioner Russell Bowles today officially launched the 125th anniversary celebrations at Parliament House in Brisbane.
As part of the celebrations, Minister Dick announced that the Palaszczuk Government is bringing forward $30 million funding to fast track more ambulances for Queenslanders. The funding takes the government's commitment to new and replacement ambulance vehicles to $60.5 million over 2016-17 and 2017-18.
"This government is committed to giving the Queensland Ambulance Service the equipment, resources and infrastructure it needs to deliver world-class health care and emergency services right across the state," the Minister said.
"We know that the QAS is experiencing unprecedented demand for its services, with more than 66,000 additional calls for assistance recorded in the last year.
"To meet this demand, we need to make sure we have enough paramedics and ambulances to effectively care for the community.
"Together with our delivery of 225 additional ambulance officers since coming to government, this $30 million will put 150 new and replacement vehicles on the road in Queensland communities.
"This will help meet that demand and support enhanced service delivery and growth into the future.
"The Palaszczuk Government is prioritising frontline service delivery for our community and our paramedics play an absolutely crucial role in providing pre-hospital health care.
"More ambulances on the road means Queenslanders can rest assured they will receive timely and effective pre-hospital health care in their time of need."
Queensland's ambulance service has a long and distinguished history having served the Queensland community since the formation of the City Ambulance Transport Brigade (CATB) in September 1892.
During its 125 years Queensland's ambulance service has operated under various banners from the CATB, to the Queensland Ambulance Transport Brigade from 1902 and the Queensland Ambulance Service (QAS) since 1991.
Minister Dick said the QAS is now a professional ambulance service that answers approximately 737,000 Triple Zero (000) calls and responds to more than 986,000 incidents every year.
"The service operates 24 hours a day with more than 3,700 dedicated operational staff including paramedics, patient transport officers and emergency medical dispatchers delivering services statewide from Coolangatta to the Cape," he said.
"These operational staff are well supported by operational and corporate support staff and more than 1,590 volunteers including Honorary Ambulance Officers, First Responders, Volunteer Drivers, Local Ambulance Committee and CPR Awareness Program volunteers.
QAS Commissioner Russell Bowles said there had been incredible advances in science, technology, equipment and training since the ambulance service was established in 1892.
"What hasn't changed is the dedication and commitment of our paramedics, patient transport officers and emergency medical dispatchers, volunteers and support staff who work hard to ensure our patients receive the best care possible," Commissioner Bowles said.
"Anniversary celebrations will continue throughout the year with events such as station open days, CPR Awareness displays and participation in regional shows providing an opportunity for the community to engage with our staff and volunteers and find out more about the ambulance service."
Information on the heritage and history of QAS and museum opening hours and admission prices are available at https://www.ambulance.qld.gov.au/history.html
To keep informed of QAS anniversary activities throughout the year follow qldambulanceservice on Facebook.