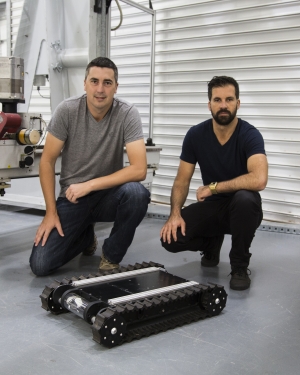 OzBot robotics upgrade ready for action in Queensland Police
Minister for Police Mark Ryan today announced a newly upgraded Queensland Police Service robot, designed to enhance community and officer safety.
"The commitment to community and officer safety is evident in the joint force which is the QPS SERT team and Deakin University, in conjunction with the Palaszczuk Government," Minister Ryan said.
"The latest model robot was deployed for the first time on Thursday to an incident at Eagleby and is ready to roll into action with the SERT team at a moment's notice.
"The Palaszczuk Government is committed to ensuring police have the resources they need to not only keep Queenslanders safe, but to ensure the safety of our police men and women.
"In a crisis situation, the deployment of this robot not only helps keep the community safer as the offender has no one to fight back with but also keeps our officers safe.
"Some of the smaller robots from the start of the evolution process are now being used by police negotiators across Queensland.
"The QPS and Deakin University are nationally leading this use of force option in software and engineering development."
Commissioner Ian Stewart said the larger, upgraded robot reduced the complexity of control so the operators can focus on policing objectives and strategy more efficiently.  
"In 2011, the prototype was built by specialist police and was designed to be operated remotely to simply force entry to barricaded buildings, thus protecting officers."
"There were no commercially available robots to complete the heavy tasks required by the Special Emergency Response Team (SERT) which is when the team's technical surveillance unit discussed a joint project with Deakin University's institute for intelligence systems research and innovation in 2013," Commissioner Stewart said.
"The most recent, upgraded model was received by our SERT team in January this year. It has not just equipped officers to force doors and windows using a remotely controlled, steady mechanical force but has additionally provided the remote capability and size to pull victims from harm's way.
"The ability to observe potentially dangerous situations via remote camera functions or deliver and retrieve items from a safe position are added invaluable functions."
The 'OzBot' series of police robots has been under development for 15 years and form part of a network centric ecosystem, in which an operator can control one or many robots at the same time using advanced control software.  
Background : Robots designed by Deakin experts are helping to make Australia safer.
They may not look like Robocop, but the Deakin-designed OzBots are proving tough and fearless allies for a growing number of Australian law enforcement agencies.
At only 14.5 centimetres tall, the OzBot was designed by specialists from Deakin's Centre for Intelligent Systems Research (CISR) after an initial approach by Victoria Police.
It is capable of climbing stairs, carrying a person and even towing a car. Since its genesis several years ago, the OzBot has evolved into a family, consisting of the 18kg OzBot MK8 – and its sturdy little brother, OzBot Jnr.
The remotely controlled OzBots are already in-service within a number of Victorian and Queensland police units, such as the Special Operations Group, Bomb Response Unit and Police Negotiators.
Their potential in other fields is also emerging, with applications in areas such as domestic law enforcement, aeronautics and environmental management being explored.
An OzBot base platform has also been used to demonstrate the Australian Defence Force-funded "OzTouch" haptically-enabled manipulator. This state-of-the-art technology allows technicians to remotely touch and feel things like Improvised Explosive Devices (IEDs) or landmines.
"The OzBot provides a new level of situational awareness for CIED technicians interrogating objects of interest," said inventor, Deakin's Dr James Mullins.
"Operators can be 500 metres from the object, but interact with it as if they were using their bare hands."
His Deakin colleague and OzBot co-inventor, Dr Mick Fielding, added that the OzBots are usually used as a "first responder" in security events, providing operators with live video, visible and IR illumination and bi-directional audio.
They also contain the interfaces for a number of customised auxillary devices, such as robotic arms, infrared or X-ray equipment, gas sniffers or particle detectors.
"The OzBots are hardy and persevering," said Dr Fielding. "In one incident, after an OzBot was thrown from a window by a perpetrator, the police simply turned it around, drove it back in to the building and continued their observations."
The Director of CISR, Professor Saeid Nahavandi, said that the centre is one of only a few university research centres in the world that is able to turn an artificial intelligence research concept into a fully functional and commercial system within a short time frame.
"The versatile robot design is as good as anything else in the world," said Prof Nahavandi. "We chose to call it OzBot to promote Australia's robotics capability."
"Australian users have recognised the advantages of committing to an Australian robot, particularly in terms of the logistics of maintaining ongoing customisation of the technology, so that their specific needs can be met."
"The OzBot helps to protect operators in many hazardous environments," Dr Fielding added.
"It can be tasked to incidents where there is a threat from chemical, biological or radiological materials, bomb disposal, or hostage situations."
"It can also be used to inspect beneath aircraft while engines are spooled or under conditions that are unsafe for people and - given their small size - can be used to conduct searches along the aisles of an aeroplane or within cargo areas."
So if you happen to be out and about and run into OzBot or OzBot Junior, Dr Fielding advises, stand clear - as they may well be on active duty.
Courtesy Deakin University