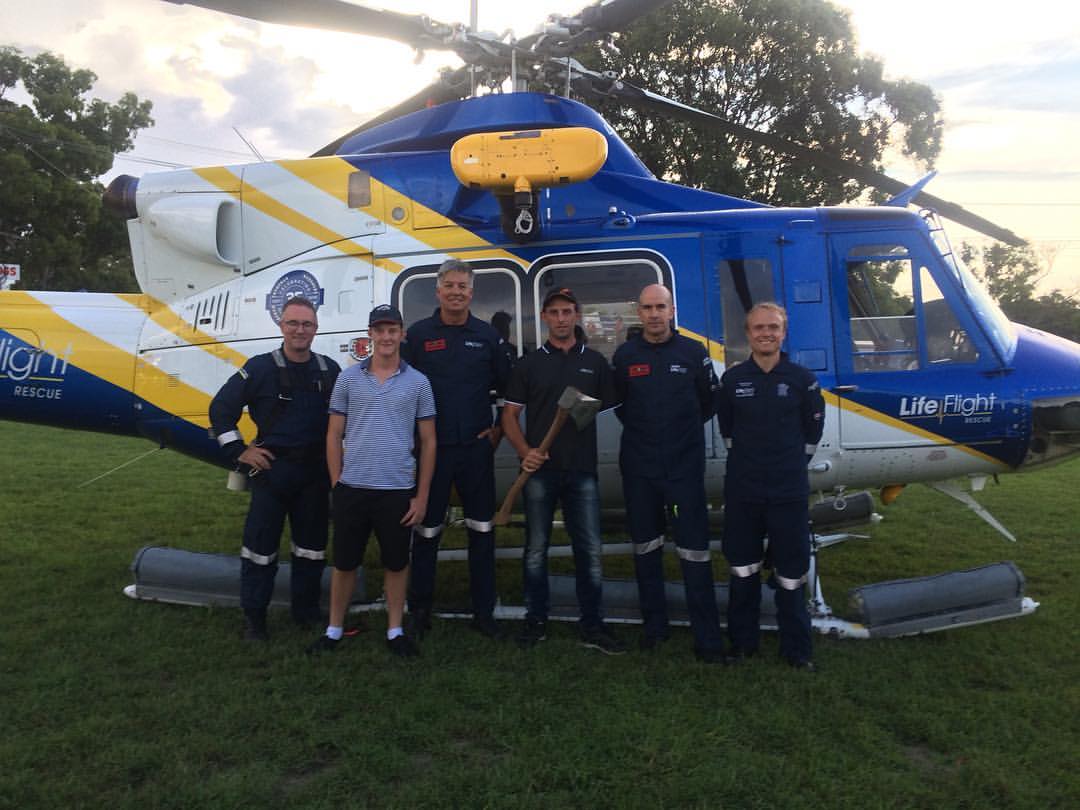 Winning woodchopper from Kilcoy supports the charity that saved his life
Australia's only one armed competitive woodchopper, Nick Fredriksen, celebrated his new association with LifeFlight in 2017 with two blue ribbons at the Stanthorpe Show Woodchopping Competition earlier this month.
Kilcoy resident Nick hopes to continue this winning streak at his next competition at the Killarney Show this Saturday, February 25.
The champion woodchopper knows from personal experience the lifesaving benefits of aero-medical services and is a proud supporter of LifeFlight, the helicopter rescue service which has saved more than 45,000 lives over 35 years. Nick has pledged to fundraise for the charity in 2017 as well as donate some of his prize money from this year's events.
Incredibly, Nick has been rescued twice by aero-medical services.
On April 6, 1994, aged just eight years old, Nick's life changed forever when his shirt was caught in a hay baler accident which resulted in the loss of his arm.
He was working on his family farm at Sheep Station Creek, near Kilcoy.
Nick's father, Alan, described how he grabbed Nick and ran to the house after seeing the horrific accident, then quickly returned to the shed to collect his son's arm. 
"I placed Nick (and his arm) in the car to drive towards Kilcoy," he said.
"Queensland Ambulance Service (QAS) met me just outside of Kilcoy and I drove the ambulance myself to the hospital while the QAS paramedics treated Nick in the back."
The young boy was then airlifted from Kilcoy Hospital to Brisbane's Royal Children's Hospital, where Nick began his long recovery for the weeks that followed.
Nick cheated death a second time when he fell through glass louvers almost exactly nine years later, at the age of 17. 
His other arm was injured as a large piece of glass deeply punctured the vein above his elbow.
This second accident came only three days before the nine-year-anniversary of his first experience with helicopter rescue services.
This time it was his mother, Marie, who was involved in his medical retrieval and administering initial first aid.
Today, Nick is a qualified heavy plant operator, an accomplished swimmer competing at national swimming titles, and Australia's (and possibly the world's) only competitive arm amputee woodchopper.
"It's so important to me to give back to aero-medical services, like LifeFlight, because I've needed them myself and know how much of a difference they make," said Nick.
"It's a service that I've donated money towards in the past and I now want to put the word out a bit more and get more people involved."
Nick first picked up an axe when he was only four years old, and he's been competing in the sport now for 20 years. He travels to regional shows and competitions around Australia and New Zealand – including the Brisbane Ekka and Sydney Royal Easter Show - and has notched plenty of wins against able-bodied woodchoppers.
He is an amazing and inspirational athlete, with a Facebook fan page of over 1,000 followers which is growing.
"I'm very dedicated to this sport and think it's important to encourage others not to hold back in getting involved with things like this," said Nick. 
"It's really a case of 'mind over matter'. If you let a disability like mine get to you, it's hard to move on and you can't achieve what you want to achieve in life."
He has even inspired his daughter, Maddie, aged 11, to compete in woodchopping. As well as competing in individual events, they join forces in the "Jack and Jill" team sawing mixed event.
Nick's first accident also inspired his mother, Marie Fredriksen, to start her transition into a pre-hospital emergency paramedic role. She was determined to do everything she could to help other families in regional areas in similar situations.
"I didn't want to see any other family placed in the position my family was placed in that day back in 1994," she explained.
"I was at work as a QAS paramedic at Woodford when the second accident happened. I drove the ambulance to Kilcoy Hospital and cannulated Nick's foot to administer pain relief.
"I loaded him onto the ambulance stretcher and drove with an RN escort looking after Nick from the hospital to the local football field, where the helicopter had landed to pick him up.  The RN drove the ambulance back to Kilcoy Hospital while I went with Nick to Royal Brisbane and Women's Hospital."
LifeFlight Community Engagement Manager Vicki James welcomed the new association with Nick and his pledge to fundraise for the organization in 2017.
"Nick is such an inspirational human being, who has managed to pass on his great passion for the sport down to his daughter, Maddie," said Ms James. 
"It's been a fantastic start to the year with Nick's first-place accomplishments at the Stanthorpe Show, and we at LifeFlight look forward to working together to fundraise even more in 2017 for our lifesaving charity organization."
 Photos: Courtesy RACQ LifeFlight Rescue