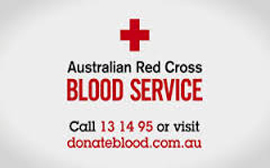 Red Cross Mobile Donor locations in the Moreton Bay Region and why donate
Every blood donation made helps save three lives a vital statistic that resonates with the local community and it is so easy with less then an hour of your time can made the difference between life and death for some one else in the community.
People of all walks of life need blood products. Some need it to get them through a serious event in their lives, like cancer or a dangerous pregnancy. Others have medical conditions which mean they need blood products regularly to stay alive or be healthy.
There are about five litres of blood in the human body and it's made up of several useful components.
You may be able to donate whole blood, plasma or platelets. Each type of blood donation is used for different medical treatments, and your blood type determines the best donation for you to make.
To start donating plasma or platelets you need to have given whole blood in the past two years.
Most donors tell us that giving blood isn't as scary as they thought it would be. Feeling nervous? Read these tips.
Our trained donor centre staff members are there with you through the whole process. They'll explain how everything works and answer your questions. How we protect your health during donation.
Timetable of blood donor opportunities in the Moreton Bay Region and you can also listen for details on air.
Tue    26-Mar-19    Morayfield Village Donormobile    10am to 5pm
Wed    27-Mar-19    Morayfield Village Donormobile    10am to 5pm
Thur    28-Mar-19    Morayfield Village Donormobile    12pm to 7pm
Friday    29-Mar-19    Morayfield Village Donormobile    8am to 3pm
| | | |
| --- | --- | --- |
| 01-Apr-19 | Redcliffe Donormobile | 12pm to 7pm |
| 02-Apr-19 | Redcliffe Donormobile | 12pm to 7pm |
| 03-Apr-19 | Rothwell Bunnings Donormobile | 7.30am to 11.30am |
| 04-Apr-19 | Rothwell Bunnings Donormobile | 12pm to 7pm |
| 05-Apr-19 | Sandgate Water Front Donormobile | 8am to 3pm |
| 06-Apr-19 | Sandgate Water Front Donormobile | 8am to 3pm |
| 07-Apr-19 | Closed |   |
| 08-Apr-19 | Bellara, Bribie Is Sh/Centre Donormobile | 8am to 3pm |
| 09-Apr-19 | Bellara, Bribie Is Sh/Centre Donormobile | 9am to 4pm |
| 10-Apr-19 | Bellara, Bribie Is Sh/Centre Donormobile | 10am to 5pm |
| 11-Apr-19 | Bellara, Bribie Is Sh/Centre Donormobile | 12pm to 7pm |
| 12-Apr-19 | Bellara, Bribie Is Sh/Centre Donormobile | 8am to 3pm |
| 13-Apr-19 | Closed | Closed |
| 14-Apr-19 | Closed |   |
| 15-Apr-19 | Keperra Donormobile | 8am to 3pm |
| 16-Apr-19 | Keperra Donormobile | 9am to 5pm |
| 17-Apr-19 | Keperra Donormobile | 11am to 7pm |
| 18-Apr-19 | Everton Park Woolworths Donormobile | 10am to 3pm |
| 19-Apr-19 | Public Holiday - Closed | Closed |
| 20-Apr-19 | Morayfield Village Donormobile | 8am to 1pm |
| 21-Apr-19 | Closed |   |
| 22-Apr-19 | Morayfield Village Donormobile | 8am to 1pm |
| 23-Apr-19 | Morayfield Village Donormobile | 10am to 5pm |
| 24-Apr-19 | Morayfield Village Donormobile | 10am to 5pm |
| 25-Apr-19 | Morayfield Village Donormobile | 8am to 1pm |
| 26-Apr-19 | Morayfield Village Donormobile | 8am to 3pm |
| 27-Apr-19 | Closed | Closed |
| 28-Apr-19 | Closed |   |
| 29-Apr-19 | Taigum Square Donormobile | 9am to 4pm |
| 30-Apr-19 | Taigum Square Donormobile | 11am to 6pm |
| 01-May-19 | Mitchelton Brookside Shopping Centre Donormobile | 7am to 12pm |
| 02-May-19 | Mitchelton Brookside Shopping Centre Donormobile | 12pm to 7pm |
| 03-May-19 | Mitchelton Brookside Shopping Centre Donormobile | 8am to 3pm |
| 04-May-19 | Redcliffe RSL Donormobile | 8am to 3pm |
| 05-May-19 | Closed |   |
| 06-May-19 | Redcliffe Donormobile | 12pm to 7pm |
| 07-May-19 | Redcliffe Donormobile | 12pm to 7pm |
| 08-May-19 | Redcliffe Donormobile | 8am to 3pm |
| 09-May-19 | Eatons Hill Donormobile | 11am to 6pm |
| 10-May-19 | Woodford Donormobile | 9am to 4pm |
| 11-May-19 | Closed | Closed |
| 12-May-19 | Closed |   |
| 13-May-19 | Morayfield Village Donormobile | 8am to 3pm |
| 14-May-19 | Morayfield Village Donormobile | 10am to 5pm |
| 15-May-19 | Morayfield Village Donormobile | 7am to 12pm |
| 16-May-19 | Morayfield Village Donormobile | 12pm to 7pm |
| 17-May-19 | Morayfield Village Donormobile | 8am to 3pm |
| 18-May-19 | Closed | Closed |