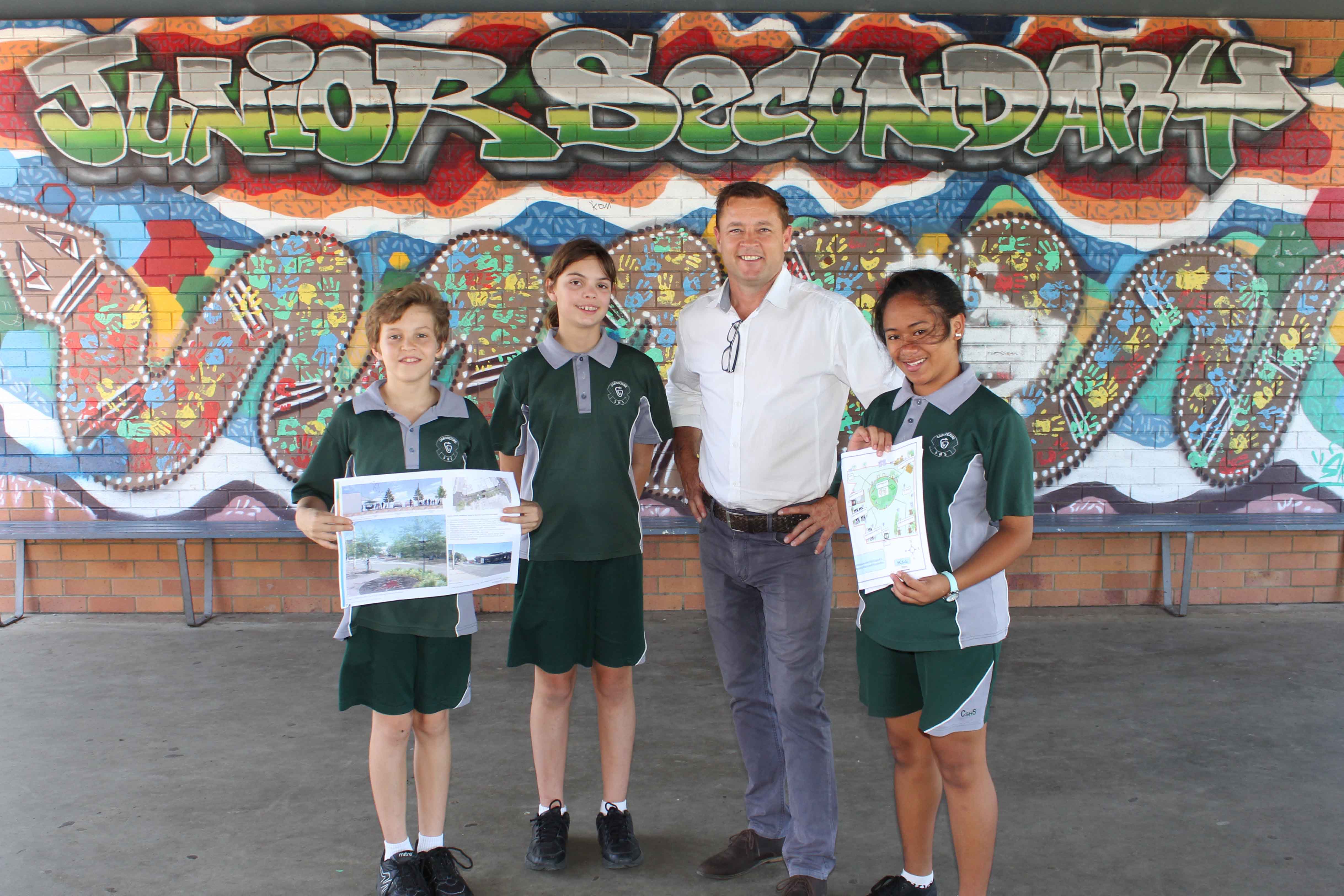 Caboolture Students Pitch Perfect on Parks
Year Seven Students from Caboolture State High School have set the 'monkey bars' high in their latest Geography project, designing new parks and playground facilities for a number of public spaces in the Caboolture area.
The students each selected a park and then re-designed it as part of their Junior-Secondary Geography curriculum. The project also required them to conduct a survey of the local community, to help them better understand what was wanted in the park.
Once their designs were complete, the students were tasked to send them to the relevant local councillor with a 'persuasive park proposal.' 
Division Three Councillor Adam Hain visited the school to congratulate the students on their work and said it was wonderful to see them take an interest in their local areas.
"I can't think of anyone who would have a better grasp of what makes a great playground than the people who actually use them," Councillor Hain said.
"I have been absolutely impressed by the quality of work presented to me by these students and I am really delighted to see how genuinely interested they are in improving our local spaces for the enjoyment of everyone who uses them."
"There are some outstanding designs here and our park planning officers will look to incorporate some of these ideas into playground spaces they are working on at the moment."
Year Seven Student, Guadalupe Gonzales, sent Councillor Hain a design for land adjacent Rowe St at Caboolture, complete with a community garden, children's playground, covered BBQ areas, toilet facilities, a basketball/netball court and shaded seating.
"There should be a kids' playground in the park because it will introduce children that have the same personalities, passions, dreams and goals," Guadalupe wrote in her proposal to Councillor Hain.
"Kids will also learn how to share and be patient by waiting for their turn on the equipment, and there are health benefits of having a playground in the park."
"Say goodbye to boredom and stress and hello to this redeveloped, breath-taking and unique park," she wrote.
Councillor Hain congratulated Guadalupe on her well-considered proposal.
"I think Guadalupe could certainly have a very successful future career in park design if she chooses to follow that path. In fact, having seen her proposal, I'd be willing to bet that if she wants to - she'll be the Councillor for Division Three one day," Councillor Hain said. 
The student's park designs have now been handed over to council's park planning staff. To help the students in their future park design efforts, members of the planning team also visited the classroom to teach the students about the process of playground and park design, including important safety and inclusivity considerations.
"A little birdie tells me that our park planners area actually in the middle of some green space plans and some of Guadalupe's design principles will be incorporated into them, which just goes to show how much our school students can contribute to our local community. So, well done to the year seven class at Caboolture State High School," Councillor Hain said.