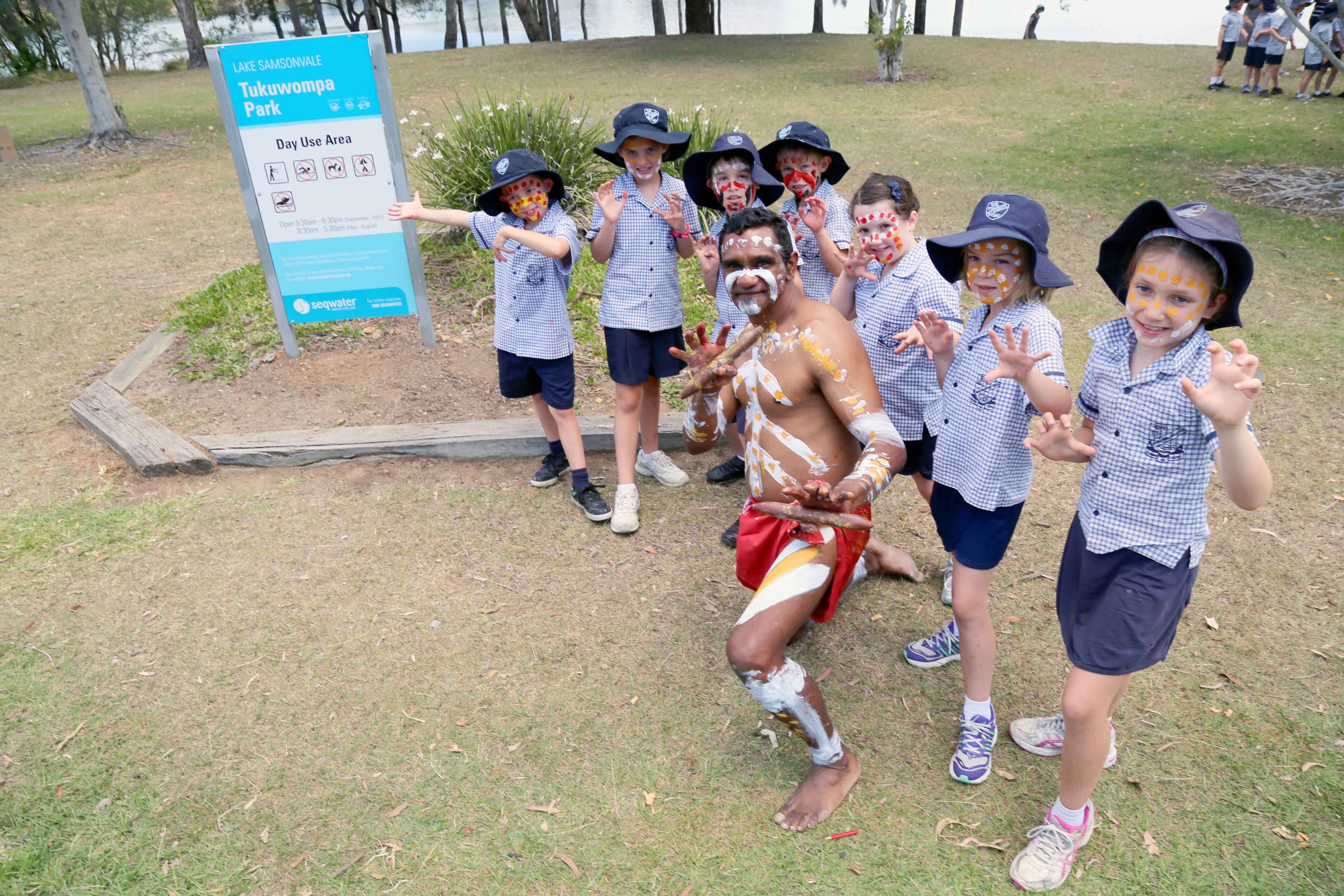 Students pay respect to traditional land owners in naming Seqwater park
Students from Mt Samson State School have taken an opportunity to name a nearby park as a way to honour the traditional owners of the land.
Earlier this year, South East Queensland's bulk water authority Seqwater invited Year 2 students from the school to name a park at Lake Samsonvale.
The picturesque recreation area, which is managed by Seqwater, has barbecue facilities, and has become a popular spot for shoreline fishing.
"The park is located near one of our ranger's workshops so, until now, Seqwater employees have been simply referring to it as 'workshop park'," Seqwater Water Source Services Manager Robert Drury said.
"The park needed a more fitting name, so with Mt Samson State School located nearby, we decided to give that naming responsibility to its Year 2 students."
After learning about the history and geography of the park, the young students proposed naming the park in honour of its traditional owners – the Turrbal people.
Mt Samson State School teacher Carolyn Vincent said the students learned that the Turrbal people had called the area now covered by the lake 'Tukuwompa'.
"We had a lot of great suggestions from our Year 2 students, but Tukuwompa Park was certainly the most popular," Ms Vincent said.
"I'm very proud of our students for using this opportunity to respect and honour the traditional owners of the land."
As thanks for their involvement, Seqwater invited the Year 2 classes to Tukuwompa Park for its official naming this week.
The event was also attended by Turrbal elders, who performed a Welcome to Country and smoke ceremony before the unveiling of the park's new name sign.
Turrbal songwoman Maroochy Barambah said she was pleased to see young students showing awareness, appreciation and respect for Indigenous history and culture.
"These students could have chosen any name for this park but they have used the opportunity to honour our proud Indigenous history," she said. "The Turrbal people are the original inhabitants of the North Pine area and we continue to practice our customs and traditions proudly within our ancestral homeland.
"It's great to see young people learning about and making a connection with the land we live on and the people who have always lived on it."
To show their appreciation, Turrbal elders inducted the children into the tribe and with that, gave them the responsibility to help care for and respect the land.
The event concluded with Seqwater leading the students in a water testing activity and treating them to a sausage sizzle.
Tukuwompa Park is located on Forgan Road, Joyner.