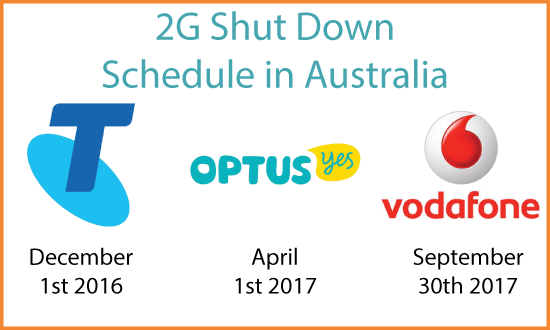 Part 1 of the 2G mobile service shutdown for good begins December 1
Cellular network operators around the world are planning to shut down their 2G networks to re-farm spectrum for more efficient 4G/LTE services. In the USA, AT&T plans to shut their 2G Network by January 1st 2017.
Singapore is one of the first countries in the world to have all 2G networks shut down at once with M1, Starhub & Singtel announcing a joint shutdown on April 1st 2017.
Here in Australia, Telstra's 2G will be shut down on December 1st 2016 (Click here for more), with Optus to following suit with their 2G network closure on 1st April 2017 (Click here for more) and finally Vodafone Australia closing the remaining 2G network on 30th of September 2017 (Click here for more)
The 2G network is over 20 years old and has many limitations that is not present in the newer 3G, 4G and soon to be added 5G services.
Telstra users currently who use Sim cards & phones that are either 2G only or is defaulted to a 2G/3G service are receiving a warning message when trying to dial out, if you do receive such a message when dialing out you will be impacted by the closure of the Telstra 2G Service December 1 affecting voice, text, data services as well as 000 and 112 Emergency calls.
Exceptions will be after December 1 will be that 000 and 112 calls only will still be possible on Telstra 2G Sim/phone's accessing other carriers that still have 2G services such as Optus until April fools day (april 1) 2017 or Vodafone 30 September.
Urgently those customers that have devices for Life Critical services such as medical, fire personal or security always operating on the 2G network will also cease to operate from December 1 and you should contact your providers of these devices of the pending closure of 2G network.
For those with 2G Sim cards in 3 or 4G phones, all you need to do is set your phone to 3G/4G or auto and upgrade the sim card and your number will remain the same
Should you have both a 2G sim and a 2G phone then both will need to be replaced, and we understand that existing plans will also remain the same for both scenarios.