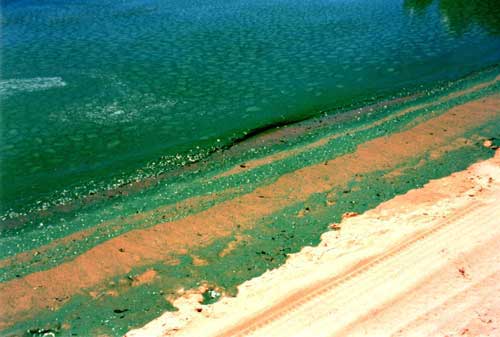 Algae blooms along Moreton Bay Region Coastline
Moreton Bay Regional Council officers inspected Humpybong Creek yesterday, in response to reports of a large number of dead fish in the creek system.
A council spokesperson said a number of fish kills and reports of water discolouration and odour had been investigated by council over the past few weeks.
"These incidents have been the result of a blue-green algae bloom that is currently affecting a significant area along Queensland's coastline, all the way up to Rockhampton," the spokesperson said.
"Waterways in South East Queensland commonly experience naturally-occurring algal blooms at this time of year, as the weather gets warmer."
"Unfortunately, the presence of algae can result in lower than normal oxygen levels in affected waterways, which can result in the death of fish."
"People may also notice water discolouration and a strong smell associated with the bloom as it begins to clear, but should not be alarmed," the spokesperson.
"Advice provided to council from algae experts is that this type of algae, Trichodesmium, is generally thought to be non-toxic, however it may trigger localised effects such as skin irritation and rashes in some people."
"As a precaution, Council recommends that people avoid contact with the bloom until it has cleared."