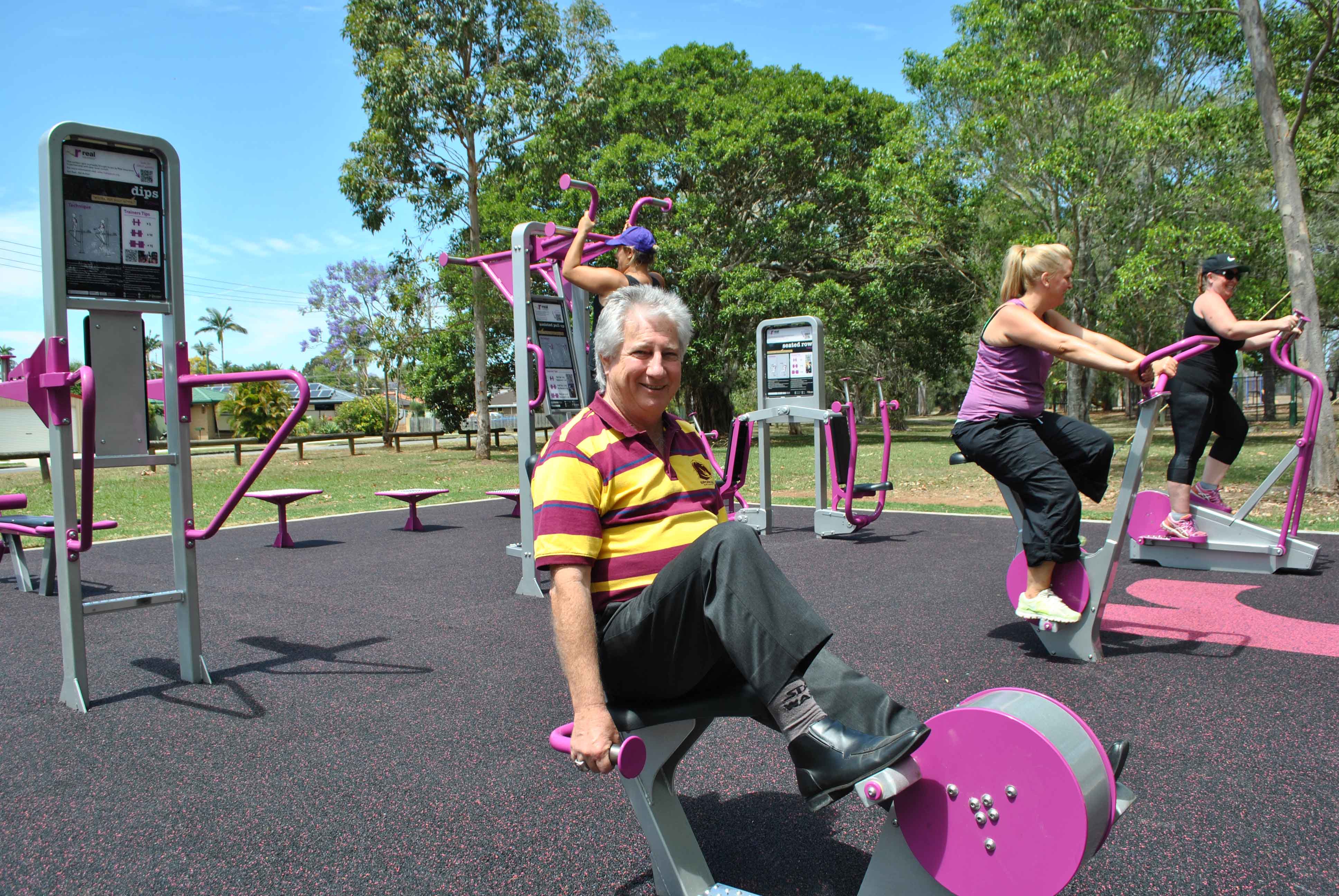 realSpaces: Moreton Bay gets 'REAL' With Community Health Initiative
Real Insurance today announced the launch of its second outdoor gym in Queensland as part of a nationwide initiative to make exercise accessible to communities across Australia.
The initiative, known as realSpaces, will give those in the Moreton Bay Region state-of-the-art gym equipment that provides a safe yet dynamic workout to people of all ages and abilities.
Real Insurance spokesperson Phillip Anderson said, "The realSpaces outdoor gym initiative has been completed in partnership with local councils and is the first of its kind in Australia."
"At Real Insurance, we believe we can make a big impact on Australian communities' health and wellbeing. We want to make exercise accessible for those that might struggle to find a convenient outlet for physical activity and want to improve their health and fitness levels without the expensive price tag."
The launch of realSpaces Moreton Bay follows the successful opening in Logan earlier this year. The initiative is timely in that it also compliments the local councils' 'Healthy and Active Moreton' program, which is celebrating free outdoor fitness during the 'Spring in Your Step' campaign.  Running for eight weeks, the program was designed to encourage members of the community, whether families or individuals to get active through a variety of fun and fresh activities.
Moreton Bay Regional Council Division 8 Councillor Mick Gillam said the new outdoor gym at Bray Park would add another exciting element to the countless sport and recreation opportunities already available at Les Hughes Sports Complex.
 "The Les Hughes Sports Complex is hugely popular with local sporting clubs, families and residents who regularly use the fields, courts, off-leash dog park and PCYC facilities, so I'm excited the complex has gained a free outdoor gym for local residents to utilise," Cr Gillam said.
 "The additional fitness stations are resistance-based and easy to use, meaning people of all abilities can keep active and find a unique way to achieve their recommended 30 minutes of daily activity."
Cr Gillam said partnering with Real Insurance on this initiative complements council's ongoing commitment to healthy lifestyle opportunities and programs like 'iMove' and 'Spring in Your Step'.
 "The equipment is part of council's $32.5 million investment in community, park and sports infrastructure for 2016/17, and I encourage everyone to check it out."
Strathpine resident and personal trainer Jess Novak tested the equipment at the opening of the gym on Thursday, October 27.
"It's a great incentive for the local community to stay fit and active," Ms Novak said.
Mr Anderson said local need for the initiative was evident with data showing Moreton Bay South and North had obesity levels between 33 and 34 per cent. It also showed in both areas, that over 50 per cent of residents were insufficiently active.
A recent study by Real Insurance looking into the exercise habits of Australians revealed that over a quarter (28 per cent) of them blame a lack of time for not getting the recommended 30 minutes of daily exercise, while almost one in six (18 per cent) admitted that they don't exercise at all.
"Our research found that over three in five Australians wish they were more active with their families and we believe this initiative will help to provide safe, fun training zones for everyone," Mr Anderson said.
"We all understand the benefits outdoor exercise can bring, not the least of which is a boost in overall feelings of vitality, enthusiasm and wellbeing. Other studies have found simply spending more time outside has been shown to prevent the incidence of obesity among children, which is a great reason to encourage the whole family to get out and get active together," he added. Leading Healthy Lifestyle Expert and Exercise Physiologist, Dr Bill Sukala, said there are mental as well as physical benefits to outdoor exercise.
"The advantages can be far reaching, from boosted energy and cognitive performance to reduced stress and overall wellbeing," he said.
"Not only that, but outdoor exercise is fun and this increases the likelihood of people sticking with it over the long-term," Dr Sukala concluded.
The free to use outdoor gym equipment is expected to be heartily welcomed by those in the Moreton Bay Region, particularly as research has revealed Queenslanders pay the highest average gym membership fee nationally at $29 per week. Moreover, even though they have a gym membership, one in five Queensland respondents (21%) said they actually prefer exercising outdoors.
"Real Insurance is extremely proud to provide the community with a convenient way to stay active, without the cost. If we can give Australians access to free gym equipment and it helps them to improve their long-term health and vitality, then we know this will have been a success." Mr Anderson said.
Key Research Findings
Too Busy to Keep Fit
More than a quarter (28 per cent) of Australians blame a lack of time for not getting the recommended 30 minutes of daily exercise
Desire to be Active with Families
Three in five (63 per cent) wish they were more active outdoors with their family
Almost half (45 per cent) of Australians feel there are not enough free community-based health initiatives in their area
Cost Barriers
Nearly two thirds (64 per cent) of those who exercise outside, do so because it is cheaper than the gym
Australians Love the Outdoors
Two in five (44 per cent) people who don't have a gym membership say this is because they prefer exercising outside
Most people (88 per cent) who like outdoor exercise do so because they enjoy the fresh air and sunshine and nearly three in five (58 per cent) say it improves their overall mood
Unhealthy Nation
Just under one in six (18 per cent) admit they don't exercise at all
According to National ABS Statistics, three in five (63 per cent) Australian adults and a quarter (25 per cent) of Australian children are overweight or obese
For more information, please visit realSpaces.org