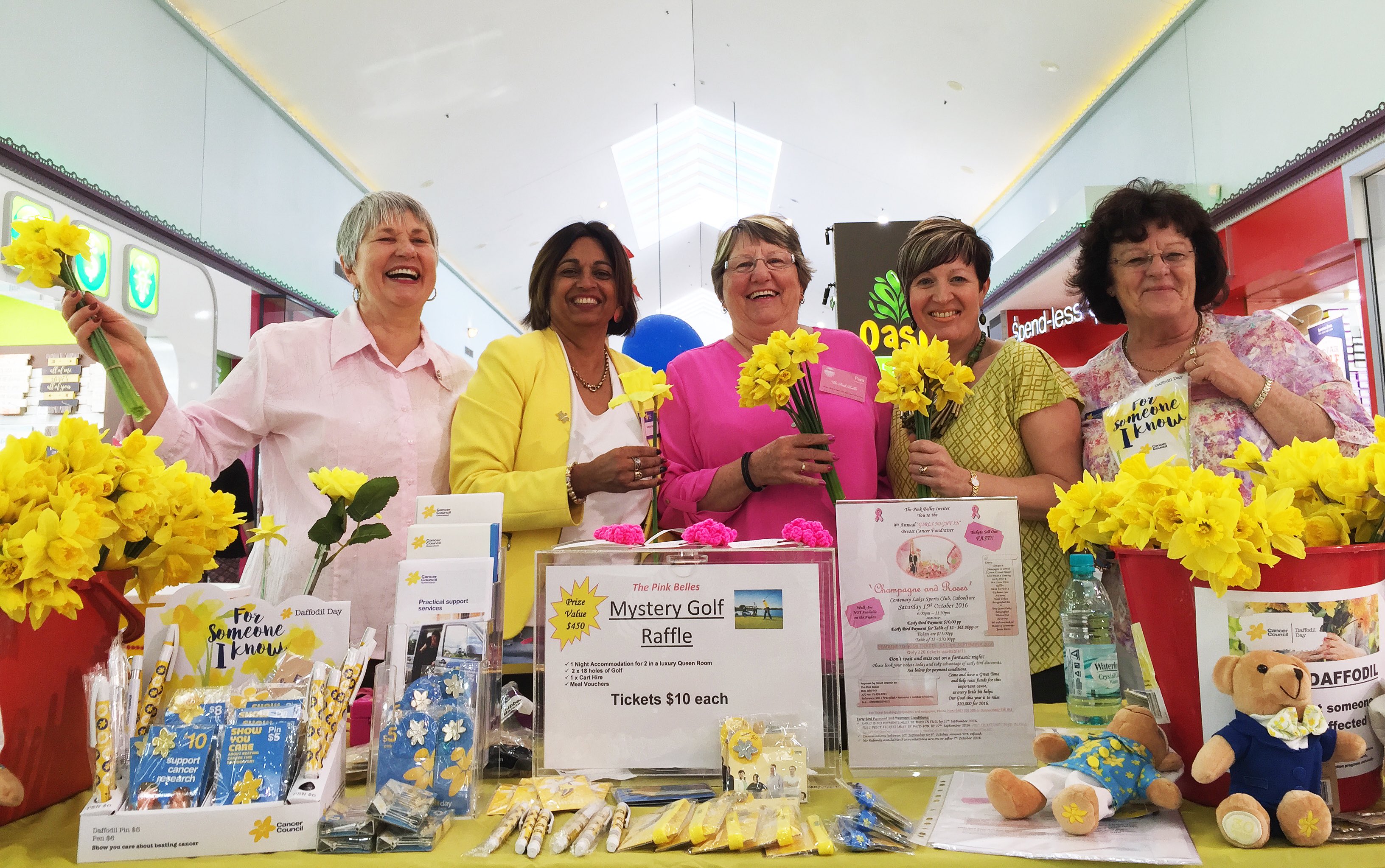 The Pink Belles fantastic result recently in Morayfield on Daffodil Day announce exciting new event coming up later this year
The Pink Belles, that is, and do they have a tale to tell.
As with so many people touched by cancer, The Pink Belles, a self-titled group of 9 ladies who started out with only 3, raising money at a neighbourly meeting in Elimbah, are looking forward to celebrating nearly 9 years of raising awareness and pots of money for vital cancer research, prevention and early detection programs, support services and advocacy campaigns. Since that first meeting to date The Pink Belles have raised in total $67,929.79.
Their success has culminated in them being, for the 3rd year in a row, Hope Ambassadors for Cancer Council Queensland and participants in the Cancer Free Challenge for 2016.
The ladies recently served up bunches of Daffodils from Morayfield Shopping Centre over two days for Cancer Council Queensland's 30th year anniversary of Daffodil Day, as part of their dedicated fundraisers for the year.
Jo Greenwood, one of the Pink Belles, who has just come out of her own surgery battle, said, "We are flush with the success for Daffodil Day this year when we raised a whopping $4137.80 over two days and are so very pleased."
"We have set a goal for 2016 to raise $20 000 from our three major campaign events – Australia's Biggest Morning Tea, Daffodil Day and Girls Night In for Cancer Council Queensland all through joy, energy and camaraderie.
My personal experience is no worse than the woman standing next to me or her best friend, so I celebrate that I can talk through the experience if asked and move forward with the Pink Belles to assist others", said Jo on behalf of the Pink Belles.
The next event, '9th Annual Girls' Night In' breast cancer fundraiser, with a 'Champagne and Roses' theme will take place on October 15 at Centenary Lakes Sports Club, Caboolture.
As Jo indicates, "Our tickets always sellout fast because our fundraiser events are simply fantastic. This year we have auctions of star touched items from underwear signed by the one and only Keith Urban to be handed to the highest bidder along with a signed hat by country singer Troy Cassar-Daley.
Early bird payments to the event are to be paid in full by September 17. All tickets, bookings/payments and enquiries can be made by 'phoning Pam 0407 201 209 or Donna 0407 160 951. All funds raised go to the Queensland Cancer Council.