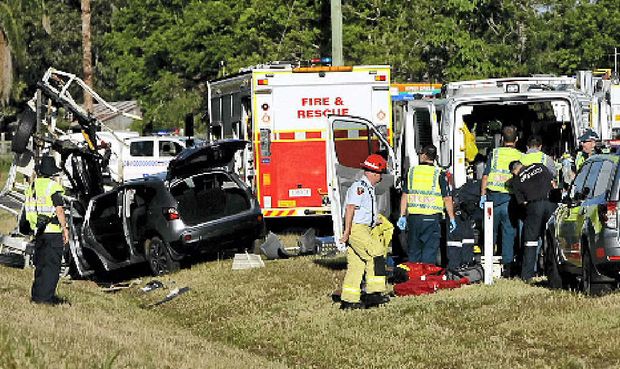 Queenslanders reminded to drive safely during Spring Break
Police, Fire and Emergency Services Minister Bill Byrne and Commissioner Ian Stewart today urged motorists to stay safe on the roads these school holidays at the launch of Operation Spring Break 2016.
The coordinated state-wide initiative for the September and October school holidays is aimed at reducing the number of serious injury and fatal traffic crashes.
The operation, which will run from September 16 to October 7, is designed to direct community attention to offences related to speeding, impaired driving, seatbelts, fatigue, distracted driving, defective vehicles, and other road related offences.
Minister Byrne said one fatality this school holiday period would be one fatality too many.
"The September school holidays are traditionally a busy time on Queensland roads, with many families taking the opportunity to travel long distances by car to and from their holiday destinations," Minister Byrne said.
"With an increase in vehicles on the roads there is a potential risk for there to be an increase in traffic accidents."
Commissioner Stewart said police would target traffic offences to make Queensland roads safer for everyone.
"Across these school holidays, police will maintain a highly visible presence on Queensland's highways and roads," Commissioner Stewart said. 
During last year's operation, which ran from September 18 to October 9, police detected 1,083 drink drivers and issued more than 1,157 infringement notices for use of mobile phones.
"This is a state-wide community issue and our police need everyone's support to stop people being killed or seriously injured on our roads," Commissioner Stewart said.
"Drivers can ensure they are doing their part every time they get behind the wheel when they stick to the speed limit, do not drive tired, do not drive drunk or inhibited by drugs, wear their seatbelt and ensure their full attention is on the road.
"Drivers should prepare for the school holiday break, plan their trips and take regular breaks from driving - at least every two hours."
NUMBER OF QUEENSLAND ROAD FATALITIES IN 2016 PER DISTRICT
Far North: 25            
Mount Isa: 0
Townsville: 10
Capricornia: 9
Mackay: 11
Sunshine Coast: 6
Wide Bay Burnett: 20
Darling Downs: 14
Ipswich: 14
Moreton: 8
South West: 11
Gold Coast: 8
Logan: 6
North Brisbane: 14
South Brisbane: 12
Source: Queensland Police Service