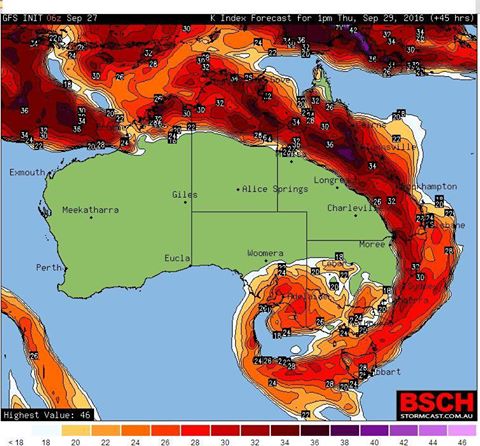 Possible Thunderstorms on Thurday may impact on Moreton Bay Region
There is only a chance of Thunderstorms to impact on Moreton Bay Region and South East Queensland Thursday morning and afternoon.
As today is progressing the rain impact is decreasing however winds may still present a problem later today.
The key causes is instability in the atmosphere and a trough together as well as influences from weather systems impacting on South Australia NSW and Victoria in the Great Australian Bight will be key triggers for the chance of thunderstorm activity to be likely and will be capable of producing damaging and possibly destructive winds.
The thing that makes this weather system stand out,  is just how widespread the damaging wind gusts could be and the gradient winds are so tight that it won't even take a thunderstorm to produce winds that could cause structural damage, this is likely to happen ahead of the trough as well.
Ahead of changes like this, what creates a lot of the instability is the abundant moisture feeding in ahead of the troughline. Behind the trough, there is much cooler and drier westerly winds. If you have a very defined boundary like we do with this system, you literally have air that's more than 3 times as moisture rich and warmer ripping in towards a boundary of similar strength cooler westerly winds.
When you have two winds that collide into each other from different directions. the only was is up!
So air gets forced upwards and when it's moist enough it will push upwards in the form of deep convection...
It is how strong this forcing is with the trough that will be the major trigger for storms on Thursday so in my opinion, any storms that form will be along the actual trough itself and more likely in the form of some very defined severe squall lines capable of producing even destructive winds.
Around Moreton Bay Region and Brisbane there likely won't be long lasting heavy rainfall  mainly because any showers and storms will be moving very very quickly.
It's one of those wham bam thankyou maam kind of shear setups.
Which is the main reason to be prepared and ensure loose items are put away and gutters  cleared to minimise risk of damage to valuables and property.
Areas affected include with heavy rain and damaging winds are Roma, Goondiwindi, Brisbane and Surfers Paradise.
As it stands right now all models are pretty closely in agreement that the trough itself will move through the Brisbane area sometime early on Thursday evening.
The Bureau Of Meteorology has issued a Strong Wind Warning for the following areas: Fraser Island Coast, Sunshine Coast Waters, Moreton Bay and Gold Coast Waters for Thursday
Moreton Bays Home of Emergency Service advises watch for announcements via our Facebook page and stay tuned to us on air on 101.5 Mhz FM or online at 1015fm.com.au and click listen live.
As always The State Emergency Service advises that people should:
* Secure or put away loose items around your property.
* Move cars under cover or away from trees.
* Keep clear of fallen power lines.
* Don't drive, ride or walk through flood water.
* Keep clear of creeks and storm drains.
* Stay indoors, away from windows, while storms are nearby. 
For timely advise on preparing for a thunderstorm consult our Summer Storms Pages