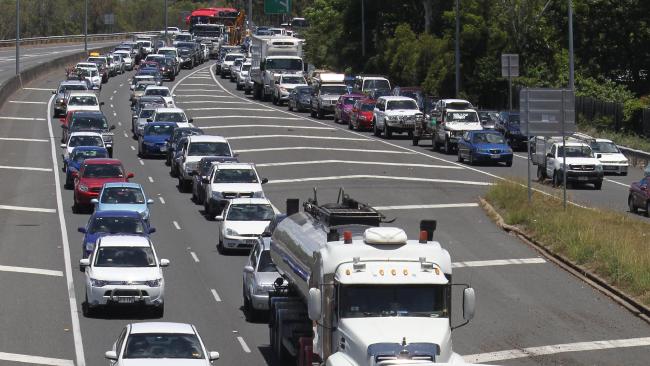 We can expect big delays in the daily commute on the Bruce Highway over the next 2 years
The Bruce Highway will face major disruption over the next two years as the peak motoring body the RACQ is urging a rethink by everyone as to how they commute in the future.
First up is the Boundary Road over-pass into North Lakes currently being upgraded over a  two-year works program costing $100m aimed at bringing relief to the notorious congestion pinch point.
Then work is also due to commence just before Christmas on six-laning the Bruce between the Caloundra turn off and Sunshine Motorway, including interchange upgrades which will cost in excess of $1 billion.
Main Roads has advised work on the Boundary Road project was scheduled from 6am to 6pm Monday to Saturday.
"On occasion, work will be required at night to avoid daytime traffic disruptions,'' the departrment says in a release.
"We will write to nearby residents and key stakeholders to provide advanced notice of these works. Throughout the project there will be traffic impacts and delays as Boundary Road is realigned to tie in with the new bridge. We will be monitoring traffic and will work with our contractor, endeavouring to limit delays to motorists as much as possible."
RACQ executive general manager for advocacy Paul Turner said the projects represented major disruption but said despite the two-year time frame it would be short-term pain for long-term gain.
Tourism Sunshine Coast CEO Simon Latchford said the organisation's strategy was focused strongly on building markets that weren't reliant on the highway.
He said up to 80% of the region's tourism derived from short-term visitors with the Friday afternoon drive in market likely to be the biggest problem.
Mr Latchford said the industry would work closely with the Main Roads Department to minimise disruption.
Mr Turner said the highway was already congested. Regular commuters should either allow more time for their journey or consider either working from home or taking the train.
"It will improve the situation,'' he said of the road projects.
"With 50,000 people going into Caloundra South these major works are important. The Department of Transport and Main Roads will have to manage the projects to keep the highway free in rush hour."
Mr Latchford said everyone was aware of the importance of the drive market to the tourism industry.
"We know it's happening, we know it's a major issue and we need to deal with it," he said.
"The whole Bruce Highway is a problem. It brings 80% of our business and is always busy."
Mr Latchford said with at least a 10-year horizon for any upgrade to the highway any steps to over develop the drive market was not sustainable. Instead the industry is looking at multiple solution approach focussed on taking the load of the highway in favour of fly-in markets from New Zealand, Sydney, Melbourne and Adelaide.
He said a lot of money had also been invested into German, French, British and US markets to grow the pie without more impact on the Bruce Highway.
"We also have a very large regional Australia marketing campaign into areas we haven't been before,'' Mr Latchford said.
Major construction to upgrade the interchange recently commenced and is scheduled to take about two years to complete.
Minor vegetation clearing and service relocations started late 2015 at the project site.
Initial work will involve establishing site offices and construction lay-down areas, implementing site access routes for construction vehicles and machinery, surveying and vegetation clearing, and establishing environmental controls including erosion and sediment ponds.
Construction work will generally be carried out during the day, Monday to Saturday, between 6am and 6pm.
On occasion, work will be required at night to avoid daytime traffic disruptions.
The project will take four years dependent on weather conditions.
The Boundary Road/Bruce Highway interchange upgrade will improve safety, ease congestion and increase capacity to cater for growing traffic volumes.
The upgrade incorporates a new six lane bridge over the Bruce Highway with dedicated continuous flow on-ramps and extended off-ramps to improve safety for motorists entering
Non Bruce Highway road works include the Caboolture River Bridge replacement on Morayfield is already causing chaos on one of the more utilised roadways and is expected to continue to disrupt traffic flows for the enxt 11 months.