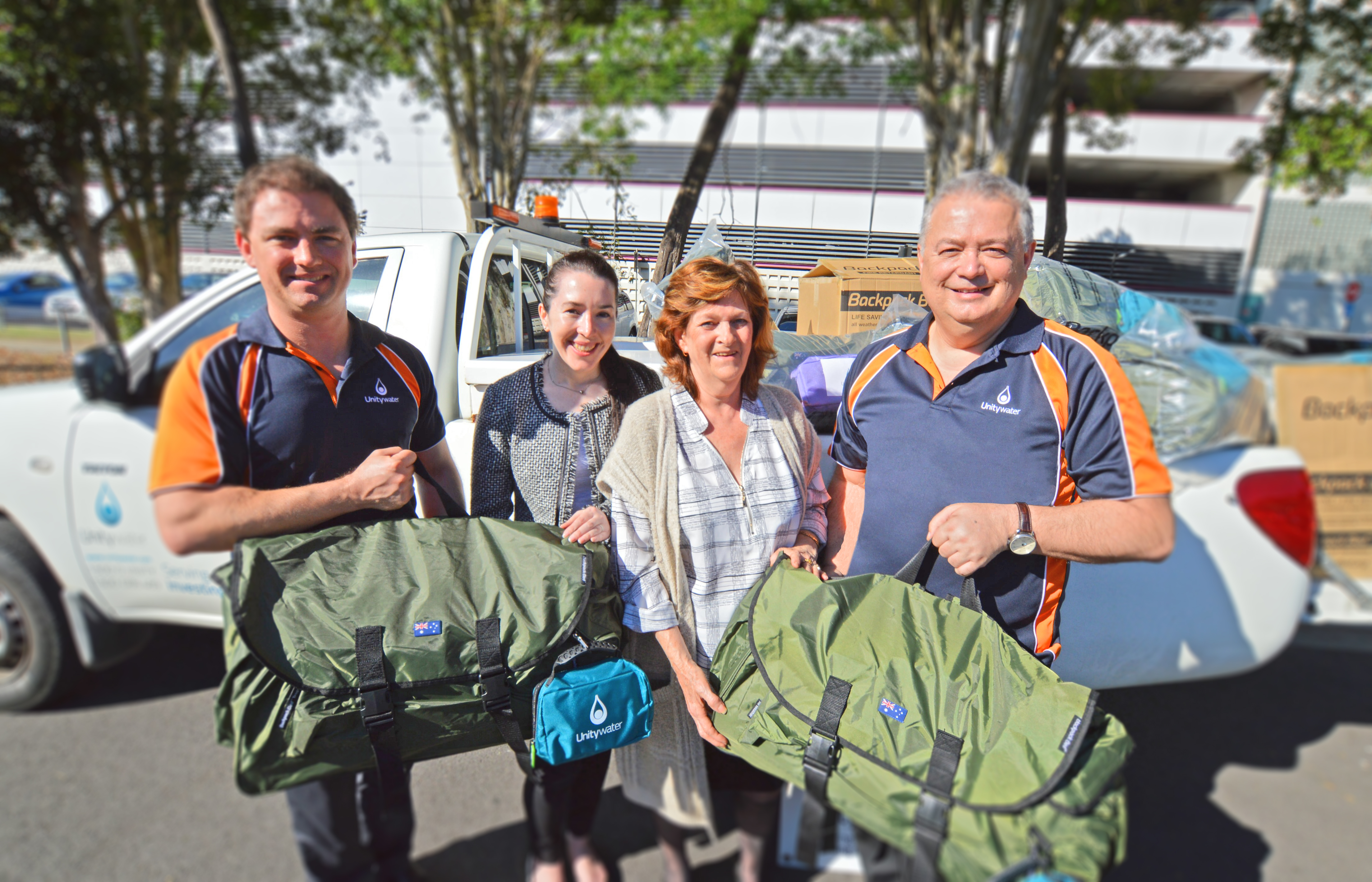 Unitywater donates Backpack Beds for the homeless
Unitywater is helping to improve the health and quality of life of the region's homeless by sponsoring the roll-out of 'Backpack Beds' in Caboolture.
1 – 7 August is Homelessness Week, an annual event to raise awareness of the issues faced by people who do not have a place to call home.
Unitywater has partnered with national charity Backpack Bed for Homeless to donate 48 of the all-weather outdoor beds to assist people sleeping rough in Caboolture.
The sponsorship was prompted by a call from Unitywater staff working at the King St office who were seeking ways to help homeless people in the area.
"This sponsorship is part of our broader commitment to supporting the community in which we operate," Unitywater Community Relations Specialist Kate Cash said.
"Many of us take for granted the simple pleasures of a warm bed to crawl into at night.
"We know a small act such as this will not eradicate homelessness in our region. However, we believe it will make a difference by improving the health, comfort and safety of homeless people."
Caboolture Community Care Office Manager Julie Hill said she had noticed an increase in homelessness in her community.
"The situation is the worst I have seen in 25 years of doing this type of work. It's heart-breaking," Ms Hill said.
"We used to have about 20 people a month come to us for help finding a place to stay. Now, we get about 50 people a month.
"The offer of these Backpack Beds is unreal. I am really excited to start handing them out. At least they can find a safe spot to roll up in and be warm, especially in this cold weather."
Since it was established in 2007, not-for-profit charity Backpack Bed for Homeless has provided more than 22,000 emergency, hi-tech Backpack Beds via 450 homeless support agencies around the nation.
"Caboolture would not have been an area we would have focussed on without Unitywater coming along to highlight the problem we now realise is out there," Backpack Bed for Homeless Founder and CEO Tony Clark said.
"This has been a really rewarding three-way partnership in that we provide the beds to the local homeless service and Unitywater helps with funding. We've all banded together to shine a torch on this problem. 
"That's really exciting in terms of what we can achieve.
"We wish there was no need for these Backpack Beds but unfortunately homelessness is a reality for many in today's society.
"If there was a disaster like a bushfire or flood, the community would not stand for that and they would do whatever they could to help those people back on their feet.
"Homelessness is often triggered by a personal disaster. All it can take is someone losing their job or missing a rent payment and they are out on the street. I think it's time we changed the way we view homeless people and reintroduce some compassion to our response to that. After all, shelter is a basic human right."
Fast Facts
There are currently 105,237 people in Australia who are homeless
17% are under the age of 12
30% are born overseas
25% are Aboriginal or Torres Strait Islander Australians
When they can find shelter, the majority live in severely overcrowded dwellings (39%), supported accommodation for the homeless (20%), boarding houses (17%) or temporarily with other households (17%)
In Queensland, there are 19,838 homeless people
Source: Homelessness Australia
More information
Backpack Bed for Homeless website.