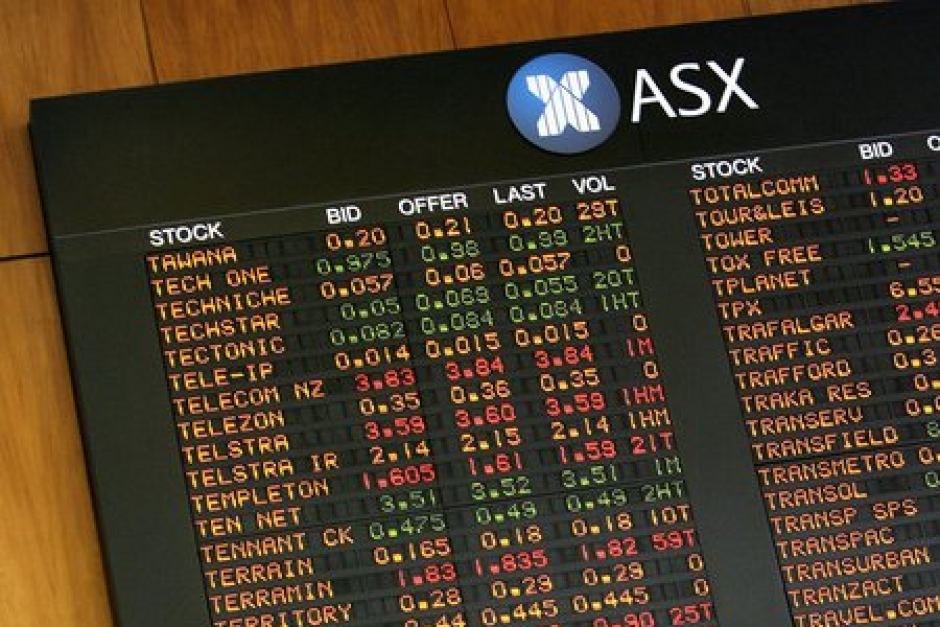 Reserve Bank interest rate cut hits share market with losses in media, mining, energy and bank stocks
The share market has closed with losses across the board as the Reserve Bank cut interest rates to a record low.
The ASX 200 index lost 0.8 per cent to close at 5,541 and the All Ordinaries Index fell by 48 points to finish on 5,622.
Energy stocks had the biggest losses as oil prices continue to retreat; oil and gas producer Santos lost 5.8 per cent to $4.23.
Media stocks were also hit, after Seven West Media — which owns the Seven TV network — tumbled by 18.4 per cent to 85 cents, dragging most of its peers with it.
Earlier, Seven West Media announced a weaker than expected full year net profit of $184.3 million.
It also warned of a hit to earnings on softer market conditions and increased content costs, especially for sport, and expects the advertising market to be flat or weaker over the year.
Rival Nine Entertainment lost 14.3 per cent to 93 cents.
Dollar falls half a cent while bank stocks drop
Miners fared slightly better — BHP Billiton was down 2.2 per cent to $19.24 and Fortescue Metals lost 1.1 per cent to $4.42.
Bank stocks were also sold despite the rate cut — Westpac fared the worst, down 0.9 per cent to $30.83. ANZ fared the best, down 0.2 per cent to $25.73.
To currencies, and the dollar dropped a half of a cent against the greenback on the Reserve Bank's decision to slice the cash rate by 25 basis points to a new low of 1.5 per cent.
But it soon recovered all of that lost ground and is now stronger against the US dollar at US75.5 cents.
It is also fetching 67.5 euro cents, 77.3 Japanese yen and 57.1 British pence.
Checking commodities, and oil prices are higher in Asian trade, with Brent crude buying at around $US42.32 a barrel.
Spot gold is steady at around $US1,353 an ounce.
Source: ABC News