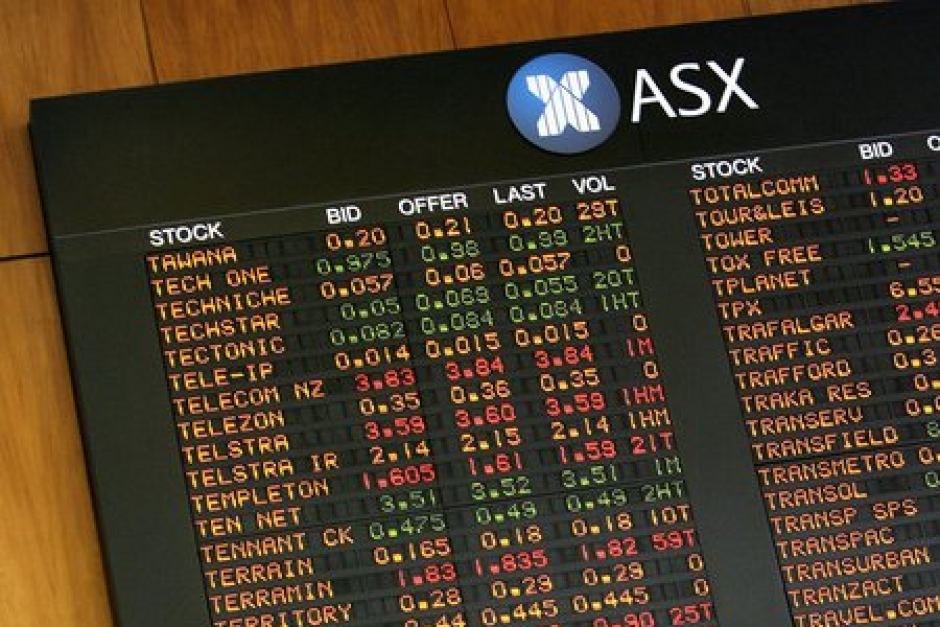 ASX: Shares ease amid commodity price weakness
There were some wild individual moves on the share market today based on various companies' profit results, but overall the market posted a modest decline on falling commodity prices.
Markets at 5:15pm (AEST)
ASX 200 -0.2pc to 5,515, All Ords -0.2pc to 5,612
Major gains: GWA +18.1pc to $2.68, BlueScope +5.7pc to $8.72, Cover-More +5.7pc to $1.49
Major losses: APN Outdoor -35.3pc to $5.33, Japara Healthcare -8.8pc to $2.38, Independence Group -8.2pc to $4.04
Futures: Euro Stoxx 50 +2pts to 2,971, FTSE -19pts to 6,838, S&P 500 -6pts to 2,176
AUD: 76.03 US cents, 58.25 British pence, 76.6 Japanese yen, 67.4 euro cents, $NZ1.055
Energy stocks had the biggest losses as oil prices eased back after soaring for most of the month.
Oil and gas producer Santos fared the worst, down 6.8 per cent to $4.52.
Although Woodside bucked the trend on a key broker upgrade, rising 1.5 per cent to $29.32.
Mining stocks were also out of favour: Fortescue Metals lost 2.4 per cent to $4.81 despite the iron ore miner more than tripling its annual profit and pumping up its dividend.
The miner said cost and spending cuts have more than offset the drop in iron ore prices, helping profits soar to $US985 million after tax.
The final dividend was up six-fold, to 12 cents a share.
BlueScope Steel went the other way, rising 5.7 per cent to $8.72 after it announced full-year net profit had more than doubled over the past financial year.
BlueScope's net profit soared by 160 per cent to just under $354 million last year, helped by cost cutting, sales growth and an acquisition in the United States.
The result was helped by a three-year pay freeze and the axing of 200 jobs at its Port Kembla steelworks.
Another strong result came from building supplies company GWA Group - which sells Caroma bathroom products and Dorf taps.
Its shares rose more than 18 per cent after an 8 per cent jump in earnings and positive outlook.
The big four banks had a lacklustre session - NAB was the strongest, down just 1 cent at $27.29.
Job search and education website Seek reported a 27 per cent jump in full-year profit, to a record of just over $357 million.
Investors were underwhelmed and Seek closed 1 per cent lower at $16.36.
But APN Outdoor was the worst performer of the day after it cut its full-year earnings forecast.
APN tumbled by 35.3 per cent to finish at $5.33.
On currency markets, the Australian dollar dropped overnight but has been steady through the day.
Checking commodities, Brent crude was nearly 2 per cent lower around $US50 a barrel and spot gold was around 0.6 per cent weaker at $US1,333 an ounce.
Source: ABC News