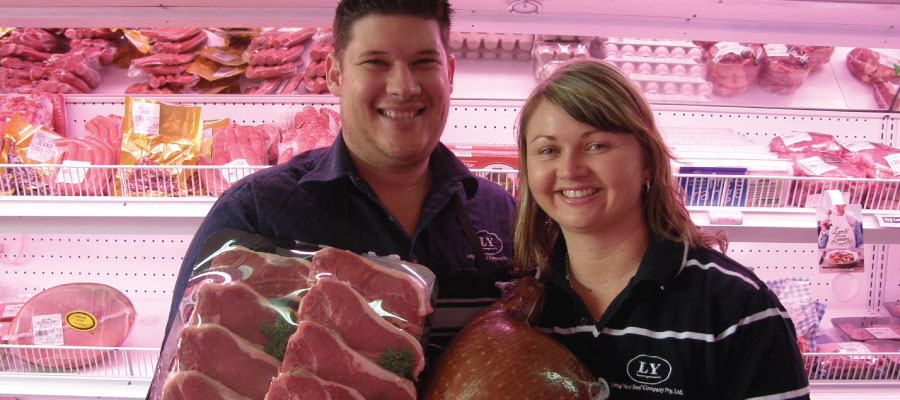 Farm Fantastic 2016: Tips from experts at Destination Food
As the death knell sounds for butcher shops nationally an enterprising Caboolture family is grasping their destiny by micro-managing the consistency of good-fashioned flavour and selling from boutique butcheries as well as innovatively online.
Long Yard Beef Company, sponsors of Destination Food at Farm Fantastic, is finely tuned family operation spearheaded by Josh and Kristie Long.
Josh's parents Alex and Annette, raise 900-head of commercially bred and fattened Black Angus/Limousin cross cattle on the 1900-acre spread at Kilcoy.
The Longs have master-minded a feeding system to ensure quality rather than quantity. Each beast has computerised monitoring.
Cattle are especially pasture raised before moving onto a blend of grass and grain to optimise flavour and consistency.
The wholesome "hormone, chemical and stress-free product from the heart of the cattle country" is the cornerstone to Josh and Kristie's growing gourmet butchery at Bellmere at Caboolture and then Ningi Butchery.
"Between us is a great combination – we work through any problems together. Essentially we strive to provide a product our family wants to eat," Josh Long said. "We use all the beef cuts.
"The tongue is used for pressed brawn, there's woodsmoked honeywurst (made their own Kilcoy honey), and there'll be free samples of kransky, cheese kabana, beer sticks and salami."
In their push to get more families back in the kitchen and eating wholesome meat dishes The Two Old Ducks, namely Annette Long and her sister Jen Hill, will cook up a storm at the expo.
Also on stage Mr Long will demonstrate sausages made "from scratch".
The family also offers carefully selected products to complement their butcher shop and online offerings including Riversands Vineyards wines, Maleny Milk and Yoghurts, Kenilworth cheeses and free range eggs.
Farm Fantastic Expo runs at the Cabooolture Showgrounds from July 22-24.
For the latest news on Farm Fantastic, car parking and bus options go to www.farmfantastic.com.au