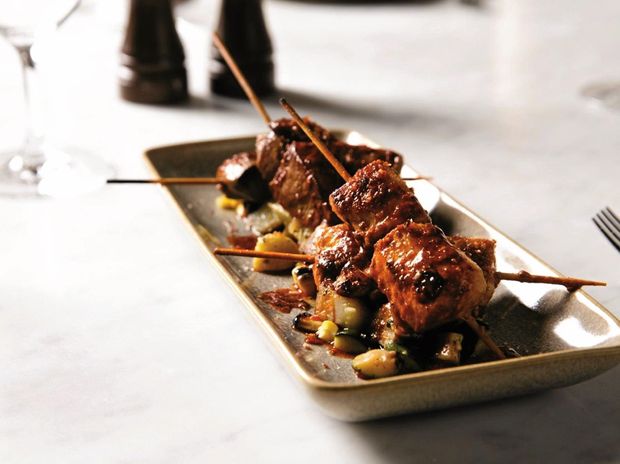 Farm Fantastic 2016: Get some alpaca on your plate
In a Queensland first, visitors to Farm Fantastic at Caboolture this month will be able to get some "alpaca on their plate".
How does alpaca carpaccio, koftas, pâté or smoked leg sound?
Spruiking up the delights at Destination Food will be Illawarra Prime Alpaca co-director Ian Frith.
Alpaca meat, he says, is lean, high in protein, high in iron, low in cholesterol and delivers a beautiful taste between lamb and veal.
He and his wife Annette own the largest alpaca farm in the southern hemisphere.
Millpaca at Binda, in the southern tablelands of NSW and two smaller properties at Berry, run 4500-5000 animals.
Mrs Frith maintains the couple's "love affair" with the genetics to breed world-class stock, which have names, and produce the finest commercial fleece.
 Mr Frith "got serious" eight years ago venturing into "the true farming experience".
"It was like a two-legged stool…we had the genetics and fibre but to be sustainable and to go into the future we needed to develop the meat and hide products.
"It's been a three-year plan going forward," he said.
A processing plant for wethers only, with no names, has been at Milton, outside Ulladulla, NSW.
Mr Frith has hatched his strictly controlled plan to maximize the viability of the animals by boosting his stocks to sustain a market for top quality meat and hide.
Illawarra Prime Alpaca is being served along the east coast and Tasmania and soon for Queensland.
"We don't supply into supermarkets only restaurants, hotels and cafeterias…because we can control what people are doing with it and consumers are guaranteed the experience of the true qualities of the meat," he said.
Alpaca pies are also being sold.
Prices include $55kg for 21-day aged back strap tender loin, $45kg for ordinary backstrap, racks $45kg, shoulders $25kg; sausages $18kg, burgers are $16-$17 and mince is $18.
The mince is in high demand because it is so lean and great for lasagne and meatballs.
The prime cut, Mr Frith says, are similar to venison and kangaroo and served medium rare. Neck shoulders and shanks are superb slow cooked.
Farm Fantastic will be held at Caboolture Showgrounds, Caboolture, on July 22-24.
It's open Friday and Saturday 9am - 5pm and Sunday 9am – 4pm.
Costs are $10 for adults, $8 for Aged Seniors card holders and children with an adult are free.
For more details go to our website www.farmfantastic.com.au or free call
1800 671 588.