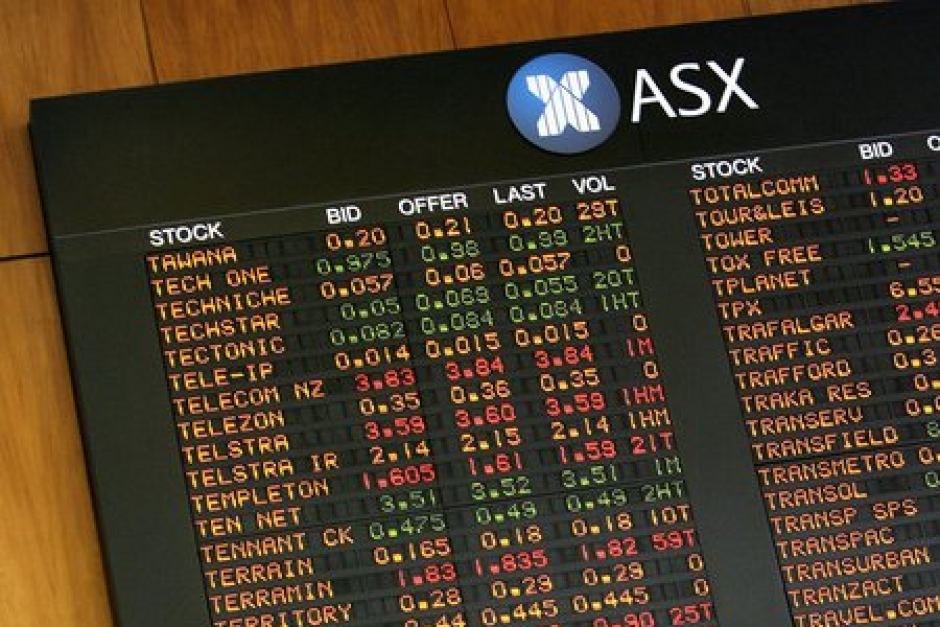 ASX Market close: Australian shares climb for seventh session, reaching highest levels in almost a year
The local share market has reached its highest levels in almost a year, supported by the banking and mining sectors, as Wall Street touched fresh record highs overnight.
Markets at 5.22pm (AEST)
ASX 200 +0.3 pc to 5,430, All Ords +0.3 pc to 5,510
Major gains: Whitehaven Coal +12.5 pc to $1.66, Myer +5.2 pc to $1.21, Seven Group +4.8pc to $6.55
Major losses: Regis Resources -3.4 pc to $3.73, Northern Star -2.7 pc to $5.48, Dexus Property -2.1 pc to $9.17
Euro STOXX 600 futures -0.4pc to 335.9, S&P 500 futures -0.1 pc to 2,155, FTSE -0.4 pc to 6,586
AUD: 76.3 US cents, 57.1 British pence, 80.7 Japanese yen, 68.5 euro cents, $NZ1.065
The ASX 200 rose for the seventh consecutive session and jumped 3.8 per cent for the week, its biggest weekly gain in three months.
Gains were broad based and came off the back of strong leads in US markets overnight, thanks to positive corporate results, while improvement in commodity prices also buoyed optimism.
Meanwhile, investors were also hopeful as China's economy defied expectations of a slowdown, with GDP growth for the June quarter holding steady at 6.7 per cent.
"It is good news on all fronts," wrote Savanth Sebastian, economist at CommSec.
"Healthy Chinese economic data means better outcomes for Australia — China is Australia's largest trading partner, so the better-than-expected Chinese economic data is a positive for a raft of Australian businesses.
That helped lift shares in the resources sector, with shares in BlueScope Steel rallying 5.1 per cent to $8.25. The company upgraded its earnings outlook yesterday.
Rio Tinto added 0.7 per cent to $50.55.
Retail stocks also gained, with surf wear company Billabong soaring 8.2 per cent to over three-month highs of $1.58, while supermarket giant Woolworths edged 0.3 per cent higher.
The only drag on the market were gold miners, which capped broader gains, with bellwether gold miner Newcrest Mining losing 3.3 per cent to $24.47.
In commodities trade, gold lost ground to $US1,333, while iron ore was weaker at $US58 a tonne.
West Texas crude oil lifted to $US45.59 a barrel.
Source: ABC News