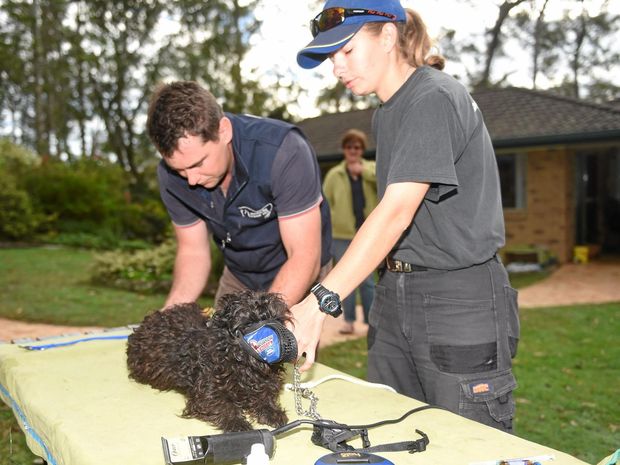 Alleged illegal poodle breeders dumping dogs in Woodford forestry
Samantha Jones's mum helped track and tag big game in South Africa – now she's put those skills to use to save abandoned dogs in Woodford.
The last of eight poodle crossbreeds dumped in the Beerburrum West State Forest has been found and will be rehabilitated after a traumatic three weeks.
Moreton Bay Equine Vets' Trent Raeburn said Calamity Jane, as she was named by Ms Jones, wasn't desexed, vaccinated or microchipped.
She was full of worms and the knots in her hair were "as big as her head".
Ms Jones tracked the dogs along with nearby timber harvesters' HQ Plantations employees after they heard about the dogs through Facebook.
HQ Plantations employees caught and personally re-homed four of the dogs, but Jane is still too terrified to be approached.
"We concluded it was backyard breeders, because they had worn all their teeth down from chewing on cages and the bitches had been bred and bred and bred," Ms Jones said.
"Being in a cage all their lives they probably never socialised and this one is particularly terrified. We caught it (last) Saturday night and it's been huddled up in the corner of the cage ever since."
Safe Haven Animal Rescue assisted the dogs' capture and volunteer Bec Lill confirmed they were most likely the result of illegal breeders – but warned dumping is not the answer.
"The dogs that were captured had had more litters than what they should have had at that age, which does lead us to believe it was a backyard breeding situation," she said.
"People need to think about it before they decide to breed – you are responsible for vet bills, caesareans – it isn't as simple as people do tend to believe.
"If they get in a situation where they can't keep them, don't dump them, we would've gladly taken all of these guys regardless of the condition and found them all homes."
Moreton Bay Regional Council said it was aware of the dumped dogs and the culprits would be brought to justice through the RSPCA.
"There is a very small chance of domesticated dogs becoming wild after being abandoned. However, if this were to occur, the animal may pose a threat to local wildlife and domestic animals," a MBRC spokesman said.
"Residents who spot abandoned dogs in the area or notice suspected wandering dog activity should contact the RSPCA."
An RSPCA spokesman said it was common to find dumped kittens, but the dumped poodles had left him bemused.
"We'd love to know where they came from. Logically it sounds like they came from a puppy farm situation.
"It doesn't seem to make sense – unfortunately we get litters of kittens and occasionally puppies, but they're often dead."
Please call RSPCA on 1300 264 625 if you see dumped animals or have more information about the poodle investigation.
Source: Caboolture News