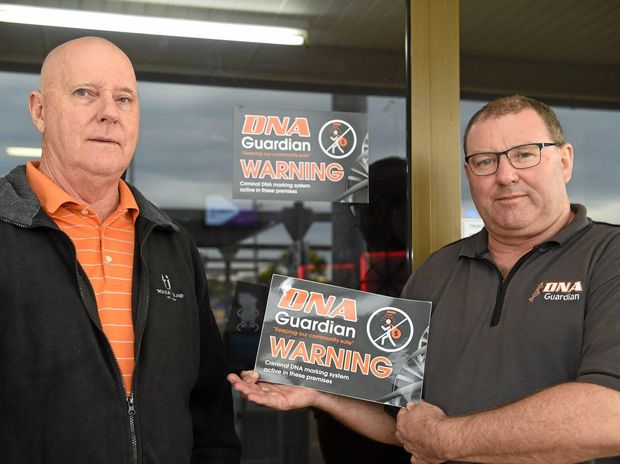 Solander Lake Bowls club bolsters security with new technology
Criminals be warned, steal from Solander Lake Bowls Club and you will be caught.
The Banksia Beach club was the first venue in the Moreton Bay region to be equipped with a high-tech DNA security alarm after it was installed on Monday.
Solander Lake Bowls Club chairman Chris Jenkins said the decision to install the alarm was first motivated by lowering the club's insurance premium.
"It's all about security, the better your security is the better rates are and it gives us a bit of leniency in our insurance," he said.
But after finding more about the state-of-the-art system, Mr Jenkins said deterring criminals stealing from the club was clearly the most beneficial factor.
"Our insurance broker said it's a big deterrent for two things, break-ins and armed robberies, because if you get hit with this stuff, they'll catch you," he said.
"It gets activated when we lock up at night, the alarm, and if somebody breaks in, they trigger the alarm and it has a spread.
"And the beauty of it is that they don't know that the spray has happened."
The alarm is installed in strategic places within the premise, which are typically of interest to a burglar.
Mr Jenkins said their previous alarm systems have not always caught the burglar after a break-in at the club.
"About five years ago we had a couple of break-ins," he said.
"They did a little bit of damage and took a little bit of liquor. And then about six months later, we had another break-in through that window over there (towards the back).
"They broke in, jimmied up the window and set the alarms off... but they got caught."
Even though the club has not had many serious robberies, Mr Jenkins said he was concerned for his employees and their assets, including 28 poker machines, after hearing about a robbery at the Bribie Island RSL.
"They had an armed robbery through one of their cashiers and we have a concern about that too," he said.
After installing the alarm, DNA Security Systems Business Development Manager Jeffre Murray said it was important for Solander Lake to have the new system installed as it was an easy target.
"When it comes to a large business in an armed hold-up, this would be considered a large business because of the cash and about 85% of all the large businesses that have an armed hold-up are pubs or clubs," he said.
"If I go and rob a bank, I'm lucky to get $5000.
"The average armed hold-up for a pub/club scenario is about $30,000."
The unique DNA trace that is sprayed onto the perpetrator lasts for several months and is claimed to assist police catch the criminals and recover stolen goods as well as reduce armed robberies by 98%.
Bribie Island Police officer in charge senior-sergeant David Crawford-Raby said he was aware of the alarm system after speaking with forensic investigators and welcomed the new technology into the region.
"There's a range of innovative security options that are coming into the market as businesses and security organisations move forward with the times to defeat different types of criminal behaviours," he said.
"Anything that businesses can take on to help to deter offenders and help police solve crimes if they happen is certainly welcomed.
"We're also happy to organise business security audits to help them in that regard."
Source: Caboolture News