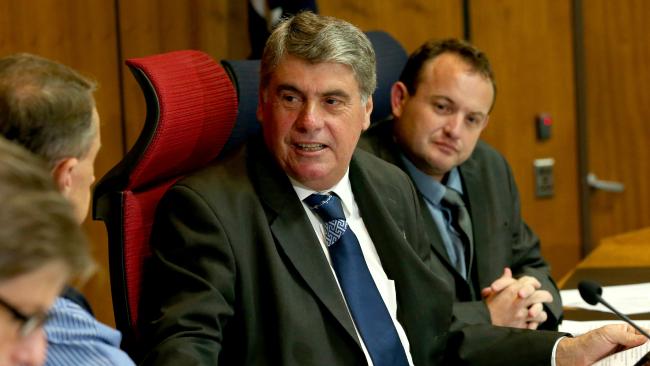 Moreton Bay Regional Council Mayor to lobby Malcolm Turnbull and Bill Shorten for university cash
Residents across the region have seen their rates bills rise, on average, 2.98 per cent in the Moreton Bay Regional Council budget handed down this afternoon.
"Forty per cent of residential owner occupiers across the region will pay less than an additional $1 a week," Council Corporate services spokesman Cr Adrian Raedel said.
The council will set aside $13.4 million for the Moreton Bay Region University Project, which aims to deliver thousands of local jobs ands study opportunities for the region by 2020.
Mayor Allan Sutherland said the university would not become a reality without federal assistance and planned to ask for a funding commitment from Malcolm Turnbull and Bill Shorten later today.
"To sit on our hands and wait for the other levels of government to deliver is simply not an option for any of us (councillors)," he said. "These are projects like the Moreton Bay Rail and the university."
Other investments include $2 million towards a shared AFL, hockey and cricket clubhouse at South Pine Sporting Complex, $6 million upgrade to Caboolture's Queensland State Equestrian Centre and $3 million for the development of new AFL facilities at Nathan Rd.
Cr Sutherland said the budget, set out a strong economic plan for the future of "our great region".
"There is no secret that our region is big," Cr Sutherland said. "We are big, we are bold and we are getting even bigger."
Cr Sutherland said the budget was balanced, with low borrowings, that aimed to please all residents.
"It is a lean budget, but is also a budget with heart," Cr Sutherland said.
Councillor Adrian Raedel (Division 12) said the council had worked hard to deliver a budget that provided for the immediate needs of the community and also future needs.
Cr Raedel said there would be no increase to rural waste or kerbside bin pick up charges.
Division 1:
More than $6 million across a number of projects
$1.93 million road resurfacing program
$215,000 upgrade solander Esplanade Park on Banksia Beach
Upgrades for Bribie Island Recreation Hall and Library
Improvement to Bongaree Jetty
Upgrade Caboolture Waste Management Facility including new landfill cells, roadworks, stormwater management, fencing
Division 2:
More than $12.29 million
$2.5 million allocated for construction on first stage of regional soccer facility at Moreton
Bay Central Sports Complex, Burpengary
$3.5 million invested into upgrade of Burpengary Rd
$400,000 to Zammit St Sportsground for new car park
$1.55 million upgrade Maine Terrace Deception Bay including pathways, pedestrian crossings and traffic calmers
Division 3:
$1.55 million for Cottrill Rd in preparation for new primary school
$595,000 boost for Caboolture Civic Precinct
$1.55 million upgrade Buchanan Rd, Morayfield
$30,000 fishway study and works program on Caboolture River
Division 4:
$2.8 million towards new club house, car park and vehicle access to Kinsellas Sports Fields
$125,000 development sportsground at Aurora Boulevard Park
$64,504 North Lakes Space for Young People
$20,000 rejuvenation of mechanical infrastructure North Lakes Swimming Pool
$925,000 road resurfacing program
Division 5:
$3 million Rothwell Tigers relocation to Nathan Rd
$2.3 million upgrade Scarborough Beach Park
$640,00 towards Endeavour Park including new viewing area, kayak launch point and new pathways
$1.495 million towards road resurfacing program
$1.2 million upgrade traffic calming infrastructure at Gynther Rd, Rothwell
$20,000 to preserve Landsborough Ave beach
$100,000 electrical and mechanical upgrades at Deception Bay Swimming Pool
Division 6:
$430,000 investment to help preserve Redcliffe Jetty
$300,000 upgrade Redcliffe Showgrounds
$380,000 for new park along Hornibrook Esplanade Foreshore
$90,000 new playground at Suttons Beach Park
$50,000 Redcliffe Botanical Gardens
$1.485 million road resurfacing program
$425,000 Redcliffe Waste Transfer Station upgrade
$15,000 Redcliffe Cemetery
Division 7:
$5.6 million towards infrastructure
$3 million upgrade Old Gympie Rd and Boundary Rd intersection
$700,000 new roadways and park equipment at Sweeney Reserve Petrie
$430,000 new SES building at Murrumba Downs
$1.305 million road resurfacing program
Division 8:
$1 million Lawnton Swimming Pool grandstand
$550,000 reconstruction car parks at Les Hughes Sports Complex, Bray Park
$170,000 new playground at Dick Turnbull Park, Odempa Park, Bray Park and timber bridge replacement at Hayward Ave Park, Cashmere
$1.695 million road resurfacing program
Intersection upgrade at Todds Rd, Lawnton
Division 9:
$2 million next stage of AFL precinct at South Pine Sporting Complex
$7 million major road upgrades at Brendale and Warner
$1.78 million road resurfacing program
$270,000 upgrade Albany Creek Community Centre
$40,000 tree planting Scouts Crossing Rd, Brendale
Division 10:
Total $11 million
$1 million new baseball facility James Drysdale Reserve
$1.225 million for new Program Pool at Ferney Hills
$6.8 million upgrade Bunya Rd, Draper
$. 2.2 million investment Patricks Rd and Dawson Parade intersection Arana Hills
Division 11:
$380,000 towards refurbishment number existing buildings at former CSIRO research station
$2.185 million new soccer clubhouse at Samford Parklands
$15,000 Riverine Court Reserve trail upgrade at Samford
$6.9 million roads resurfacing program
$210,000 Dayboro, Mr Nebo and Samford waste stations upgrades
$40,000 new detention basin Dayboro Showgrounds
Division 12:
$8.425 million towards road upgrades
$745,000 planning and design Morayfield Sport and Events Centre
$27,000 upgrade Woodford Showgrounds
$500,000 towards Woodforida
$75,000 upgrade for Mt Mee Lookout
Source: Quest News