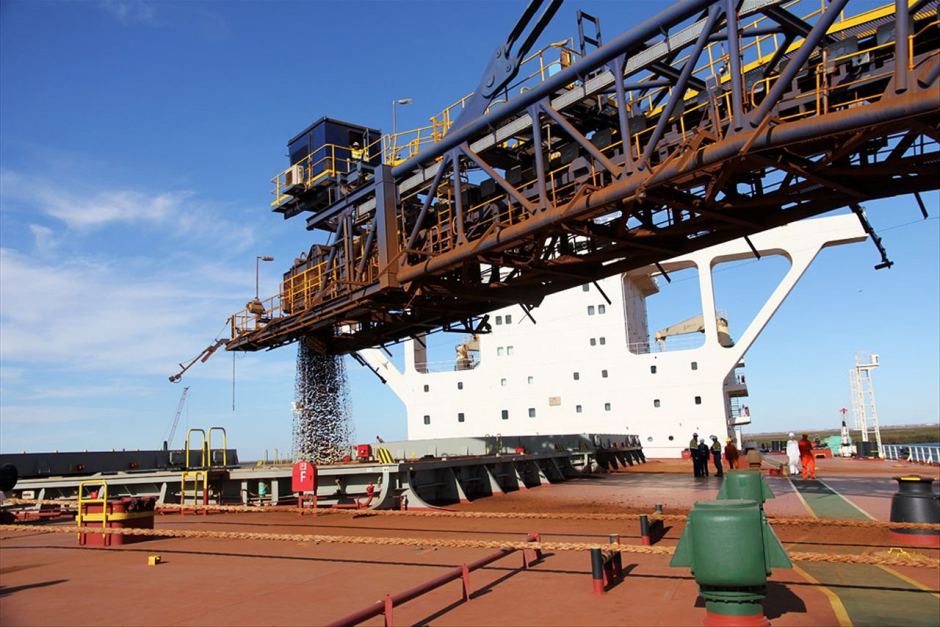 GDP 2016: Australia's economy grows 3.1pc, fastest quarterly growth since 2012, says ABS
Australia's economy grew 1.1 per cent in the first quarter, and 3.1 per cent over the past year, its fastest quarterly growth since March 2012.
Key points:
Mining makes biggest contribution to growth
Australian dollar jumps about half a cent on data
Nominal GDP undershoots headline figure, "economic well-being" falls
The Bureau of Statistics figures show growth was driven largely by a surge in export volumes, which contributed 1 percentage point out of the 1.1 per cent quarterly growth.
Household consumption also added to the better-than-expected economic expansion, contributing 0.4 percentage points.
The largest detractor from growth was falling business investment in engineering construction and new buildings, which dropped 2.2 per cent.
By industry, production growth was mainly down to mining, up 6.2 per cent over the quarter.
Other industries to contribute were financial and insurance services (up 1.8 per cent), accommodation and food (up 1.5 per cent), and arts and recreation (up 0.9 per cent).
Mining was also the largest contributor to economic growth over the past year, adding 0.9 percentage points to the headline 3.1 per cent annual figure.
'Broader economic well-being', tax base remain weak
However, the strong headline number was driven by a rise in output, while the prices Australia got for its exports continued to fall relative to imports.
In turn, this saw nominal GDP again undershoot the headline number, at 0.5 per cent for the quarter and 2.1 per cent for the year.
The Commonwealth Bank's Gareth Aird noted that the nominal figure is more closely linked with tax revenues, and also with household and business income.
"It is why the economy feels weaker than the output numbers imply," he wrote.
"Income weakness weighs on both household and business confidence and also on inflation expectations. It also makes debt repayment harder, notwithstanding record low interest rates."
The bureau's real net national disposable income figure rose just 0.2 per cent over the quarter and plunged 1.3 per cent over the past year.
The ABS describes this number as "a broader measure of change in national economic well-being", and the fall in this figure indicates declining purchasing power for Australian households.
On a per capita basis, the result was even worse, with the spending power of Australians going backwards every quarter for the past two years.
The total decline is similar to the early 1990s recession or global financial crisis, but has been shallower and spread out over a longer period.
That is not a number that particularly interests financial markets - the Australian dollar jumped more than half a cent, from 72.3 to 72.9 US cents after the data on the prospect of a delay in any further interest rate cuts.
Economists argue over economy's health
Economists surveyed by Bloomberg had typically expected quarterly growth of 0.8 per cent and annual growth of 2.8 per cent.
While the headline number exceeded those expectations, economists were split over how healthy the detail was.
CommSec's chief economist Craig James observed that the economy is growing at its fastest annual pace in three-and-a-half years, and above recent average levels.
"It is hard to argue with a mountain of evidence. Exports, tourist arrivals, home prices, building approvals and car sales are at record highs. Unemployment is at two-and-a-half-year lows. Economy-wide sales are at six-year highs," he argued in a note.
"What is happening is what is supposed to be happening – mining construction gave us extra production capacity, now that extra capacity is being put to work."
One of those who would fall into Mr James' category of "gloomsters" is Paul Dales from Capital Economics.
He believes Australia is "worryingly reliant" on commodity exports and there will be a growth hole later this year.
"The dollar is still at a level that means by the end of this year net exports will hardly be adding anything to GDP growth," he forecast.
"At the same time, dwelling investment will soon add less to GDP growth and consumption growth could slow too if the housing market continues to weaken."
Source: ABC News