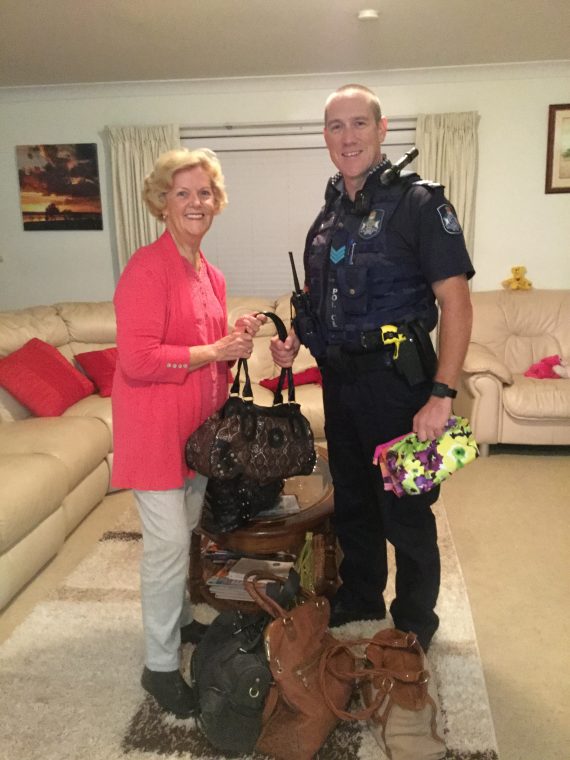 Domestic Violence: It may seem simple, but to someone in need, it's everything
On Monday, Acting Sergeant Phil Robson took receipt of several domestic violence emergency overnight kits for use by victims of domestic violence.
These kits were kindly prepared and donated by Bribie Island resident Ms Pamela Long.
Pamela has been preparing the kits for many years, which are in turn donated for use by the station and local domestic violence support services.
Kits such as these provide much needed short term assistance to victims of domestic violence, particularly in situations where there has been no opportunity to make preparations to leave.
Similar kits have been provided to the station by members of the local community, schools and clubs, and have been used to assist women and children who are seeking emergency shelter from domestic violence.
The kits are often distributed to the police station, the Bribie Island Neighbourhood Centre and the Caboolture Domestic Violence Service.
Domestic Violence is a serious issue, and the assistance provided to my station and local victims of domestic violence by the Bribie Island community is very much appreciated.
The stations 'Stop DV' initiative continues to roll out across the division, with posters distributed to our local pubs and clubs, and drink coasters circulated to pubs, clubs, coffee shops and other businesses.
Over 4000 coasters have been circulated, to increase awareness of local support services, and to encourage victims, or people who may know victims of domestic violence, to contact the station for help.
Remember, always ring Triple Zero (000) in an emergency.