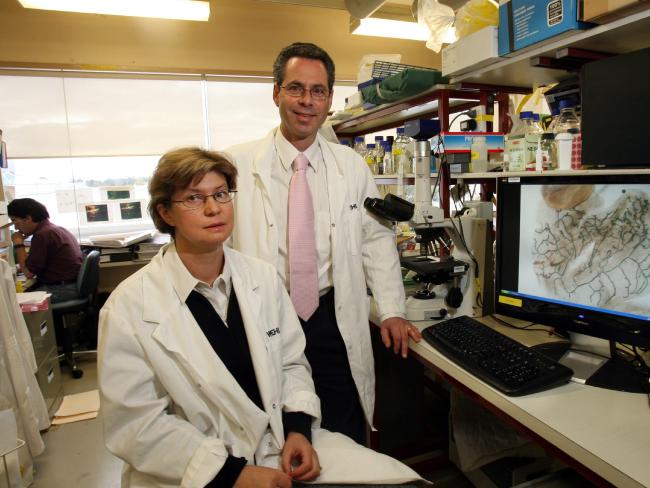 Breakthrough in faulty BRCA1 gene breast cancer research
Australian researchers claim they've discovered an existing medication that could potentially prevent breast cancer in women carrying the faulty BRCA1 gene.
This would mean that women with high genetic risk of breast cancer have the option to delay or prevent the disease without making the big decision to have their breasts surgically removed.
The drug, currently used to treat osteoporosis, is still to be tested in human clinical trials.
Women who carry the BRCA1 have a 65 per cent chance in their lifetime of developing breast cancer and have limited options for prevention.
Using breast tissue donated by women with the faulty BRCA1 gene, researchers at the Walter and Eliza Institute in Melbourne say they've been able to identify pre-cancer cells by using a marker protein called RANK.
The identification of these cells means that doctors can try to inactivate them before they become cancerous by targeting them with existing medication, denosumab.
"We are very excited by these findings because it means we've found a strategy that might be useful to prevent breast cancer for high risk women, particularly BRCA1 mutation carriers," says the institute's Professor Geoff Lindeman.
Prof Lindeman, who is also a medical oncologist at The Royal Melbourne Hospital, said this discovery is an important breakthrough because RANK inhibitors are already in clinical use. "We think this strategy could delay or prevent breast cancer in women with an inherited BRCA1 gene mutation," Prof Lindeman said.
Prof Sanchia Aranda, CEO of Cancer Council Australia, says this study does provide hope for potential carriers of the faulty BRCA1 gene but warns any potential rollout is still years away.
"They've certainly discovered a mechanism that could be potentially switched off or reduced by the use of an existing drug, but that drug would still need to be tested in those women over a very long period of time to make sure that it behaves as expected in clinical samples versus a laboratory test," Prof Aranda said.
Kylie Gellie, a BRCA1 carrier and mother of three children who underwent a bilateral mastectomy in 2014, told AAP she would have delayed her surgery had an alternative treatment been available.
Gellie says it's "amazing" her daughters, should they carry the BRCA1 mutation, could potentially reduce their risk of developing breast cancer simply by taking a pill.
A clinical trial on the use of denosumab has already begun.
Source: AAP